Vietnamese escort warship 016-Quang Trung has completed its participation at the ASEAN Defence Ministers' Meeting Plus maritime security field training exercise, which concluded in Singapore on May 12.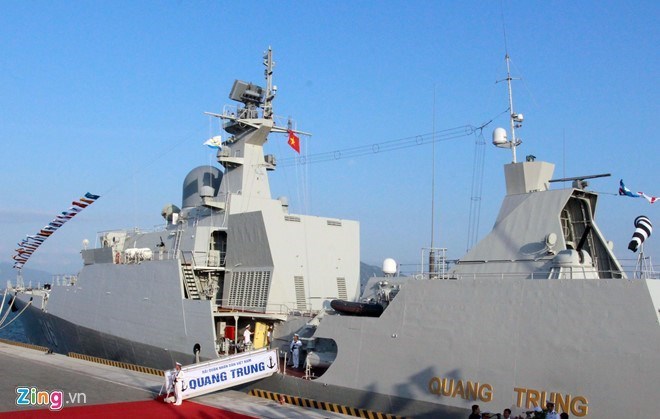 Vietnamese escort warship 016-Quang Trung (Photo: zing.vn)
Co-organised by Singapore and the Republic of Korea (RoK) under their co-chairmanship of the ADMM-Plus Experts' Working Group on Maritime Security, the exercise, the fourth of its kind, took place from April 30, with a closing ceremony slated for May 13.
The exercise began in the RoK's Busan and closed in Singapore. It featured a series of maritime security drills such as boarding operations and protection of key installations. Participating navies also practiced the Code for Unplanned Encounters at Sea, shared information to track vessels-of-interest, and conducted helicopter cross-deck landings, among others.
Vietnam's 016-Quang Trung vessels with 137 officers and sailors on board set sail from Cam Ranh port for Singapore on May 8 to join the military exercise.
The warship's attendance is to realise the Vietnam's foreign policy of proactive international integration, implement the agreements signed among ADMM defence leaders, while affirming Vietnam People's Navy' responsibility as a member of the ASEAN Navy Chiefs' Meeting.
The ADMM-Plus is a platform for ASEAN and its eight Dialogue Partners – Australia, China, India, Japan, New Zealand, the RoK, Russia and the US – to strengthen security and defence cooperation.-VNA