The death anniversary of the Hung Kings, the legendary founders of Vietnam, was observed for the first time in Canada on April 30.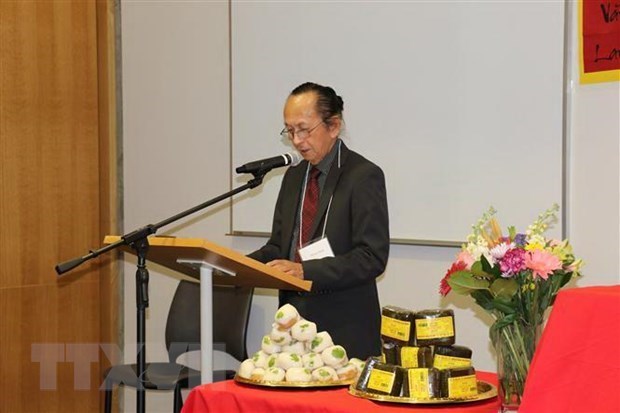 CVS Chairman Dang Trung Phuoc speaks at the event
The event was jointly organised by the Canada-Vietnam Society (CVS) and the York Centre for Asian Research of Yorj University in Toronto.
The incense offering ceremony in commemoration of Hung Kings was chaired by CVS Chairman Dang Trung Phuoc.
A large number of oversea Vietnamese living in Canada offered incense and flowers in tribute to the ancestors.
Nguyen Dai Trang, Director of the CVS in Toronto, said the event not only contributed to increasing solidarity among OVs in Canada, between Vietnamese expatriates with local people, but also helped Canadian people understand more about history and people of Vietnam, thus promoting economic, educational, and cultural cooperation between the two nations.
In the framework of the event, the CVS coordinated with York University to hold a seminar, discussing measures to expand commercial and educational cooperation between the two countries.
Canada now is the third largest trade partner of Vietnam in America after the US and Brazil, while Vietnam is the biggest trader of Canada in ASEAN. Vietnam posted a trade surplus of 2.14 billion USD with Canada in 2018.
The bilateral educational cooperation recorded practical and effective results. Statistics from the Canadian Consulate General in Vietnam showed that the number of Vietnamese students selecting Canada for their study is increasing, with about 14,000 living and pursuing their study in the American country.-VNA