Mytel, Viettel's mobile company in Myanmar, has become the third largest telecommunication operator in the country after nearly a year of operations.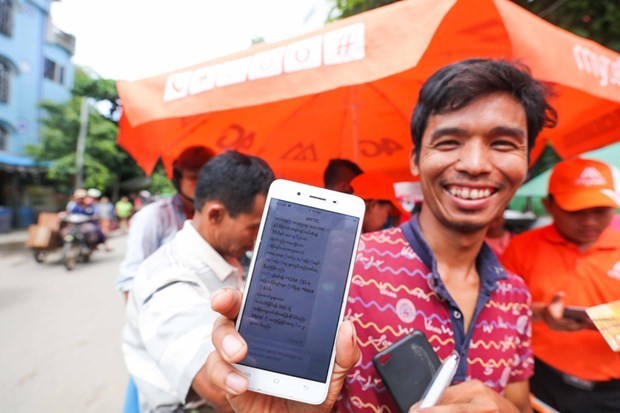 A Myanmar man begins using Mytel's servives (Source: Viettel)
As of May 9, Mytel had 5.5 million subscribers, accounting for more than 14 percent of the market share.
The three other telecoms operators in Myanmar are stated-owned Myanmar Posts and Telecommunications (MPT), Norwegian-owned Telenor and Qatar-headquartered Ooredoo, which make up 44.5 percent, 28.4 percent and 13 percent of market share, respectively.
The telecoms company launched services in Myanmar last June and is backed by the Myanmar government and Vietnam's largest telecommunication company, Viettel.
MyTel is jointly owned by Myanmar National Telecom Holding Public Co Ltd with a 23 percent stake, Star High Public Co Ltd with a 28 percent stake and Viettel, which holds the remaining 49 percent.
In Myanmar, it is the only operator to provide 4G services nationwide using its 30,000km of fibre-optic cable, which makes up half of the country's total cable infrastructure.-VNA