Vietnam has been reunified for 44 years. Over the past 4 decades, overseas Vietnamese have contributed remarkably to Vietnam's reconstruction and development, making their homeland more competitive on the global arena.
 Overseas businessmen, intellectuals pool ideas to build innovative HCM City
Domestic medical service increasingly attracts overseas Vietnamese
HCM City seeks to strengthen ties with overseas Vietnamese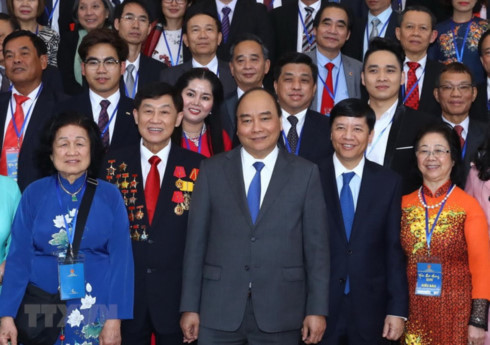 Prime Minister Nguyen Xuan Phuc met overseas Vietnamese on January 26, 2019
The Vietnamese Party and State have consistently affirmed the essential role of Vietnamese people living overseas in national construction and defense, noting their contributions have proven to be a catalyst for the country's success.
In recent years, hundreds of overseas Vietnamese have returned home, participating in sectors concerning science, technology, education and training, human resource training, startup ecology, and have contributed their perspective on major national issues.
Mr. Nguyen Thanh My, a Vietnamese businessman from Canada, invested in smart agriculture development in the Mekong River Delta to reduce farmers' workload.
My and his associates created a smart water meter to monitor the quality of water local farmers use for cultivation. He also created automatic pumps and smart fertilizer to reduce green house gas emissions.
Dany Vo Thanh Dang, a young overseas Vietnamese from Singapore, said he wants to invest in education and training in Vietnam. He noted, "Vietnam is a major potential market. It's like a fertile piece of land just waiting to be cultivated. That's why many Vietnamese people living overseas want to return home to do business."
Tran Hai Linh, who lives and works in the Republic of Korea, said, "With a certain understanding of the relationship between Vietnam and the Republic of Korea, we will work harder to promote cooperation between the two countries, especially in education, economy, and trade. We are ready to serve as a bridge to connect Vietnamese enterprises and localities with their Korean partners."
Kim Bo Ngo of Canada said, "I think Vietnam boasts a lot of opportunities. Young people like me can connect Vietnam with the world. We want to return to Vietnam to support our country's development."
Vietnamese leaders have pledged to create the best conditions for overseas Vietnamese to contribute to their homeland. They have met Vietnamese people living overseas more regularly to address their problems.
By 2018, Vietnamese overseas had invested in more than 3,000 projects in Vietnam with a total registered capital of 4 billion USD.
VOV5