The Overseas Vietnamese community and international friends in Russia's Ulyanovsk city and neighbouring localities laid flowers to pay respect to President Ho Chi Minh at his statue on May 19.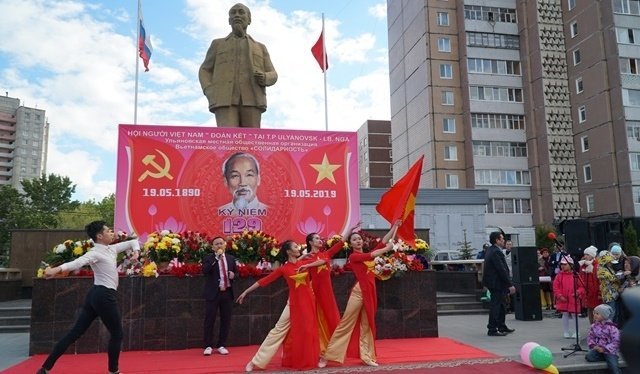 An art performance at the flower laying ceremony
The event aimed to celebrate the 129th birth anniversary of President Ho Chi Minh and mark two years since the statue was inaugurated in Ulyanovsk city.
Speaking at the event, Vietnamese consul general in Ekaterinburg Ngo Phuong Nghi said that the flower laying ceremony was more meaningful as it was held in the hometown of V.I.Lenin, the great
communist of humanity and a teacher, a friend and a comrade of the Vietnamese revolution and people.
There are now around 600 Vietnamese people living, studying and working in Ulyanovsk. The local government has always created favourale conditions for the Overseas Vietnamese to work, live and
integrate.
On the same day, the Vietnamese-Thai Association, in collaboration with the Vietnamese Consulate General in Khon Kaen, offered incense to President Ho Chi Minh at a relic site dedicated to him in Udon Thani, Thailand.
At the ceremony, Vietnamese Consul General in Khon Kaen Huynh Ngoc Son expressed his hope that the Vietnamese expatriates in Udon Thani would continue to build a strong and solid community,
significantly contributing to the development of the traditional friendship between Vietnam and Thailand.
On the occasion, Vietnamese Students and Youths Association in Czech Republic hosted a football championship for Vietnamese youths and students in the country and other European nations. FC Most
from the city of the same name claimed the championship title, followed by the Ha Tinh Brothers and Nutrend Sapa teams.
Nhan Dan