The first Overseas Vietnamese Economic Forum has presented a huge opportunity for both local and foreign businesses to collaborate and introduce products to the world.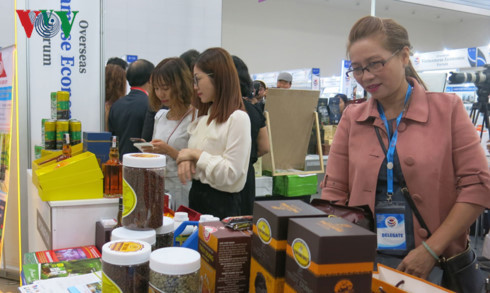 Vietnamese businesses introduce their products at the forum.
Overseas entrepreneurs desire to make contribution to the homeland
Currently, there are about 4.5 million Vietnamese nationals living and working in more than 110 nations and territories across the world. Aside from making efforts to integrate into their country of residence, a large number of overseas Vietnamese desire to return to their homeland.
Annually, between 300 and 500 overseas Vietnamese return home to make a contribution to co-operative programs on research, science, technology transfer, training and education.
Vietnam's overseas remittance in 2018 reached US$15.9 billion, making the Southeast Asian country the largest remittance receiver in the world.
This year, the overseas remittance has contributed 6.6 per cent of the nation's GDP with nearly 3,000 projects capitalized at close to US$4 billion, which has largely poured in the country's spearhead fields such as high technology and hi-tech agriculture.
Despite this, there remains hurdles to connect overseas Vietnamese entrepreneurs to domestic Vietnamese businesses as local businesses often lack information and basic knowledge about the country of residence, leading to difficulties in grasping relevant market information.
During a gala dinner held to promote Vietnamese culture under the framework of the Vietnamese Economic Forum, Peter Hong, Vice Chairman of the Business Associations of Overseas Vietnamese, said several overseas Vietnamese businesses, particularly start-up businesses seeking to pour investment into their homeland, still face a number of challenges in terms of investment climate and legal framework.
Overseas Vietnamese nationals that have spent many years living and working abroad are looking to join forces in order to organise trade promotion activities aimed at sending domestic enterprises abroad to attend economic forums, said Mr. Peter Hong.
overseas vietnamese entrepreneurs join forces to do business in vietnam hinh 1 The vice chairman noted that these programs will help businesses better understand the market demands of each type of goods, whilst opening up a wealth of opportunities for the development of both Vietnamese and overseas Vietnamese businesses.
Nguyen Thanh My, CEO of RYNAN Smart Fertilizers Joint Stock Company, said he has been returning to his homeland for business since 2004 as he saw an array of business opportunities within the local market.
My expressed his delight at the country's incentive policies that have been put in place to boost the activities of overseas Vietnamese businesses, noting that in recent times, the PM has taken drastic measures to simplify a number of cumbersome administrative formalities that businesses face.
He expressed his belief that more overseas Vietnamese businesses will return to their homeland as a result of these open policies to seize the ever-growing investment opportunities.
Strengthening connectivity among Vietnamese entrepreneurs
Mr Peter Hong believes that the first Overseas Vietnamese Economic Forum will provide a huge opportunity for local businesses to introduce their products to the Korean market, seek further investment opportunities, gain access to cutting-edge technologies, and help devise new development orientations for the Vietnamese economy.
Tran Hai Linh, Chairman of the Vietnam Business Association in the Republic of Korea, said the forum is expected to strengthen connectivity among overseas Vietnamese businesspeople and further promote the strengths of business associations and domestic firms that do business abroad.
It will also act as a bridge for businesses to map out plans for the development of Vietnamese goods, whilst looking to attract further investment from nations worldwide, noted Mr Linh.
The first Overseas Vietnamese Economic Forum has received special attention from relevant ministries, agencies, and overseas Vietnamese entrepreneurs. This year, the event drew some 300 Vietnamese and overseas Vietnamese entrepreneurs and a large number of Korean businesspeople.
Kim Jae Sik, a parliamentarian of the Republic of Korea's National Assembly, said since the establishment of diplomatic ties in 1992, both nations have enjoyed strong development in economic co-operation and become important partners in multiple fields.
Parliamentarian Kim Jae Sik expressed his delight at the flourishing relations between both nations, noting that the overseas Vietnamese community in the Republic of Korea (RoK) have made a great contribution to the country of their residence and served as a bridge to foster the relationship between the two countries.
He voiced his hope that through the forum, closer co-operation between the two nations will be further cemented in the future.
Deputy Foreign Minister Nguyen Quoc Cuong underlined the importance of the organisation of the first Overseas Vietnamese Economic Forum as the RoK enjoys advanced science and technology along with strong developed bilateral relations with Vietnam across a range of fields, particularly in economics and trade.
He acknowledged the remarkable contributions made by overseas Vietnamese and the Vietnam Business Association in the RoK, which have served as an important bridge for the development of greater friendship between Vietnam and the RoK to elevate the country's stature among international friends.
Cuong stressed that these accomplishments have come as a result of solidarity, unity, and concerted efforts of the entire nation, particularly the valuable contribution made by the Vietnamese community living and working abroad. VOV

The first Overseas Vietnamese Economic Forum (OVECOF) will take place at Songdo Covensia Convention Center in Incheon, the Republic of Korea (RoK) from June 6-9.  

Vietnamese firms invested $183 million in overseas projects in the first five months of this year, according to the Foreign Investment Agency (FIA) under the Ministry of Planning and Investment.

Vietnamese banks are stepping up plans to expand their markets globally instead of focusing only on the Indochinese region.