The Vietnamese Embassy in Egypt on May 16 held a ceremony to mark the 129th birthday of President Ho Chi Minh (May 19).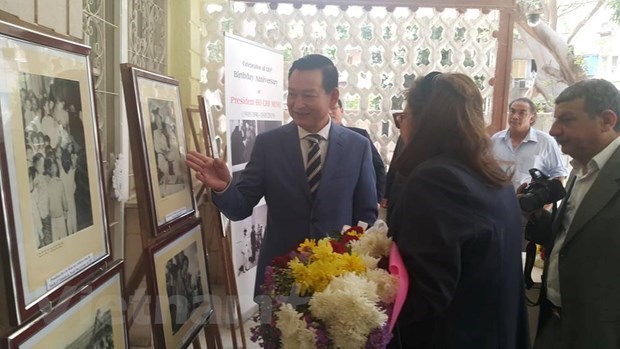 Within the framework of the event, the embassy held photo exhibition featuring President Ho Chi Minh, and displayed documents and newspapers on the late leader.
The event saw the attendance of Egyptian officials, ambassadors and representatives of foreign diplomatic corps in Egypt, international scholars and representatives of the Vietnamese community in the country.
In his remarks, Vietnamese Ambassador to Egypt Tran Thanh Cong recalled President Ho Chi Minh's theoretical and practical contributions to communist and national liberation movements in the world, especially those in Africa, including Egypt.
President Ho Chi Minh is a great friend of Egyptian people, and a symbol of the friendship, solidarity and loyalty between Vietnam and Egypt, the diplomat said, noting that he laid a firm foundation for the traditional friendship and multi-faceted cooperation between the two countries.
Egyptian guests expressed their impressions and sentiments towards Vietnam, and lauded the country's development in such spheres as economy, culture and science-technology.
Within the framework of the event, the embassy held photo exhibition featuring President Ho Chi Minh, and displayed documents and newspapers on the late leader.-VNA