Dendrocalamus barbatus (family of bamboo) in the North Central province of Thanh Hoa is famous and fishermen of the region have been using it for a long time to build rafts for fishing near shore.
But it is hard to believe that this kind of bamboo could constitute a raft travelling over the Pacific over 8,800 kilometers 25 years ago. The initiator and performer is Tim Severin - a famous Irish explorer, historian and writer.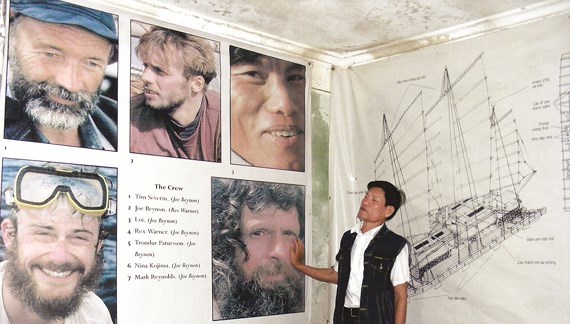 Mr. Loi talks about a 25 year journey across the Pacific by bamboo raft
In this amazing adventure, Tim Severin had the only Vietnamese partner- Mr. Luong Viet Loi, a Vietnamese 59-year-old man, residing in Truong Son Ward, Sam Son City, Thanh Hoa province.
Discovering Vietnamese bamboo raft
Mr. Loi talked about the journey like it just took place yesterday when he was a carpenter and shipbuilder.
The shipbuilder was very eager as Tim intended to find a sailor accompanying with him. After Mr. Tim tested a boat made by Mr. Loi in water, he realized that this man was not only a skilled worker but also a dynamic and enthusiastic sailor with the hard-working character.
Before coming to Vietnam, Mr. Tim had ever come to China but the raft there was made of plastic pipes. Colin Mudie, a British shipbuilder and a friend of Tim guided him to go to along coastal areas in Vietnam, about 160 kilometers south of Hanoi.
In 1992, Tim went to Sam Son in Thanh Hoa province. Colin Mudie warned that Vietnamese raft is highly stable but it is also the most dangerous weak point despite of leaning at a certain angle, it would suddenly turn over and very dangerous in the mid-sea. Based on the data which Tim collected in Sam Son, Taiwan (China) and referred to the ancient rafts, Colin Mudie designed a raft across the ocean. The work was carefully carried out with the participation of raft workers in Sam Son.
In order to have raft materials, Mr. Tim went to the forest in the Western of Thanh Hoa to discover and buy the bamboo. The raft is 18.3 meters long, 4.6 meters wide, placing three layers with nearly 320 bamboo trees with a length of nine meters per tree, the average diameter of each tree is 15 centimeters. The bamboos must be cut down in the fall, less plastic to limit the termites. After that, it is scraped off the shell and covered a layer of paint made from crushed Bryophyllum calycinum and mixed with sea water and lime.
Apart from engineers, 40 raftmen and experienced fishermen of Sam Son were mobilized to complete the bamboo raft. Particularly, the bamboo raft body was used 46-kilometer bamboo string with more than 3,000 ties.
The bamboo raft was named Tu Phuc (name of an ancient Chinese sailor who explored the Pacific expedition). On March 16, 1993, the bamboo raft was launched and moved to Ha Long Bay to install a sail and then it sailed to Hong Kong.
Reaching into big sea
Five members of the journey across the Pacific Ocean are printed in "Vietnamese bamboo raft" book of Tim Severin
The adventure was planned following the maritime route from Hong Kong (China) across the Taiwan Strait, heading to the Northeast to Japan, across the Pacific to North America with the total length of 6,500 miles.
On May 17, 1993, the bamboo raft left Hong Kong. The interesting story being told by Tim Severin in the book entitled "Vietnamese bamboo travel story". He said that Tu Phuc bamboo raft left Hong Kong like a drunk man staggering out of the house after a big party.
At the beginning, there were seven members including: Mr. Tim Severin, three British man: Joe Beynon, Rex Warner and Trondur Patursson, Mr. Loi, Ms.Nina Kojima from Japan and Mark Reynolds from Hong Kong. But when the raft docked at Japan, Nina and Mark stayed behind due to health reason.
The adventure was really exciting but it also faced a lot of challenges as avoiding Keoni storm, other cargo ships, rick of the Kuroshio sea currents, dealing with pirates twice, cabin fire, etc.
After 100 days, the bamboo raft began to be untidy. The repair turned out to be like a workshop and was joyfully called "mermaid's hair". In the early morning of the 101st day, two bamboo trees from the bottom of the raft had been broken. At this time, food was also running out. Chef Joe Beynon must give the initiative of lightening the load of the raft. Each person had two main meals a day, three cups of coffee and half of the onion for all five people.
By the 105th day, the bamboo raft was about 1,000 miles away from the US. No one wanted to leave the raft at that time but for safety Tim Severin and four companions were forced to board the California Galaxy back to Japan ending the journey of 5,500 miles in November 16, 1993.
Before this adventure, Mr. Loi did not know a word of English - he only finished the 7th grade. When he was on the bamboo raft, Joe Beynon was assigned to accompany him to study English. Nina equipped him with Vietnamese - English, English - Vietnamese dictionaries. He followed the journey and continued to study English.
Mr. Loi confided that the purpose of the trip was to test a theory that it was possible that ancient Asian residents used bamboo raft to reach the Americas. Although they were unsuccessful, all members surpassed 5,500 miles on the Pacific Ocean. It is miraculous, hard to imagine. SGGP
Huyen Huong