Deputy Prime Minister Pham Binh Minh attended the virtual pre-summit of the United Nations Food Systems Summit 2021 on July 27, highlighting Vietnam's wish to become a food innovation hub of Asia.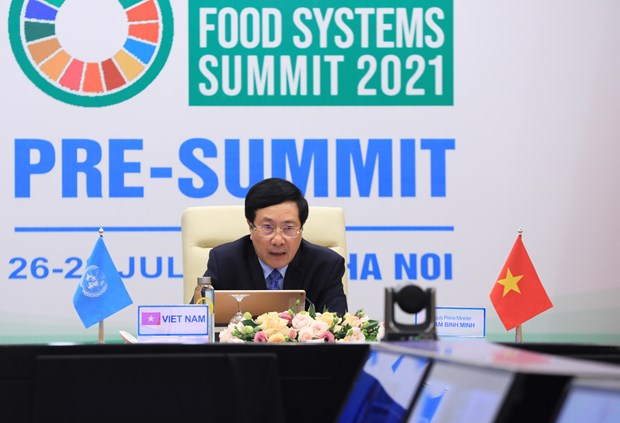 Deputy Prime Minister Pham Binh Minh addresses the virtual pre-summit of the UN Food Systems Summit 2021 on July 27 (Photo: VNA)
In his remarks, Deputy PM Minh emphasised the need to promote international cooperation for the connectivity of domestic and trans-boundary innovation networks and to align research and application activities with the demand of businesses, food systems, and the whole economy.
He affirmed that Vietnam's strategy for socio-economic development in 2021-2030 aims for restructuring agriculture, developing large-scale commodity production of agricultural products and hi-tech agriculture, enhancing the agricultural sector's resilience and adaptability to climate change, and connecting agriculture with processing, markets, export and global value chains.
The Deputy PM stressed that the Vietnamese Government has issued policies to attract more investment in modernising agriculture based on innovation and achievements of the Fourth Industrial Revolution (FIR). Vietnam, as a food providing country in a transparent, responsible and sustainable manner, will actively join in efforts to promote the transformation of the global food system.
Senior officials of participating countries and the world's leading enterprises discussed, shared experience, and put forth proposals with a view to stepping up scientific - technological application and innovation during the transformation and building of sustainable food systems to secure food and nutrition security, helping to realise the Sustainable Development Goals.
Also at the event, Vietnamese Minister of Agriculture and Rural Development Le Minh Hoan proposed widely applying initiatives created by farmers' organisations and small- and medium-sized enterprises at the grassroots level in connecting value chains, ensuring transparent and fair sale of farm produce, protecting consumers' rights and health, reducing greenhouse gas emissions, and applying new technological achievements of the FIR to maximise agricultural products' values in terms of the economy, culture, landscape, and environment.
He held that reality-based creative models are prerequisites for all factors in food systems to share the value, responsibility, action, and benefits in all the economic, social, and environmental aspects.
The pre-summit, held in Rome of Italy from July 26 - 28, is an important step preparing for the UN Food Systems Summit 2021, scheduled to take place at the UN headquarters in New York, the US, in September. It is organised by the UN in coordination with the Government of Italy, which is holding the Presidency of the G20./.
Source: VNA