Vietnamese culture and traditional arts were on display at a festival in Italy's Tuscany region from November 1 to 10.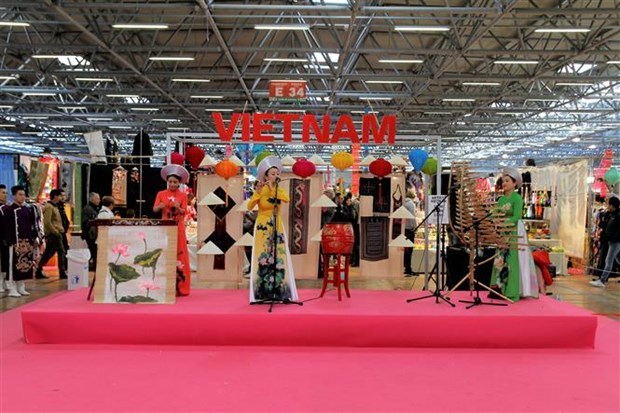 A performance featuring Vietnam's traditional musical instruments at the festival
The programme aimed at bolstering cultural cooperation and people-to-people exchanges between the countries. It was jointly organised by the Vietnamese Embassy in Italy, the Ministry of Culture, Sports and Tourism and the organisers of Festival dell' Oriente, which took place in Carrara city, Massa-Carrara province.
This is the first time Vietnam has participated in the festival as an honorary guest. Images of Vietnam, along with the country's traditional costumes and cultural spaces, were on show at the main zone of the festival.
In addition, Vietnamese products such as rattan and bamboo products and conical hats were introduced at the event.
The highlight of Vietnam's zone included traditional dance and water puppet performances.
Vice mayor of Carrara Marteo Martinelli said the event served as solid proof of cultural cooperation and exchanges between Italy and Vietnam. He also voiced his hope that more activities will be jointly held in the future.
The Festival dell' Oriente is one of the greatest events connected to Eastern culture in Italy, featuring various Asian nations like Japan, Laos, Thailand and India, among others. It is held several times a year across Italy, each of them attracting up to 170,000 visitors./. VNA

Vietnam Travel Airlines Co., Ltd, or Vietravel Airlines, on November 4 announced the appointment of Livio Arizzi, an Italian pilot, as the firm's deputy general director as part of its airline establishment plan.  

Italy's Reggio Children on October 16 announced a partnership with Vietnam-based Embassy Education to introduce and implement Reggio Emilia Approach, a world-renowned Italian early-childhood educational approach, in Vietnam.