Vietnamese girls finish Junior Fed Cup in fourth place

The Vietnamese female team came in fourth position overall after suffering a 2-1 defeat at the hands of their Mongolian rivals during the final match of the Junior Fed Cup which took place in Jakarta, Indonesia, on February 28.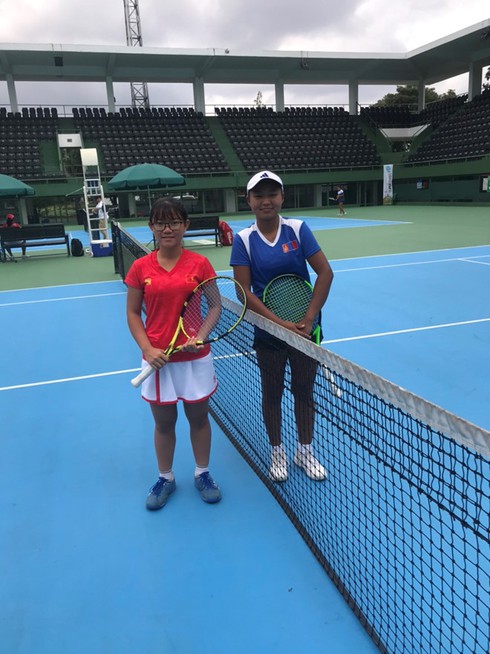 Vietnamese tennis player (L)
Local tennis star Sophia Huynh Tran Ngoc Nhi enjoyed a strong start for the national team after defeating Nomin Khurelbaatar 6-1, 6-1.
However, the second single match saw Maralgoo Chogsomjav of Mongolia gain a victory over Nguyen Minh Thuy Hang 6-0, 6-1.
As a result the tie was decided during the doubles, with Vietnamese pair Sophia Huynh Tran Ngoc Nhi and Ho Thi Truc Tam losing their Mongolian opponents 6-4, 6-2.
The competition's organising board plans to choose the top three teams to progress to the Junior Fed Cup Asia-Oceania Qualifying Tournament in Malaysia which will take place in April. As the fourth-place side, the Vietnamese team still hope to progress providing that the team from the Republic of Korea withdraws due to the ongoing novel coronavirus epidemic.
Elsewhere, the Junior Davis Cup saw several Vietnamese youngsters take on opponents from Malaysia in the semi-finals. Nguyen Quang Vinh lost out to Hayden Khoo Menon 7-6, 6-3, whilst Pham Hoang Hieu was defeated by Mitsuki Leong Wei Kang 6-1, 6-1, allowing the Malaysia team to progress to the finals.
The Vietnamese team will therefore compete in a third-place competition against Kazakhstan on February 29 with the winner of the tie moving on to the Junior Davis Cup's qualifying round in Kuching, Malaysia, which will take place between April 5 and 10. VOV

Vietnam advanced to the semi-final round of the Junior Davis Cup/Junior Fed Cup Asia Oceania Pre-Qualifying Tournament as the second-placed teams of their groups on February 26 in Indonesia.