Essential oils have been widely used as air fresheners and in cosmetic production, but now they are also being promoted for a combined aromatherapy-yoga-meditation-herbal therapy in Hoi An.

The therapy has attracted tourists interested in exploring natural essential oils and their various functions in a space outside of the ancient town's busy Old Quarter.
Essensian Natural Health & Beauty shop on Phan Boi Chau Street offers a rendezvous point for people to discuss aromatic essential oils and their contributions to health and beauty care.
Nguyen Thi Ngoc Anh, known as Anh Nguyen, who founded an aromatherapy-yoga-meditation-herbal medicine workshop in Hoi An in 2016, reserves the space for stressed out visitors seeking a positive solution to escape the headaches caused by stress at work and at home.
Anh, 31, from Khanh Hoa Province, uses five key handmade essential oils made from natural herbs from the traditional list of 50 essential oils used in aromatherapy.
"I started producing essentials oils in 2011 with five-seven litres per year. At least 50 essential oils can be used for aromatherapy, but we have whittled that down to five," Anh said.
"An aromatherapy treatment lasts from four to five hours including the introduction of natural herb-based essential oils and their scent."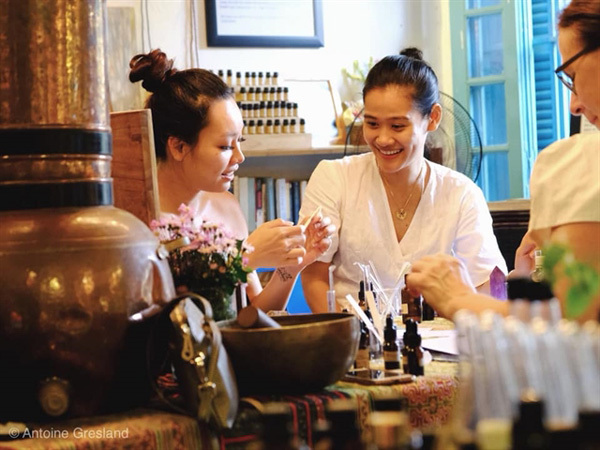 Nguyen Thi Ngoc Anh (centre), founder of the shop, introduces visitors to essential oils used in aromatherapy. Photo courtesy Essentian shop

A meditation process takes place after her customers have inhaled the fumes.
Anh, who has taken cosmetic chemistry courses in HCM City and France, said she came to Hoi An in 2014 with the aim of making oil from herbs and vegetables in Tra Que Village on the outskirts of the town, but the idea for developing aromatherapy only came in 2016.
"Many people suffer stress from work, family problems and depression, which leads to severe headaches and sleepless nights. This form of therapy helps them to talk about their problems, rather than keeping them locked up inside," she explained.
Acupuncture and essential oil-based massage, which are included in the treatment, help to ease stress in a tranquil space, according to Anh.
"Talking about their problems helps people relax, while meditation and yoga support the healing process," Anh added.
Le Giang, who works at the shop, said: "The shop isn't just about selling aromatherapy products; it's about providing unique treatments that can solve people's problems without the use of medicine."
She said the shop would help Hoi An become a hub for natural herbs and essential oils.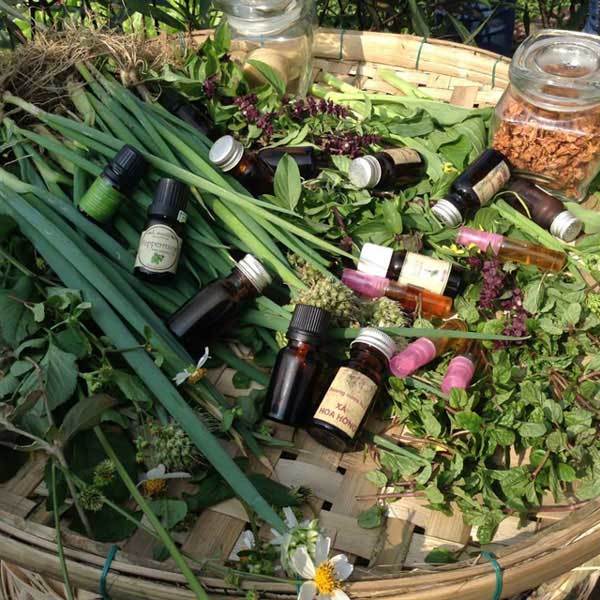 Natural herb-based essential oils at Tra Que Village in Hoi An. VNS Photo Anh Nguyen

Villas M, a customer, commented on her Facebook page: "Essensian is such a wonderful shop full of great products and amazing people. If you ever find yourself feeling sick or unbalanced or just want to treat yourself with some goodies make sure you stop by. They are more than happy to share their knowledge with you and help you with whatever you might need."
Nicolec, an Australian aromatherapy practitioner, said: "I had a great afternoon of learning about aromatherapy with the kind staff at Essensian shop. Anh [Nguyễn] sat down with me and took me through the various oils they stocked and told me about their sources, uses and properties. The people here are well versed in aromatherapy and are extremely helpful with their advice. I highly recommend stepping in and sitting down for a lesson with them."
Ana Thib, from Germany, posted: "Essensian saved my skin!"
"Go there, sit at the table, have tea with the girls, explain what you need or just ask them about the products and enjoy! I needed to purify my skin, they gave me marvellous advice and marvellous natural products, now my face is clear and bright.
If you need a break, you should stop there, and the place is also very peaceful."
Anh said she would keep producing essential oil from natural herbs in a sustainable way, and has been training young aromatherapy coaches for the future.
"At least 1,000 customers have taken my aromatherapy courses in Hoi An, and we are expecting to welcome more tourists visiting the city to explore the therapy in the Old Quarter." — VNS
Cong Thanh

Doan Ngoc Minh Thuy, 29, has used traditional methods and modern technology to extract essential oils from agricultural by-products with 70 types bearing natural aromas.

Iris Nguyen is well-known in the Vietnamese startup community in fragrance business for her brand name 'Perfumery House'.

Hoi An has opened its first complex producing non-chemical essential oils, coffee and herb tea from local materials after three years construction at Thanh Ha Industrial Park in the city.