Nguyen Ngoc Trong is known as the best artisan of metal inlaying craft. He is one of only 4 artisans practicing this craft of the capital city of Hanoi.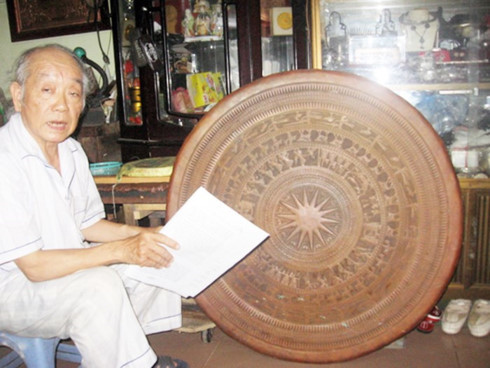 A Ngoc Lu version bronze drum crafted by artisan Nguyen Ngoc Trong (Photo: anninhthudo.vn)
Metal inlaying is a craft in which the artisan inlays precious metals such as gold or silver into bronze items. Each product requires sophistication and meticulousness on the part of the artisan and it may take him months or years to finish a product.
People's Artisan Nguyen Ngoc Trong was born in 1938 into the Nguyen Ngoc clan in Gia Binh district, Bac Ninh province, where the metal inlaying craft has existed for more than 1,000 years.
The Nguyen Ngoc family was asked by the Nguyen Dynasty (early 19th century to 20th century) to make sophisticated items for the Hue royal court. Mr. Trong's family moved to live and practice the craft in Hang Dong street in the Old Quarter of Hanoi when he was very young.
"My family moved to Hanoi in the 1950s. When the war was over, I worked for the Handicraft and Art Articles Export-Import Joint Stock Company. There, I met many fine arts experts and painters. I joined an artisans association in Hanoi and had contact with many foreign artisans from Thailand, Myanmar, and France," said Trong.
Products and design patterns by artisan Nguyen Ngoc Trong can often be found at handicraft and art exhibitions and fairs inside and outside Vietnam. Trong's products are popular for their sophistication and authentic Vietnamese character.
Trong is often asked by the Ministry of Foreign Affairs to make distictive Vietnamese gifts and souvenirs for foreign leaders and guests.
"I still remember the visit to Vietnam by Cambodian King Norodom Sihanouk. I was asked to engrave a bronze picture of Hoan Kiem Lake as a Vietnamese souvenir for him. Recently, I accompanied a Hanoi delegation to France's city of Toulouse. We brought some souvenirs, such as a 1,000 year Thang Long-Hanoi Cup, a picture of King Ly Cong Uan moving the capital from Hoa Lu to Thang Long, now known as Hanoi, one bronze drum, and some silver engraved items. I was also asked by the Ministry of Culture, Sports and Tourism to make bronze drums for national museums in Cuba and Belarus," Trong recalled.
In 2010, on the occasion of the 1,000th anniversary of Thang Long-Hanoi, artisan Nguyen Ngoc Trong made an art work called "A letter for future generations" which is now kept at the National Archives Centre and will be opened in 2110.
The work features an image of the Pavillion of the Constellation of Literature and dragons of the 11th century Ly Dynasty, and 1,000 letters representing the 1,000th anniversary of Thang Long-Hanoi to teach younger generations the rich history of the capital city.
In 2016, Trong made two bronze pictures featuring President Ho Chi Minh and his testament which are now displayed at the Ho Chi Minh National Academy of Politics and Public Administration.
Mr. Nguyen Ngoc Trong has been awarded many medals and certificates of merit by the government and international organizations.
He was honored as one of 10 outstanding citizens of the capital city in 2014 and received the title "Golden Hand Artisan" for his great contribution to his craft. VOV5