There are more than 14,000 pagodas, which account for more than 30 per cent of the total number of relics in Vietnam.
Buddhism first came to Vietnam more than 2,000 years ago. It has been widely developed and practised by millions of local people over the years.
One can enjoy the unique scent of incense and hear the peaceful sound of Buddhist bells in pagodas in the middle of busy Hà Nội city, at heights of more than 2,000m above sea level or far off the coast on Trường Sa island.
Here are some recommended pagodas and Buddhism schools for one to experience the Buddhist atmosphere and learn about Buddhism history and teachings in Việt Nam.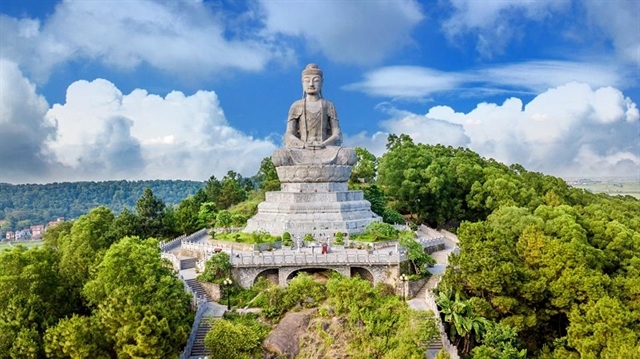 The Buddha statue at the 11th century Phật Tích Pagoda. Photo tinhhoaphatgiao.vn
Luy Lâu Buddhism Centre in Bắc Ninh Province
Luy Lâu centre is located in the northern province of Bắc Ninh, some 60km from Hà Nội. It is believed that some 2,000 years ago, an Indian monk came to Giao Chỉ District (once an important political, economic and cultural centre of Việt Nam located in today's Bắc Ninh Province) to do missionary work and opened the first Buddhism centre in Việt Nam and named it Luy Lâu.
Many pagodas, citadels and markets were then built in the area. Nowadays, one can visit Phật Tích Pagoda and Dâu Pagoda, which are among the remaining vestiges of the Buddhism centre. Dâu Pagoda, which was built between AD 187 and 226 in Thuận Thành District, was the biggest pagoda in the region at the time where monks from India and China came to study and promote Buddhism among local people.
The pagoda is home to various valuable artefacts that are well-preserved today, including a wood block dating back to 1752, a six-story tower with the valuable bell inside dating back to the 18th century, a bronze gong in the 19th century and several statues of gods. About 20km from Dâu is Phật Tích Pagoda which is located on Lan Kha Mountain in Tiên Du District's Phật Tích Commune, Bắc Ninh Province.
It was built in 1057 and finished in 1065 in the Lý Dynasty and is believed to be one of the first places in Việt Nam where Indian monks did their missionary work. The whole architecture of the centuries-old pagoda was destroyed by French troops in the late 1940s, yet the Buddha statue and some of its valuable stone sculptures depicting sacred animals which date back to the 11th century were saved and are now on display for visitors.
These sculptures, along with the Buddha statue have been recognised by the Việt Nam Records Book as «the biggest stone Buddha from the Lý dynasty» and «the largest carved sacred animals» in the country. This pagoda is also a valuable archaeological site for scientists. When excavating the pagoda from 1949-51, archaeologists found many old stone sculptures carved with flowers and dragons, bird goddess statues from the 17th century and a piece engraved with the head of a fairy. These precious items are now on display at the National History Museum.

Trúc Lâm Đà Lạt Zen Monastery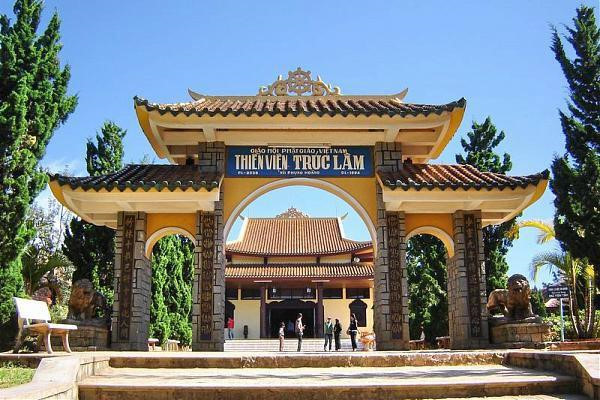 Trúc Lâm Đà Lạt Zen Monastery is located on Phượng Hoàng (Phoenix) Mountain outside the centre of Đà Lạt City. Photo vov.vn
Trúc Lâm Đà Lạt Zen Monastery belongs to the Trúc Lâm (Bamboo Forest) Yên Tử Zen sect. It is five kilometres from the centre of Đà Lạt City in the Tây Nguyên (Central Highland) province of Lâm Đồng. Located on Phụng Hoàng (Phoenix) Mountain, above Tuyền Lâm Lake, the monastery has unique architecture next to breath-taking sightseeing spots in Đà Lạt.
Trúc Lâm Đà Lạt Zen Monastery is one of the largest monasteries in Việt Nam, built on a hill of 24 hectares since 1993. This is also one of the three monasteries specialising in researching and practising the most popular Zen Buddhism in Việt Nam today. It attracts many monks and nuns from all over the world, sometimes welcoming up to thousands of practitioners.
It is the largest Buddhist temple complex in Lâm Đồng province with 22 hectares of pagodas and 2 hectares for internal and external facilities. Like other Zen monasteries in Việt Nam which are often located on a separate hillock with only mountains and forest, Trúc Lâm Đà Lạt Zen Monastery is surrounded by pine trees. It also has magnificent view of Tuyền Lâm Lake - the largest freshwater lake in Lâm Đồng Province.
Visitors travelling to the monastery on foot will have to climb a steep incline with 140 stone steps. This path is flanked by tall pine trees and the Tuyền Lâm Lake. In the middle of the hill, visitors will see Tịnh Tâm artificial lake and a bamboo forest. From here, visitors can see the Voi (Elephant) Mountain cluster with Pinhatt peak – the highest peak south of Đà Lạt. When reaching the main hall on the top of the hill, the whole of Tuyền Lâm Lake comes into view. It is said that this is one of the most beautiful monasteries in Việt Nam, ideal for those who like to go sightseeing, or those who desire to find a place of purity and peace for the soul.
The most interesting part of travelling to Trúc Lâm Đà Lạt Zen Monastery is the cable car connecting the foot of Prenn Pass to the monastery. This is the only monastery in Việt Nam, and the only tourist destination in Đà Lạt, with its own cable car. Located in Đà Lạt – the city of flowers, Trúc Lâm Đà Lạt Zen Monastery also brings that characteristic beauty with the blooming garden of different flowers taken care of by Buddhist monks here.
The garden at the monastery is one of the rare flower gardens in Đà Lạt that collects many rare and precious varieties such as violet myrtle, Bombax ceiba, hydrangeas, bell flowers, camellia, daisies, orchids and roses. Trúc Lâm Đà Lạt Zen Monastery is a place of pure meditation, a place for those who want to find their self away from the noisy and busy city. There there are many people who want to stay at Trúc Lâm Đà Lạt Monastery for a short while. Guests who want to stay can be accommodated at a two-story guest house halfway up the hill, living and eating like monks and nuns in the temple.
Ninh Bình Pagodas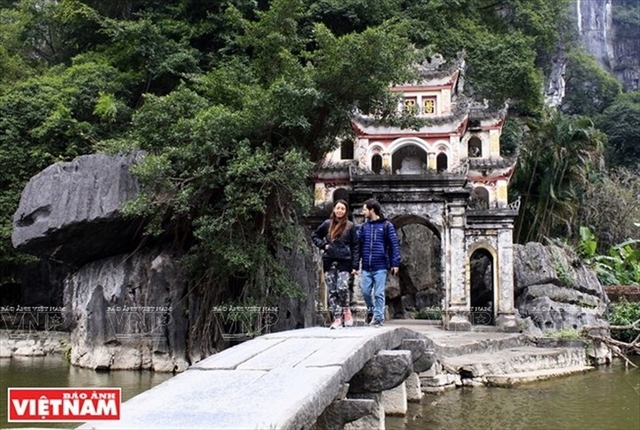 Bích Động Pagoda Complex, built in the 18th century, is located in the UNESCO-recognised Tràng An Landscape Complex. VNA/VNP Photo
Ninh Bình might be synonymous with the breathtaking landscapes in Tràng An and Tam Cốc-Bích Động, but its religious sites shouldn't be overlooked. Bích Động Pagoda Complex, built in the 18th century, is located in the UNESCO-recognised Tràng An Landscape Complex. The complex comprises three separate tiered pagodas – Hạ, Trung and Thượng or Lower, Middle and Upper pagodas – built in ascending order. One must conquer some steep stairs to reach the top.
To enter the first pagoda - Hạ Pagoda, one crosses a stone bridge and through a beautiful old entrance gate. This is used as a Buddha shrine, filled with the unique scent of incense and beautiful statues.
The second – Trung Pagoda, is in the middle of the mountain with half situated in a cave.
The third pagoda – Thượng Pagoda is the highest. To reach it, one climbs steps and through caves. The view of this pagoda is worth the trek.
Ninh Bình is also famous for its record-breaking Bái Đính Pagoda Complex.
As one of the largest pagodas in Việt Nam, the complex covers more than 700ha. Coming here, visitors can feel both the tranquillity and magnificence of this location. The complex comprises both old and new pagodas.
The ancient Bái Đính Pagoda was built by Zen Buddhist priest Nguyễn Minh Không (1066-1141) in the 11th century. The ancient pagoda is situated on top of a small mountain peak in Gia Sinh Commune in Gia Viễn District. To reach it, visitors have to climb 300 stone steps.
As an ancient description explains: "Bái Đính" means "the worship of heaven and earth, Buddha and celestial angels". It is believed that the pagoda, which is surrounded by mountains and forest and detached from the outside world, was the place where king Lý Thái Tổ meditated before moving the capital from Ninh Bình to Thăng Long (now Hà Nội) in the 11th century.
While the ancient pagoda is located in an isolated place on a mountain and looks traditional, the new one is situated in an open and vast space with some huge objects. It is home to a 36-tonne bell, a 70-tonne drum and a 100-tonne Guan Yin statue (depicted with a thousand hands and thousand eyes to represent the protection and universal salvation for common people), which is made of bronze and covered with gold. Visitors will also be astonished at the collection of 500 Arahat statues. Bái Đính pagoda is claimed to be a masterpiece of both nature and humanity.
Tây Thiên Pagoda in Vĩnh Phúc Province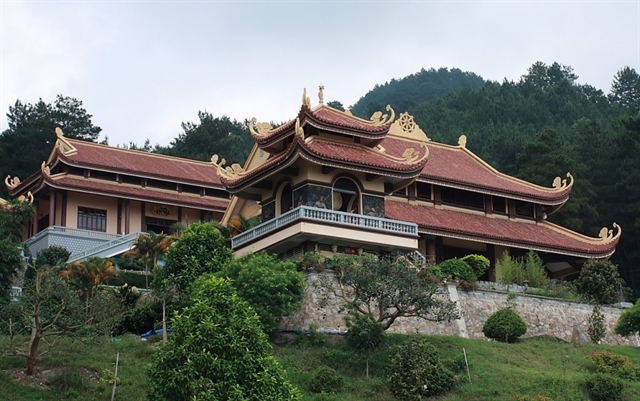 Tây Thiên Buddhism Monastery is among the three biggest in Việt Nam, including Yên Tử (in the northern province of Quảng Ninh) and Đà Lạt (in the central highlands province of Lâm Đồng) Buddhism schools. Photo chuanoitieng.com
Pagodas were often located in isolated areas and detached from the outside world so they could offer Buddhist monks and visitors a sense of tranquillity and peace as well as a place for monks to let go of normal life and focus on practising Buddhism.
Nowadays, when coming to Tây Thiên Relic in Tam Đảo District, Vĩnh Phúc Province, visitors can feel the tranquillity of the pagoda and enjoy the serenity of the surrounding landscape. The relic complex is situated in the heart of Tam Đảo at the height of up to 1,100 metres above sea level.
Tam Đảo means "Three Islands", which indicates the three mountains in the region which are often hidden in the clouds. Meanwhile Tây Thiên means 'Western Sky' which indicates India, the place of origin of Buddhism.
The relic complex covers an area of 148ha with dense forest and rich biodiversity, where more than 500 plants and 300 species of animal live. Here, one can visit various religious places like pagodas, temples and shrines while enjoying the spectacular landscape with magnificent mountain ranges and hearing the water flowing from the stream.
About 70 km from Hà Nội, one can visit this area in any season. In spring, it is busy and lively with the local festivals, in summer, it is an ideal place to cool off and enjoy the peaceful and tranquil atmosphere. Meanwhile, it is totally covered with mist echoed by the sound of Buddhist bells in autumn and winter.
One can also visit Tây Thiên Buddhism Monastery, which is among the three biggest in Việt Nam, including Yên Tử (in the northern province of Quảng Ninh) and Đà Lạt (in the central highlands province of Lâm Đồng) Buddhism schools. VNS