Vietnam's northern region is the cradle of several genres of traditional theaters including Cheo or traditional theater.
A scence in a Cheo play portrays the life Nguyen Du – one of Vietnam's greatest poets. (Photo: cheo48h)
Cheo is a wonderful combination of dance and singing in the form of music theatre. The actors and actresses dance and sing to tell the play's story.
Set costumes, make-up, language, and behavior are associated with each character in a Cheo play.
For years, driven by a passion for "cheo", the residents in Thach That district on the outskirts of Hanoi have worked hard to preserve the Cheo theater.
The passionate tunes and lyrics of cheo songs have followed cheo artist Van Ve all his life. At the age of 81, he is still passionate about "cheo".
When he was 8, his father taught him to play a percussion instrument to accompany cheo songs.
The vibrant sound of the cheo drum and the melodic cheo tunes attracted him. He joined a professional cheo troupe and stuck with the art throughout his life.
"I followed my father to sing cheo from the age of 8. My father was the 3rd generation Cheo singer and I'm of the 4th generation. I sang all the time, even singing while playing the drum. I often practice the songs of my predecessors," Ve said.
Besides having an excellent singing voice, he was also a famous cheo drummer. For his contributions to cheo, in 2004 he was awarded the Medal for the Culture and Information course by the Ministry of Culture, Sports, and Tourism.
More than half a century ago, a group of famous Cheo artists in Dai Dong commune, Thach That district founded a Co Phong cheo troupe with the intention of restoring and preserving the ancient cheo art of Vietnam.
It was the first private cheo troupe dedicated to researching, conserving, and promoting the ancient art.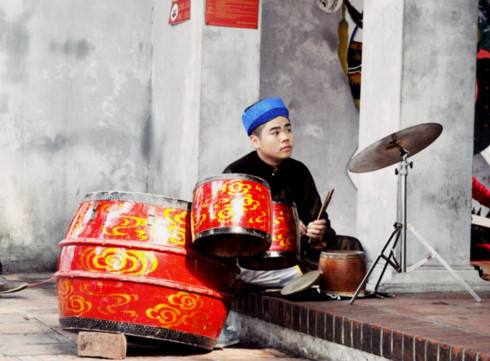 Cheo drum (Photo: cheo48h)

Mr. Ve said "Co phong refers to a cheo troupe in the ancient style. In the old days, we won the adulation of the audience despite difficult conditions. In my troupe, I was assigned to sing the ancient cheo songs because I had learned them from my father."
The troupe attracted other famous artists performing classic cheo plays. The restoration of these ancient plays boosted the troupe's reputation throughout northern provinces.
Khuat Van Vinh, former Director of the Cultural Center of Thach That district, said "The Co Phong cheo troupe was a famous troupe of the Doai region with many artists.
It trained many actors and actresses and taught cheo to people in many communes. It is thanks to this troupe that the people of Thach That still know the ancient cheo art."
Thach That district is famous for the ancient cheo stages in several communes. Kieu Thi Hoa and Kieu Xuan Trong are among dozens of Cheo artists in Dai Dong commune that nurture great passion for Cheo.
"When I was a child, the Ha Tay cheo troupe waited out the war at my house for 3 years. I often saw them practicing their singing and fell in love with the art. I love cheo very much," said Hoa.
"In 2007, when the Ha Tay cheo troupe came here to revive cheo, I took a role and began to participate in the troupe's activities regularly. Each cheo tune has its own fascination and I do my best to perform it well," said Trong.
The Dai Dong Commune People's Committee began to restore Dai Dong's cheo troupe in 2006. In the early days, the troupe encountered many problems, including a lack of funding and equipment.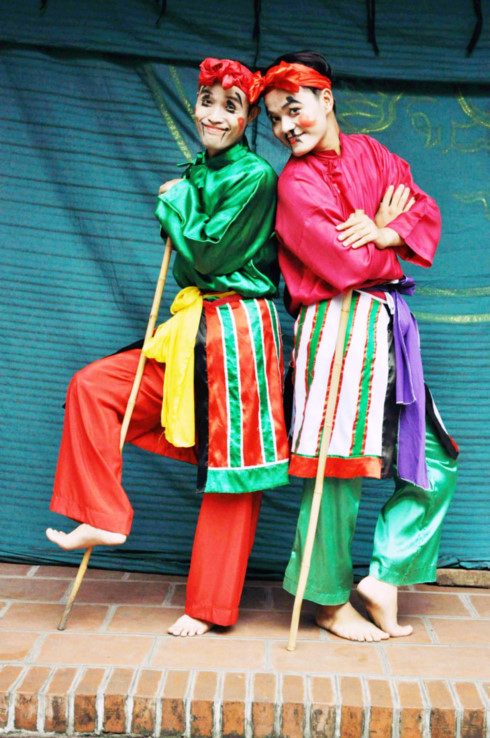 Two clowns in a Cheo play (Photo: cheo48h)


Every Saturday and Sunday, the club members come to the communal house to rehearse cheo. The troupe currently has more than 40 members, all of whom are villagers with a passion for cheo. Despite busy schedules, they arrange time to rehearse on weekends.
Khuat Thi Hue, a club member, said: "We are very busy now preparing for the rice growing season, but because I love cheo, I find time to participate in the club's activities."
"This is a long-standing tradition. Everyone loves singing cheo. Most of the locals can sing cheo songs. Cheo helps us forget the fatigue and anxiety of life," Nguyen Thai Lai, said a club member.
The locals teach cheo songs to one another. Everyone in Dai Dong commune: farmers, phone repair workers, retired teachers, and photographers share a same love for traditional cheo.
Thach That district offers cheo courses with teachers from the Vietnam Cheo Theater. The most recent course drew 50 students from several communes. Van Ve is one of the current teachers.
"People in Dai Dong commune are passionate about cheo. Performances by local cheo singers are even more popular than those of professional troupes. They award prizes to the best singers. Every evening, I come by motorbike to teach here," said Ve.
Kieu Thi Duyen, a resident of Dai Dong commune, takes care of her grandson and does the housework. Born and raised in the cradle of Cheo, Duyen has loved this art genre since she was little. She has a sweet singing voice and can sing the most difficult ancient cheo songs.
"I sing whenever I take care of my grandson or do my housework. I always feel happy when I sing cheo songs. It dispels all frustrations and refreshes me," said Duyen
Van Ve considers cheo an essential part of his life. After decades of teaching cheo, he's lost count of the number of students he has taught. Besides teaching cheo in his free time, he and his children often perform the ancient cheo songs.
Ve said "Many youngsters love cheo but not everyone can sing it because it is a difficult art. But, many of my students can sing as well as professional artists. I intend to keep on training the younger generations."
Cheo art has been a part of northern Vietnam for a long time. Cheo plays tell stories about the daily life and dreams of farmers.
Embracing humanity and national identity, cheo continues to delight audiences, old and young of Vietnamese and foreigners. The passion of artists like Van Ve and ordinary people like Ms. Duyen, Hoa, and Trong, are preserving this unique art.
VOV5