Expressing gratitude to the forests is an original tradition of the Co Tu in Tay Giang district, Quang Nam province.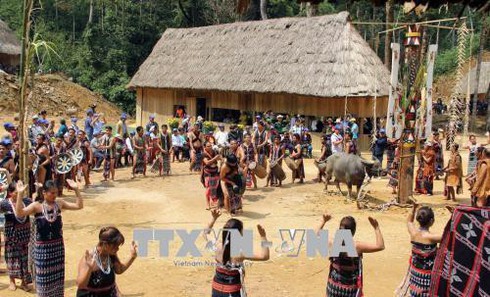 Co Tu people celebrate the forest worship ritual.
At the beginning of the year, the Co Tu organize rituals to pray for good luck and thank the forest for giving them life. It's also the Co Tu promise to manage and protect forests.
In the deep forests, the Co Tu people gather to perform their forest worshipping festival. They hold hands to make a circle and dance to the beat of gongs and other musical instruments to pray to their ancestors and deities.
The Co Tu believe that the Jade Emperor and other deities give them strength to survive in the Truong Son mountain range. Village chief Clau Blao says the forest is a sacred deity and the Mother Forest is a source of life. The Co Tu people love forests and mountains and feel a responsibility to protect forest resources, he said.
"Like our ancestors, we protect the forests in order to have wood to build houses and make fires. Trees shade our houses and clean the air.  We don't exploit upstream forests," Clau Blao said.
The Co Tu have worship rituals for the forests, mountains, rivers, trees, crops, and deities. Whenever they want to take something from the forests, they have to consult all the villagers and then hold a ritual to ask for the deities' permission. 
A Ro village has a rule that anyone who wants to cut down trees to build a house needs the village's agreement. A board of senior villagers will pick the trees to be cut down. Violators are punished and maybe banned from entering the forest.
Bling Ngành in A Ró village said "Families that have saws are aware of their duty to protect the. As our life depends on the forests, we have to protect them."
Since 2011 Tay Giang district has protected 450 ha of forests where ,pre tjam 720 Po mu trees have been officially recognised as Heritage Trees. Some trees have names: Village Temple, Elephant, Bear, Dragon, 5-tiger, and Longevity. Bhriu Liếc, Secretary of Tay Giang district's Party Committee, says:
"Protecting the forests is not the responsibility of any individual but of the whole community. It derives from the village culture and forest protection culture. If we lose these cultures, we'll lose the forest."
The Co Tu have planted medicinal trees such as Dang Shen, cardamom, and rose apple in the forest. Le Tri Thanh, Chairman of the Quang Nam provincial People's Committee, says the local administration has allocated forests for the community to manage.
"Tay Giang district is encouraged to protect and expand the forests to benefit the community and reduce poverty. The district should promote local cultural values and take advantage of natural resources for tourist development."
Because their lives depend largely on nature and farming, the Co Tu hold in high regard the protection of forests. The new year Forest Worship Ritual expresses their gratitude to the Mother Forest for protecting them and giving them health and prosperity. VOV5