Language, writing, and costumes are important identifications to differentiate Vietnam's ethnic groups.
Mong girls wear traditional clothes of their group.
The Mong group in Ha Giang province has 4 branches: White Mong, Blue Flower Mong, Red Flower Mong, and Black Mong. Their costumes show you their culture, artistic values, and history.
Coming to Ha Giang province in Vietnam's northwestern region, you'll see Mong girls in beautiful clothes with carefully embroidered patterns. Their clothes, the thread lines, and embroidery patterns are products of the creativity and diligence of Mong women.
The clothes of Mong women are colorful. The White Mong wear pleated skirts which sway when they walk. Necklaces, earrings, and other jewelry make them more eye-catching.
They grow flax and spin and weave the fiber to make their own clothes. The Mong people make fabric from the cellulose fibres that grow inside of the stalks of the flax plants.
The Mong believe that flax fiber spiritually connects the deceased with their ancestors. Flax clothes are always worn for worship rituals and ceremonies.
Vang A Sua, a researcher of Mong culture, said, "The Mong have preserved many old customs: Khen panpipe dancing, stick pushing, horse racing, and archery. Their many crafts include forging, spinning and weaving flax, and making brocade fiber."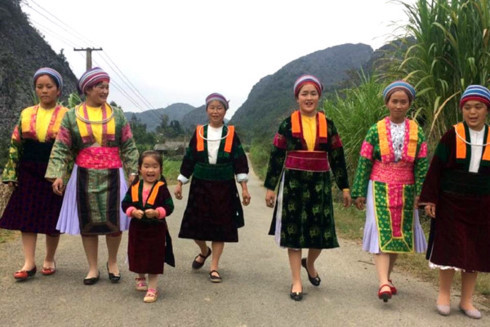 Mong women prefer hot colors for their clothes. (baohagiang.vn)
To create patterns and motifs on the fabric, the Mong use the technique of beeswax drawing. They heat beeswax and use bamboo pens with metal nibs to draw the wax onto the hemp.
The wax marks resist being dyed when the cloth is dipped in a pot of indigo. To achieve dark indigo patterns, the fabric may be dyed several times. This process is done by skilled, experienced artisans.
Young Mong girls learn to sew and embroider from their grandmothers and mothers. Teenage girls make their own clothes as a dowery for their marriage.
23-year-old Sung Thi Mai of Quan Ba district said, "I started learning when I was 12 years old and when I was 18 I could weave, connect threads, and perform other simple skills. For Mong girls, making traditional clothes is an important task."
A Mong dress is a work of art. A beautiful dress shows off the maker's skills. Mong women like hot colors and use collage techniques to create beautiful patterns. They design clothes for everyday life and for ceremonies and festivals. VOV5

The owner of the famous H'mong King Palace in Ha Giang Province, Vuong Duy Bao, has asked local authorities to urgently adopt measures to preserve the site which is facing serious deterioration.  

"Live on rocks and die buried in rocks". That is how people from the Mong Meo Vac ethnic group define their identity.