The Ede ethnic people have long been proud of their brocade weaving and are trying to preserve the traditional craft amid the rapid industrialization, modernization, and fashion changes.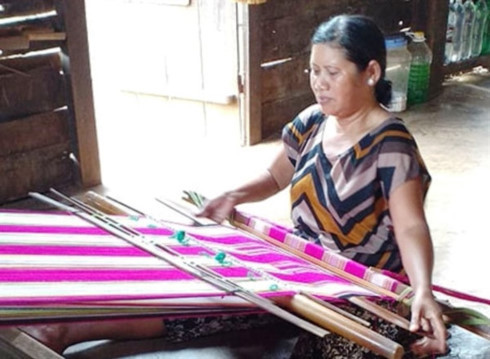 Despite a dip in popularity of brocade products, Ms. H'Biek Bya keeps practicing the traditional craft. (Photo: baovanhoa.vn)
Almost all Ede ethnic families in Kmrong Prong A commune in Buon Ma Thuot City, Dak Lak province, have maintained the weaving craft.
Villager H'Tren Eban said she began to get to know looms and colorful threads when she was 12 years old. With more than 20 years of experience in weaving brocade, to date H'Tren Eban is considered one of the most skillful artisans in her commune.
She said: "I'm the fourth generation in the family to follow the craft. This is the traditional occupation of our group so it's essential to preserve it for our descendants."
Another villager, H'Biek Bya, has been engaged in weaving for more than 30 years. She said it takes much time, effort, patience, and deftness to turn out a beautiful product.
Although brocade products, such as those made for the family, or as gifts during major occasions, or as presents for distinguished visitors, haven't been popular in recent years, Bya's family are determined to keep the traditional craft alive.
"Our sales are not stable. The money is not enough to cover daily expenses. If there are companies to buy all our products, our income would be stable. Nonetheless, we here decided to continue weaving in order to maintain our cultural identity and tradition," said Bya.
According to Kmrong Prong A commune's artisans, making traditional brocade pieces requires painstaking labor.
Blazing red brocade clothes are used for decoration during festivals and rituals dedicated to God. Before weaving, Ede women brainstorm to come up with the design and size of the pattern.
The uniqueness of Ede brocade pieces lie in their combination of colors. The combination between red and black, between red and dark indigo, and between black and yellow create lively effects for the clothing.
As brocade weaving is now at the risk of fading away, local administration has established cooperatives and increased training for the younger generation to maintain the traditional craft and create a stable income for villagers.
Y Bay Kbuor, head of Kmrơng Prong A hamlet, said: "Our commune can preserve weaving our predecessors left. Generally, very few young people know about the craft because most of them leave their hometown to work in other places after graduation and the majority of local old artisans have died. I hope a cooperative will be set up to buy the unique products made by local women."
VOV5