Dien Bien province is home to about 6,000 Dao people of the Red Dao, Dao Quan Chet, and Dao Khau branches. The Dao observe many religious and cultural ceremonies and festivals.
Red Dao women are well dressed for the fire dance festival.
Worthy of note is their Fire Dance Festival.  VOV will spotlight the fire dance of the Red Dao in Huoi Sau hamlet, Nam Pho district.
Huoi Sau hamlet has about 430 Red Dao people, who all share the same family name of Chao. Each year they choose a propitious day to hold their Fire Dance Festival. 
When the rooster crows at dawn, every house in Huoi Sau hamlet switches on the light. The women help each other don their traditional costumes, while the men prepare worship offerings for the ceremony. In the past, a Fire Dance Festival was held by family members at the house of the head of the clan. Now it is organized in the hamlet yard by all the villagers.
Chao Sieng Ta, the patriarch of Huoi Sau hamlet, explained the meaning of the Fire Dance Festival "We organize it to invite deities, ancestors, masters, and armies to protect our lives and our work, chase away ghosts, prevent diseases, and support our children's study."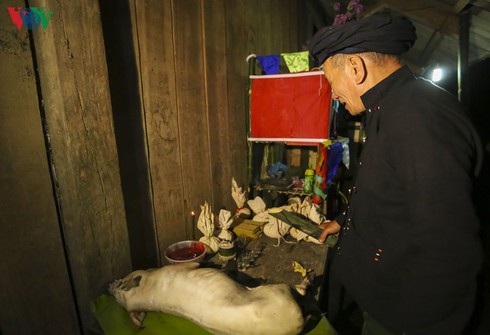 A shaman prepares the offerings for the fire dance festival.
The worship offering must include a pig or the head of a pig, wine, fresh water, votive paper, incense sticks, rice, and two silver coins. At the proper moment, a shaman wearing a traditional robe begins the ritual before the altar. People beat gongs and drums to get the attention of the deities and spirits.
While the shaman conducts the ritual to pray for good luck and happiness, outside in the yard people are burning a wood fire. Young men who want to dance on the burning coals sit behind the shaman, waiting for him to ask the deities for permission.
The shaman casts a yin-yang divination. If the fire deity agrees, the men can dance on the hot coals. With a mysterious, perhaps supernatural, resistance to the heat, the men walk onto the burning coals and dance with bare feet. Their bodies appear fireproof and they feel in touch with the deities. The ceremony is over when the fire dies out.
"We feel as if the deities have incarnated in our bodies. I felt like a sleepwalker. I trembled and jumped onto the burning coals. After the dance I felt fully of sound mind, comfortable, and stronger," said Chao San Phin.
After the fire dance, the Dao men perform other dances imitating work activities and displaying a martial arts spirit. Finally, the shaman burns votive money for the deities to help the souls of their ancestors return to the heaven world.
"8 people are chosen for the fire dance with support of a master. They should be in good health and abstain from sex for some days before the ceremony," said Shaman Chao Kiem Phin.
The fire dance is usually held at the end of the year or at the beginning of a new year to thank the Fire Deity for warmth, safety, prosperity, and a good harvest, and for chasing away ghosts, devils, and diseases. VOV5