The 50-year-old Frenchman who is known simply as Fabric by Vietnamese can be said to have been rather famous in HCMC, at least in several local social media over the past few months.
The following stories add color and a few more details to the story of this expatriate.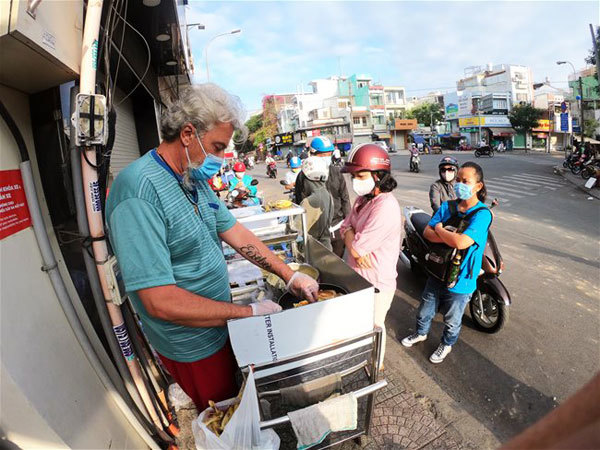 Fabrice and his customers waiting for their turn. -- Photos: Thanh Hoa
Chuối chiên, roughly a type of fried banana cake, is a snack in the southern provinces of Vietnam. Chuoi chien used to be mostly a homemade dish, but is as well one that provided the livelihood for snack sellers. Not very complicated and rather cheap to make, chuoi chien remains somewhat popular although it has had to concede much of its "market share" to "modern snacks." Occasionally, it can now be found on the streets of Saigon.
However, a Western expatriate selling fried banana cakes for his living is exceptional to many Saigonese. Just like a German selling hot dogs in District 8 first known a few years ago, this expatriate has attracted much support from Saigonese who want to lend him a hand.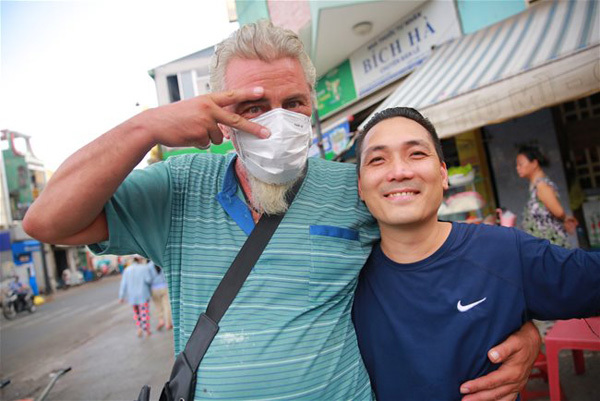 Fabrice pictured with Sang, who helped him start his "butter chuoi chien business".
Fabrice from France, the expatriate, entered Vietnam in January 2020 with a visa effective until April last year. When news about the Covid-19 pandemic spread in France and other European countries, Fabrice was among the contingent of expatriates in Vietnam trying to extend their visas instead of returning to their homeland which was under attack by the coronavirus.
However, the pandemic persisted much longer than they all expected. Having spent all his money while having no jobs to do, Fabric had to sleep on the sidewalk in Bui Vien pedestrian quarter, also in District 1, for about two months.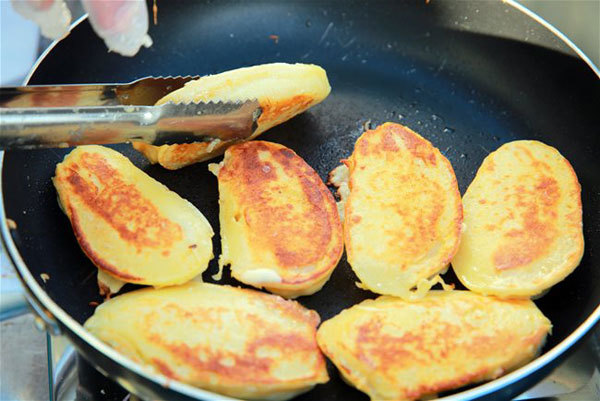 Fabrice's fried banana cakes ready for serving customers.
During the time, the French expatriate was assisted by some locals, who offered him temporary jobs and food. In November last year, Fabrice met Sang, a Vietnamese, who helped him buy a push cart so that he could make and sell chuoi chien, with which the Frenchman started a new job to support himself.
Many Saigonese who passed by the corner of Nguyen Cu Trinh and Tran Dinh Xu streets in HCMC's District 1 were at first surprised to see a tall Westerner selling chuoi chien on a push cart often used by local sellers.
The Frenchman and some locals who helped him when he ran out of money during the pandemic.
Fabrice says his family once lived in Saigon during the 70s of the last century in a house on Le Loi Street, one of the most bustling streets in Saigon at that time. Then his family moved to France in 1970. When telling the story, Fabrice picks out from a small handbag a photo of his mother, a Vietnamese.
After Fabrice's parents died, he remained alone in France. He made up his mind to visit Vietnam last year and has got stranded here ever since because of the pandemic.
To earn his own living while waiting for the pandemic to be over, Fabrice began to sell chuoi chien and thom chien (fried pineapple cake). However, the pineapple dish did not sell well. Therefore, he has kept only chuoi chien. Asked why he chose to make chuoi chien, Fabrice answered he used to make it in France and it is the only local dish he knows how to cook well.
Fabrice's chuoi chien cakes are more special than local counterparts in that they are fried with butter instead of animal fat or plant oil which is normally used by Vietnamese. It is these "butter chuoi chien" and the western seller that attract local passers-by. Some know the story about his being stranded here and want to give him a helping hand.
Every day, Fabrice wakes up at 3a.m. to prepare for his daily work. He blends a big bowl of powder for the fried banana cakes. He starts frying the cakes at 5a.m., and at about 6a.m., welcomes the first customers.
On Fabrice's cart are a small gas stove, a bowl of powder, trays for fried cakes, a chopping-board and bananas. Of course, there is also butter.
It takes him about seven minutes to finish frying a single pan of banana cakes. He calls it a day at around 11a.m. Fabrice says he only sells his cakes in the morning because they can be eaten as a breakfast dish for students or office workers.
His customers are mostly people living around, students from nearby schools and passers-by. Some of them say this Westerner has never caused public disorders and is friendly to others.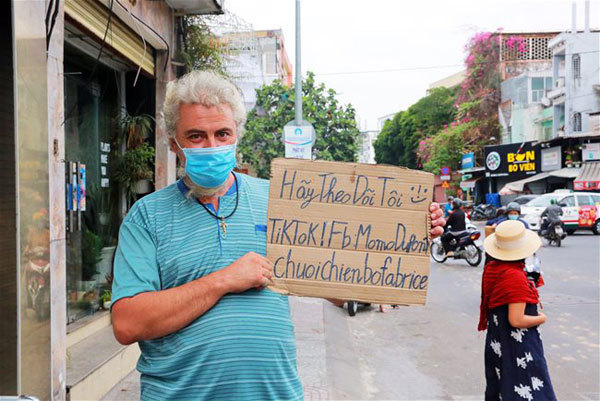 Fabrice trying to advertise his products. 
Among Fabrice's frequenters was one from Bien Hoa City in Dong Nai Province. He has also received some donations from overseas Vietnamese living in the United States who wanted to support him in overcoming the hard times.
Occasionally, Fabrice wraps up his daily workload at eight o'clock because everything has been sold out.
In an interview with the Voice of Vietnam, Fabrice said, "When I sell cakes, there are many kind Vietnamese people who are willing to offer great help to me. They help me with accommodation, visa procedures, and even the police also help me. Everyone is very good. Thanks to that, everything is more favorable, the business here too."
After a time of selling chuoi chien at the corner of Nguyen Cu Trinh and Tran Dinh Xu streets, Fabrice has now moved his push cart to 155 Bui Vien Street, which is not very far from the initial place. "My new place is more spacious, which allows me to receive more customers at a time," he says.
SGT

A French man, who has been stuck in Vietnam due to Covid-19, is working as a vendor in HCM City to earn a living.

The last year has seen several foreigners living in Vietnam experience unprecedented changes, particularly with 2020 being heavily affected by the COVID-19 pandemic, meaning that travelling between countries has become increasingly difficult.