Ha Thai lacquer village in Duyen Thai commune in Hanoi's outlying Thuong Tin district has more than 200 years of experience in making lacquer products. Until the early 20th century the village was called Cu Trang or Dong Thai.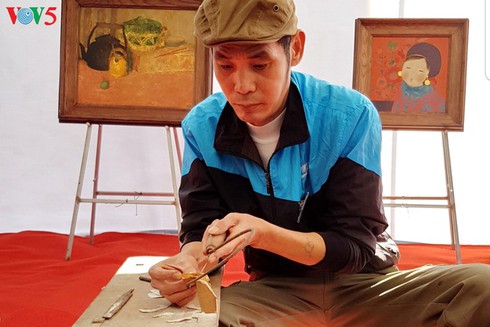 A Ha Thai craftsman demonstrates how to make lacquer items
The Ha Thai lacquer craft has been around since the 17th century and was simply painting job at that time.
Although Ha Thai was not the first village to do lacquer painting, Cu Trang's red lacquer trimmed with gold was prized because of the skill of the craftsmen. They were often selected to make household items for the royal family at that time.  
Since Ha Thai was officially recognized as a traditional Vietnamese craft village in 2001, it has been a bigger part of local socio-economic development.
Le Van Hung, Chairman of the Duyen Thai Commune People's Committee, said, "To the legacy left by the ancestors, Ha Thai people's diligence, hard-work, and creativity have given a new development boost. Currently the village has more than 1,000 households engaged in the craft, one emeritus artisan, and 12 individuals recognized as artisans. The Ha Thai People's Committee plans to continue developing the village in combination with tourism development in a sustainable direction."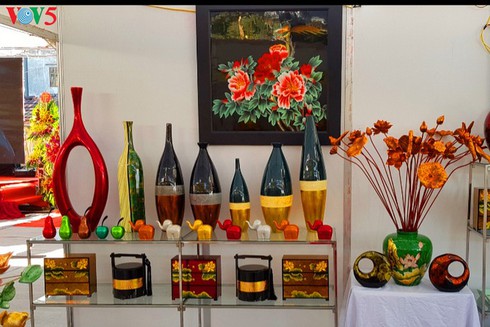 Ha Thai lacquer products
Nowadays, in addition to wood, bamboo, and rattan, Ha Thai craftsmen use new materials such as composites and ceramics to make their products.
Lacquer techniques have been applied to paintings, horizontal lacquered boards, and parallel sentences, as well as bowls, plates, flower vases, trays, tables, chairs, beds, and cabinets.
Artisan Nguyen Thi Hoi, a member of the village's craft association, said, "Ha Thai lacquerware is varied. Decorative items include vases, boxes, sculpture, picture frames, mirror frames, flower pots, furniture, lamps, and wall panels. Some shops specialize in production for exports. Others focus on the domestic market. The Ha Thai Lacquer Association has a showroom to display and promote the village's products. Workers from other places come to the village to learn lacquer techniques. Our craft association has been around for a decade and now has 32 members."
Every year, Ha Thai produces millions of lacquer items inspired by the Vietnamese ladscape and culture and made of simple materials. Their variety of colors make them stand out from the lacquer products of other regions.
Many of the village's products have won prizes at handicraft competitions.
Nguyen Dinh Dien, a member of the village's craft association, said, "We used to make vases, trays, and worship objects for export just to the Soviet Union, Poland, and Germany. Now we also export to the US, Japan, the Republic of Korea, and France. There are 10 major businesses in Duyen Thai commune."
Ha Thai lacquer village is part of Hanoi's master plan to promote craft villages to domestic and foreign tourists. The Vietnam Association of Craft Villages has selected Ha Thai as one of 100 outstanding craft villages in Vietnam. VOV5