The Lu ethnic minority of Lai Chau province have long earned their living by growing cotton, raising silkworms, spinning thread and weaving fabrics.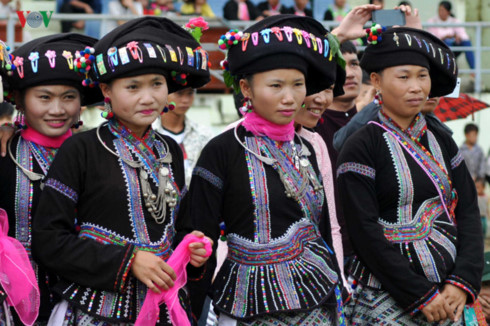 Lu women's clothing includes turbans, blouses, skirts, belts, and necklaces.
The colorful patterns on their clothes depict trees, plants, and flowers to adorn Lu women's beauty. Lu women still weave, embroider, and sew turbans, blouses, skirts and belts, preserving a long standing cultural tradition.
Lu women always wear two or three skirts at a time, with each underskirt protruding 3 to 4cm beyond the skirt above.
Each skirt is sewn from three separate pieces of cloth: the waistband, the skirt body, and the skirt foot.
The waistband is woven from brown cotton with no decoration. The skirt body is woven from silk using complicated weaving techniques requiring expert craftsmanship.
The skirt foot is made of cotton cloth dyed black with a fringe of flowery material.
Doctor Vo Thi Mai Phuong, head of the research and collection section of the Vietnam Museum of Ethnology, said, "Lu women's shirts are tailored in a fan shape with six pieces of cloth joined together into flaps broader than the waist section. Lu women use embroidery, coins, or beads to decorate the shirts. Their costumes are very colorful but the main color is indigo."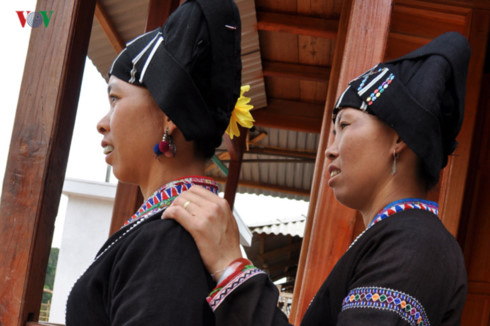 Lu women's turbans are more than 4m in length and 30cm in width.
Lu women's turbans are made of cotton and dyed indigo. They are more than 4m in length and 30cm in width and have a 20-centimeter fringe on each end.
The ends are woven with 18 alternating black and white stripes of varying size and decorated with yellow tassels.
When worn, turbans are folded in quarters lengthwise and wound around chignons worn on the left side of the head.  
The belts are made from white cotton. Each end has a fringe and many embroidery stitches. When worn, the belt is folded double and tied on the left flank.
The two ends of the necklace are designed as two triangular leaves with flowers delicately carved on their surface.
Tao Thi Phung of Ban Hon Commune said, "Lu ethnic people grow cotton for weaving. When children are 14 or 15 years old, they begin learning to sew and weave. They weave cloth and spin yarn at night after returning home from the fields. Costumes are made to wear or to sell to tourists. Shirts are manually sewn. Skirts are woven piece by piece and then stitched together."
The Lu's clothing motifs include trees, plants and flowers. Lo Thi Noi, a resident of Ban Hon commune, said, "We must plant cotton and weave fabrics. To make skirts, we must raise silk worms. We weave white silk, dye it black, and then cut it into pieces to make our traditional clothes. It takes a long time to make a set of clothes because we must embroider it. Patterns have been handed down by our ancestors."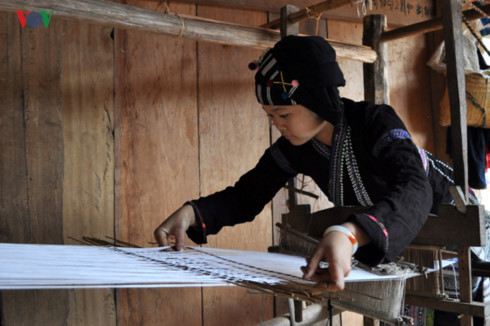 Each Lu household has at least a loom.
The Lu embroidery techniques require patience and care. Nguyen Thi Bich of Tam Duong district said she loves Lu women's costumes.
"The traditional costumes of the Lu women are beautiful. Because the fabric is hand-woven, it is very durable. The embroidered patterns are meticulous," said Bich. VOV5