Exploded Ordnance Disposal (EOD) teams from Peace Trees Viet Nam (PTVN) detonated and removed a 1,000-pound (450kg) bomb in the central Quang Tri Province yesterday.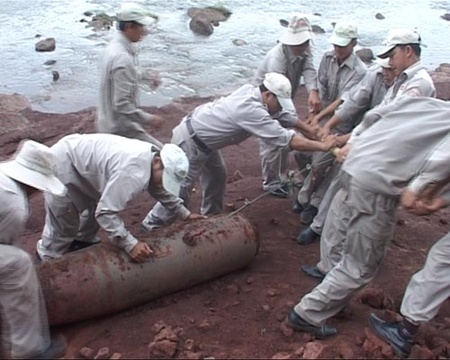 The 450kg-bomb is found in A Ho Village, Quang Tri Province. – Photo Infonews
The bomb was detonated in A Ho village in Thanh commune on the banks of the Se Pon River.
Pham Thi Hoang Ha of PTVN, a non-government organisation that has been searching for unexploded ordnance in Quang Tri since 1995, said the 1.8-metre-long, 35.6-centimentre-diameter bomb, which was classified as an MK83, is believed to have been left behind after the American war.
It's the biggest bomb that the team has dug up in the mountainous Huong Hoa district along with the Demilitarized Zone (DMZ) in the province from the period of the 1960s war.
According to PTVN, the EOD teams have discovered and removed since 2013 more than 6,800 pieces of unexploded ordnance (UXO), of which 14 were bombs weighing between 250 pounds and 500 pounds, and cleared 105 hectares of minefields.
VNS/VNN