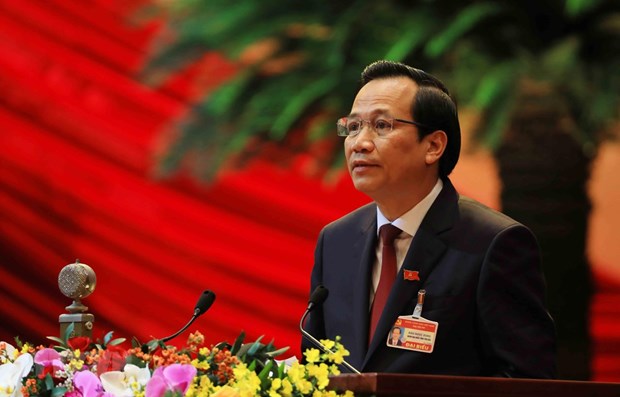 Minister of Labour, Invalids and Social Affairs Dao Ngoc Dung speaks at a working session of the 13th National Party Congress. (Photo: VNA)
The views were shared by the two ministers during their presentations to the ongoing 13th National Party Congress on January 27.
Minister of Labour, Invalids and Social Affairs Dao Ngoc Dung highlighted Vietnam's internationally-recognised achievements in poverty reduction and the creation of 8 million jobs over the last five years.
Social and health insurance have become the main pillars of Vietnam's social welfare system, especially voluntary social insurance, where the number of participants stood at about 750,000 in 2019-2020; triple the figure from a decade ago.
Such achievements demonstrate the sound guidelines and policies from the Party and the State and the superiority of the socialist regime in Vietnam, he went on.
People should be the target of development and also its driver, and be the centre of all social policies, and social policies caring for the people are strategic and regular tasks for the Party, the State, agencies, organisations, individuals, and society as a whole, the minister said.
To achieve goals in sustainable development, Dung suggested further implementing sustainable poverty reduction policies, improving human resources quality, developing a healthy, synchronous, modern, integrated, and cooperative labour market, and generating sustainable jobs, especially for young and middle-aged people.
The minister also emphasised the need to step up communications work to raise awareness among the public, and especially leaders of agencies and organisations, about social management and development.
He also suggested increasing resources for the implementation of social policies and improving the quality of social services.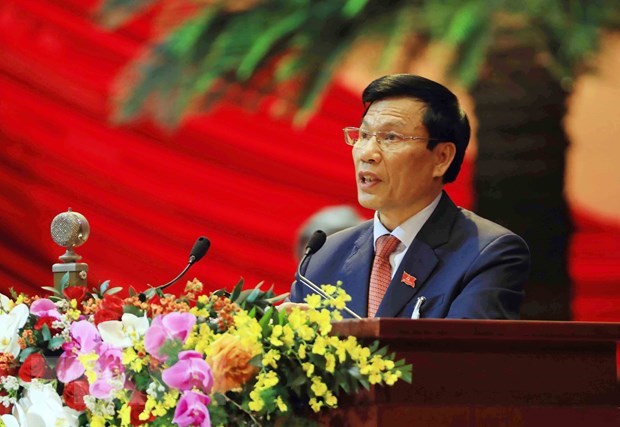 Minister of Culture, Sports and Tourism Nguyen Ngoc Thien speaks at a working session of the 13th National Party Congress. (Photo: VNA)
In his presentation, Minister of Culture, Sports and Tourism Nguyen Ngoc Thien pointed out the achievements and limitations in culture and human development over recent times.
He suggested cultural building in politics and economy, with attention paid to cultural building in the Party, State agencies, and mass organisations, which, he said, is a crucial factor in building a pure and strong political system.
Developing cultural industries is needed to create cultural products and services by Vietnamese people and for Vietnamese people, which will help promote Vietnamese culture, and turn cultural potential into socio-economic resources, the official said.
Thien proposed enhancing the Party's leadership of the development of Vietnamese culture and people in the new era, and improving the efficiency of State management in culture, saying that cultural development should be in tandem with political development.
Investment in sci-tech called for to develop e-Government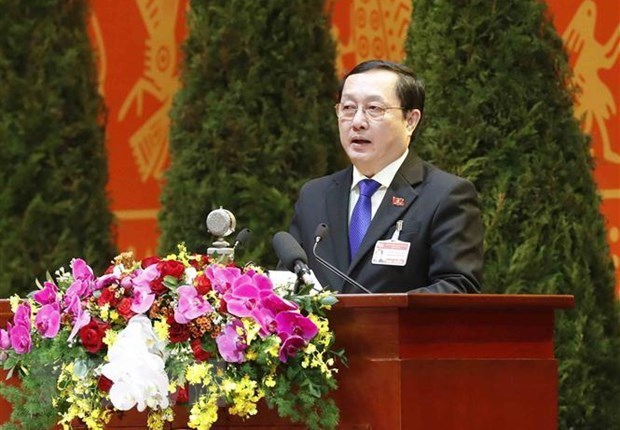 Minister of Science and Technology Huynh Thanh Dat
Minister of Science and Technology Huynh Thanh Dat on January 8 called for greater investment in science-technology to push national digital transformation, e-Government, and the digital economy forward.
Speaking at the ongoing 13th National Party Congress, Dat affirmed that science-technology has made practical contributions to the country's industrialisation and modernisation process and national defence-security while improving social welfare and people's lives.
According to the Global Innovation Index 2020, Vietnam ranked 42nd out of the 131 economies. The country also led the group of 29 lower-middle income economies and was placed third in Southeast Asia behind Singapore and Malaysia.
In public health care, Vietnam was among the top three ASEAN nations and 43 countries and territories globally that can produce vaccines. It also succeeded in preventing and eliminating dangerous communicable diseases.
Amid the COVID-19 pandemic, the health sector developed rapid testing kits, produced respirators, and designed treatment regimens.
The official suggested shifting the growth model to one based on science-technology and innovation so as to improve economic competitiveness, adding that the science-technology sector will step up innovation in service of socio-economic development in the near future./.VNA

"Like exploring new lands, the expanded cyberspace will open up a new development space for the country," Minister of Information and Communications Nguyen Manh Hung said at the 13th National Party Congress on Thursday morning (January 28).

After seven years of implementing Resolution 29 on reforming the education and training sector, Vietnam has gained several outstanding achievements.