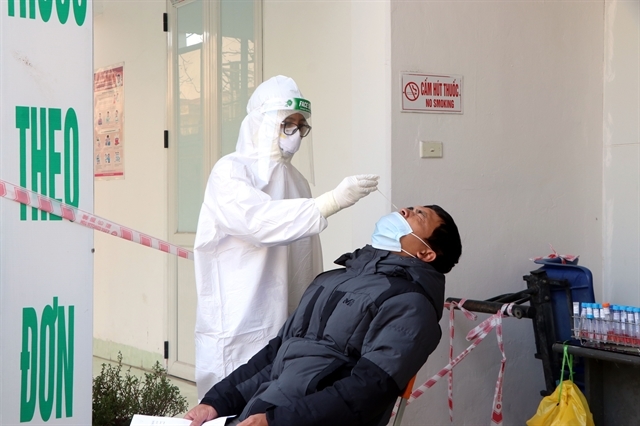 A truck driver gets tested for COVID-19. More than 500 truck drivers in the province had their samples taken for testing over the weekend
All the cases reported over the weekend were in the northern province of Hai Duong
The six cases reported on Saturday were all previously quarantined at two field hospitals in the province.
Fourteen of the 15 cases on Sunday were first contacts of a previously reported case so were already in quarantine. The fifteenth case was detected in a previously locked down area in Nam Sach District.
Viet Nam's caseload now stands at 2,383.
Hai Duong is currently Vietnam's epicentre of the pandemic with more than 600 positive cases.
The province's centre for disease control also reported a new cluster in Kim Thanh District connected to a patient confirmed positive on Friday.
Five new patients related to this patient were reported on Saturday night, his family members and friends. More than 250 people who had contact with these five patients have been traced.
Kim Thanh District's chairman Pham Quang Hung said the entire Kim Lien Commune in the district with 8,000 residents had been isolated. All first contacts of the new patients had been taken into centralised quarantine.
More than 2,500 samples had been taken from the district for testing as of Sunday.
Chairman of Hai Duong People's Committee Nguyen Duong Thai on Saturday ordered all public employees in the province who use smartphones to install Bluezone – a contact tracing application – and fill out the health declaration form provided with it.
He also ordered all public agencies to keep a record of all people coming in and out of their organisations, ask them to install the application and keep it open at all times by turning on the Bluetooth feature on their phones.
He also ordered chairmen of districts and communes to instruct local residents to use the application.
Ninety patients in Hai Duong were released from hospitals on Sunday, making the province's total recoveries 204.
Meanwhile, road transport and inland waterway transport in Quang Ninh Province were resumed at midnight on Sunday except in Dong Trieu Town, a COVID-19 cluster of the January 27 outbreak.
Transport was suspended in the province on February 8 to prevent infections.
By Saturday morning Quang Ninh had gone four days without any new cases and 11 days without community infections.
Only 20 out of the province's 43 patients remain positive for COVID-19 as of Friday.
Also on Saturday morning, barriers were lifted for an isolated residential area in the southern province of Binh Duong's Thuan An City after 14 days without new cases.
Two other residential areas in the province's Thu Dau Mot City and Phu Giao District had also been freed from isolation previously.
VNS

Minister of Health Nguyen Thanh Long has warned that Vietnam remains at high risk of COVID-19 infections from abroad as the number of cases in many countries keeps rising.