VietNamNet Bridge – The Vietnam Anti-corruption Initiative Program 2013 (VACI 2013) on June 14 awarded the top 24 initiatives to support their implementation in the community.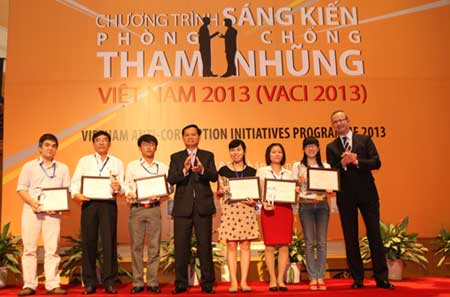 VACI 2013 winners receive awards. (Photo: World Bank)
Winning projects in VACI 2013 are the best among 130 entries submitted by various agencies and organizations, including socio-political organizations, non-governmental organisations, universities, private sector, and local authorities.
They are selected from 40 shortlisted proposals to the final round. Each winning project will receive a grant up to VND300 million to be undertaken in different localities across the country over 12 months.
VACI 2013 is co-organized by the Government Inspectorate of Vietnam (GI), the World Bank (WB) and co-sponsored by the Australian Agency for International Development (AusAID), Irish Aid, the Swedish Embassy, and the UK Department for International Development (DFID-UK).
VACI 2013 aims to seek and support the implementation of initiatives for more transparency, integrity and accountability and less corruption.
The first VACI (in 2011) under the theme "Strengthening public integrity and law implementation for effective anti-corruption" was designed based on the success of the Vietnam Innovation Day 2009. VACI 2011 supported 34 projects and they have successfully implemented.
All social resources mobilized to root out corruption
The Vietnam Anti-Corruption Initiative (VACI) 2013 was launched on June 11 in Hanoi, aiming to enhance society's roles and responsibilities in combating corruption.
The programme, which is co-organised by the Government Inspectorate, the World Bank (WB) and other sponsors, includes an innovative contest and a knowledge exchange forum.
Forty outstanding projects on ways to fight corruption have been selected for the final round of the creative competition.
Deputy Inspector General Tran Duc Luong praised the resolve and efforts of the country's political system and the entire society in the fight against corruption which have made drastic changes over the years.
VACI 2013 is part of the practical activities to promote society's involvement and international cooperation in this field while demonstrating the country's political determination and responsibility in performing its obligations as a member of the UN Convention against Corruption (UNCAC).
James Anderson, a WB representative, said the programme shows the determination of the Government Inspectorate, ministries and agencies in facilitating and collaborating with non-governmental agencies, the private sector and the media in the anti-corruption fight.
VACI 2013 indicates the long-term cooperation between the Government Inspectorate and development partners, social organisations and the private sector to reach the common goal of enhancing transparency, integrity and accountability to root out corruption.
The organizing board is expected to announce winning projects on June 12 and hold a knowledge exchange forum themed "Using information technology and telecommunications in preventing and fighting corruption".
Source: VOV online