24 positive cases related to four Tan Son Nhat airport's baggage handlers reported
Related to the four latest cases of Covid-19 in HCM City, who are baggage handlers at Tan Son Nhat airport, 24 people are reported to be positive to SARS-CoV-2, said Dr. Nguyen Tri Dung, Director of HCMC Center for Disease Control.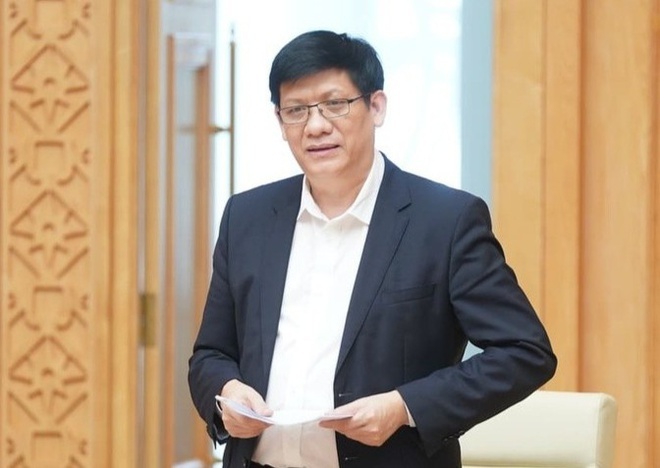 Minister of Health Nguyen Thanh Long spoke at the meeting this morning.
Dr. Dung told the meeting of the National Steering Committee for Covid-19 Prevention and Control this morning that these cases are mainly F1 or relatives of the four baggage handlers who were announced as the city's latest Covid-19 patients this morning.
Dr. Nguyen Tan Binh, Director of the Ho Chi Minh City Department of Health, said that the four baggage handlers were infected with Covid-19 from patient 1979, their colleague. The local authorities have traced 26 F1 cases and 132 people related to the four baggage handlers.
Minister of Health Nguyen Thanh Long said that the epidemic situation in Ho Chi Minh City is quite complicated as the source of infection at Tan Son Nhat airport has not been determined yet.
Ho Chi Minh City People's Committee Chairman Nguyen Thanh Phong said the city would continue to closely control, quickly perform tests, and trace suspected cases at the baggage handling company, the districts with infected and suspected cases.
"Any hesitation will pay the price. We have to take drastic actions to prevent and fight the epidemic, for the safety of the community. Our officials will not go anywhere this Tet and those whose hometown is far from the city will not return home for Tet reunion," Phong said.
Ho Van - Lien Anh

At 6am on February 8, the Ministry of Health announced four new locally-transmitted cases of Covid-19 who are staff at Tan Son Nhat airport in HCM City, bringing the total number of patients in the country to 2,005.
Tan Son Nhat International Airport in Ho Chi Minh City continues to operate normally after one of the airport staff tested positive for the coronavirus on February 6, according to airport authorities.