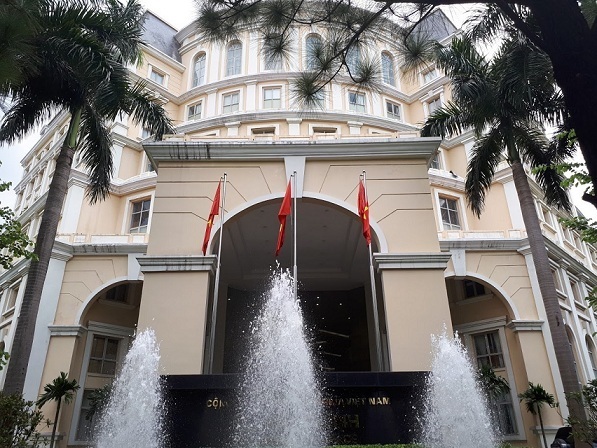 The Ministry of Finance's head office
Minister of Finance Ho Duc Phoc has signed Decision No 1687 dated September 7 on the Ministry of Finance (MOF) action plan in the 2021-2026 tenure.
Some detailed goals in the action plan include resolutions, plans and programs of the Party, National Assembly, and Government, including a policy on state budget mobilization and collection in 2021-2025 to ensure competitiveness of enterprises and attract investment capital to develop businesses in all sectors, with an emphasis on the private sector.
At the same time, state financial resources are needed to implement socio-economic development tasks and ensure national security and national defence.
It is expected that the mobilization rate for the State budget in 2021-2025 will be no less than 16 percent of GDP on average, of which collections from taxes and fees will account for 13-14 percent of GDP, and domestic collections 85-86 percent of total collections.
As such, analysts say the tendency of increasing collections from domestic sources and decreasing collections from imports and exports will continue.
MOF is also determined to strictly pursue the State budget estimates ratified by the National Assembly; and curb overexpenditures at 3.7 percent of GDP in 2021-2025. The figure is hoped to be below 3.7 percent.
Also, MOF has set a goal of having the total state budget expenditures in 2021-2025 at VND10.26 quadrillion, of which 28 percent would be spent for investment and development, while regular spending would account for 62-63 percent of total expenditures.
However, it aims to increase spending on investment and development in reality to 29 percent and reduce regular expenditures to 60 percent.
The total expenditure for investment and development from the state budget is estimated at VND2.87 quadrillion, of which spending from overseas capital would be VND300 trillion, and spending from SOE (state owned enterprise) equitization and State divestment are estimated at VND248 trillion.
In the plan, regular expenditures still account for a large proportion of total expenditures, while spending for investment development is still low, though it has improved.
Regarding public debts, MOF aims to have the public debt ceiling no higher than 60 percent of GDP (65 percent in previous period); and the warning threshold at 55 percent of GDP. The national foreign debt must not be higher than 50 percent of GDP and the warning threshold 45 percent. 
Luong Bang

The Government has agreed to use VND14.62 trillion from the State budget for the fight against the Covid-19 pandemic in 2021.

According to the Government's report, Vietnam's GDP in 2020 reached $271.2 billion, 1.4 times higher than that of 2015. GDP per capita in 2020 was $2,779, 1.3 times higher than 2015.