At least 30 people were killed and 43 others wounded in separate attacks in northern and central Iraq on Thursday, police said.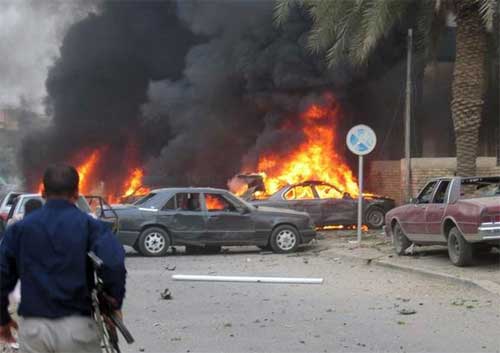 The aftermath of a bombing attack in Iraq (file photo). Photo: IRIN
A car bomb went off near a market Thursday evening in Samarra, some 120 km north of the capital of Baghdad, killing 17 people and injuring 26 others, a local police source told Xinhua on condition of anonymity.
Three women and two children were among those who were killed in the blast, the source said.
Meanwhile, a car bomb explosion killed 5 and wounded 6 near a market in Abu Ghraib area, some 25 km west of Baghdad, he added.
Earlier in the day, a roadside bomb struck a minibus carrying passengers also in Abu Ghraib area, killing a civilian and wounding three others, a local police source anonymously told Xinhua.
In a separate incident, one person was killed and eight others were wounded when a suicide bomber attacked the home of a policeman south of Mosul, some 400 km north of Baghdad.
Also, a policeman was shot dead by unidentified gunmen in the city center of Mosul, a provincial police source told Xinhua on condition of anonymity.
Separately, armed men gunned down a patrolling soldier in al- Arabi district in northern Mosul, while a civilian was killed by gunmen near his house in the eastern part of the city, the source said.
Elsewhere, a policeman and two civilians were killed when a roadside bomb went off near a checkpoint in the city of Tal Afar, some 60 km west of Mosul, the source added.
The attacks came one day after a series of deadly bombings and shootings, mainly in Baghdad, left some 57 people dead and over 200 others wounded.
Iraq is witnessing its worst eruption of violence in recent years, which raises fears that the country is sliding back to the full-blown civil conflict that peaked in 2006 and 2007, when monthly death toll sometimes exceeded 3,000.
Source: Xinhuanet