36 officials charged with corruption in 2013
A report by the Government Inspectorate of Vietnam has suggested that 36 officials were charged with corruption during the first eight months of this year.
36 officials charged with corruption in 2013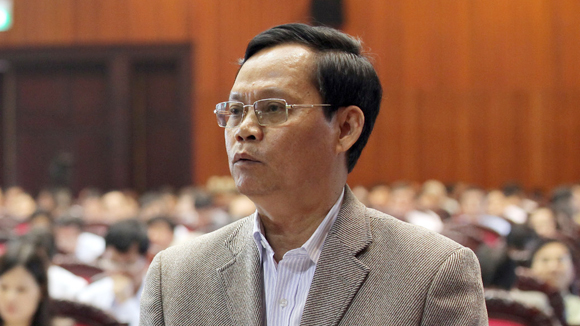 Mr. Huynh Phong Tranh.
A report by the Government Inspectorate of Vietnam has suggested that 36 officials were charged with corruption during the first eight months of this year.
The report has been sent to the National Assembly Judiciary Committee and will be discussed at the NA general session held at the end of this year.
According to the report, among the 36 people, four faced criminal prosecution and four are still under investigation. The rest were only ordered to pay fines.
From the beginning of the year, 364 government officers returned gifts worth about VND178 million ($8,600).
Chief Inspector Huynh Phong Tranh said the level of punishment had fallen short of expectations due to confusion over who was responsible for dealing with the offenders.
Management board set up to better conserve biosphere
The Management Board of the Red River Delta Biosphere Reserve made debut in Nam Dinh province on September 9.
During the 2013-2018 term, the board, led by the vice chairmen of Nam Dinh, Thai Binh and Ninh Binh provinces, will build a reserve that sustains the livelihood development of local residents while maintaining biodiversity and environmental change adaptation.
It will coordinate with relevant agencies to build and promote the image of the reserve in order to take the advantage of the region's potential for sustainable socio-economic and tourism development.
The same day, representatives of the three provinces signed an agreement on implementing the regulations on the sustainable conservation and development of the Provincial Trans-boundary Coastal Wetland Biosphere Reserve in Red River Delta.
The Red River Delta Biosphere Reserve covers a total area of over 105,000 hectares in six districts of Thai Binh, Nam Dinh and Ninh Binh provinces. It is home to more than 128,000 residents.
Sand extraction causes landslides
Illegal sand extraction along the Dong Nai River in HCMC's District 9 has caused 22 hectares of land, mainly in Long Binh and Long Phuoc wards, to slide.
The city government has asked the Ministry of Transport to order an immediate halt to a dredging project in the river implemented by Hiep Phuoc Maritime and Investment Development Joint Stock Company.
Residents in District 9 have complained much about the impact of the project.
According to the city government, if the company dredges ten million cubic meters over ten years as outlined in the project, more landslides will impact on local residents.
Ha Noi to increase water prices next month
Water prices in Ha Noi will increase by as much as 30 per cent from next month under a proposal by the Department of Finance, a meeting of the city's People's Committee heard yesterday.
Accordingly, the price for the first 10 cubic metres of water will increase to VND4,797 (US$0.22), up 19.93 per cent. The prices for 10-20 cubic metres, 20-30 cubic metres and above 30 cubic metres will be set at VND5,607, VND6,979 and VND12,212 for one cubic metre of water used respectively.
The price is scheduled to increase again in October next year.
Man in Phu Yen imprisoned for subversive attempts
The provincial People's Court of Phu Yen on September 11 sentenced Ngo Hao, a resident of Tuy Hoa city, to 15 years in prison for conducting activities aimed at overthrowing the people's administration.
According to the indictment of the provincial People's Procuracy, between 2008 and December 2012, Ngo Hao wrote many articles and distributed various documents which distorted information about the regime and defamed leaders. He did all this under the instruction of Nguyen Chinh Ket, a member of an overseas organization called Bloc 8406, with the aim of overthrowing the administration of the Socialist Republic of Vietnam.
He also carried out activities to achieve the goals of the so-called "Exiled Government of the Republic of Vietnam" led by Nguyen Van Chuc (in the US), inducing several people to join him in searching for weapons hidden by Nguyen Tat Thinh (former governor of Go Cong province) before 1975, and to receive documents defaming the administration and the Communist Party of Vietnam.
Hao received money from the "Exiled Government of the Republic of Vietnam" many times and also asked the organisation to send money to those involved in activities organized by him.
The provincial Investigation Police found out about Hao's acts and brought legal proceedings against him on February 7, 2013. The provincial People's Procuracy in August prosecuted Hao for implementing activities to overthrow the people's administration under Clause 1, Article 79 of the Criminal Code.
Central province closes mining sites
The Central Highlands province of Lam Dong will close 22 mineral exploitation sites.
The sites' licences have expired and the owners did not improve the sites' environment as requested.
This year, the province closed more than 70 mineral exploitation sites, most of which produced construction materials such as sand, stone and clay.
Highway expansion begins in Ninh Thuan
The Ministry of Transport commenced work on a project to expand a stretch of National Highway 1A in central Ninh Thuan Province on Tuesday.
Over VND968 billion (US$46 million) will be spent to expand the 17-km stretch of road, which passes through Thuan Nam District. The new highway will have six lanes and a speed limit of 80km/h.
The project, scheduled to be completed in late 2015, aims to reduce traffic accidents and help promote economic growth in the province, according to Deputy Minister Nguyen Hong Truong.
Serial swindlers arrested in Can Tho
Nguyen Thi Hue Tram, who has been wanted by the Can Tho Province police for more than two years for swindling VND2.5 billion (US$118,343) from individuals, was arrested on Monday.
Tram, 32, was given a 1-year sentence by the Can Tho City People's Court in August 2011, while her husband received a 16-year sentence.
However, taking advantage of being out on bail to care for her 36-month-old child, Tram escaped to another province. From 2006 to 2010, Binh and Tram cheated landowners in need of capital by offering their help to obtain loans from banks. They enticed the people to sign land transfer contracts, which were used as mortgages for the bank loans. After borrowing a large amount of money, Binh and Tram disappeared.
Paint workshop burns down in the South
A 1,000sq.m paint workshop belonging to the Toan Chau Company in Thuan An Commune in the southern province of Binh Duong burned down yesterday.
The fire started at 8am. The fire service was called immediately to help evacuate the building, and it took eight fire-trucks over two hours to stamp out the blaze.
The cause of the fire is under investigation. Fortunately, no-one was injured.
Child drowning incidents decline
The number of child drowning incidents has dropped as a result of a multi-sectoral plan on child drowning prevention launched in 2011, it was reported at a conference in Hanoi on September 11.
Addressing the event, Deputy Minister of Labour, Invalids and Social Affairs (MoLISA) Doan Mau Diep said the rate of child drowning is still high.
Statistics showed that 1,708 children lost their lives due to drowning last year, mainly in summertime. In the first half of this year, the figure amounted to nearly 700.
The plan on preventing child drowning is being carried out nationwide from 2012 to 2015, with the aim of reducing the number of child deaths by drowning by 25 percent compared to the 2010 figure.
The deputy minister urged ministries, departments and local authorities to learn from international experience in this connection.
Nguyen Trong An, deputy head of MoLISA's Child Care and Protection Department said more than 40 cities and provinces have worked out their own plans of action to reinforce the waterway traffic safety regulations and build a safe environment for local children. Over 500,000 households are committed to building safe houses while some 200 communes are recognised as safe.
Free swimming courses have been eld with a network of first-aid services set up in many localities, he said.
The workshop was co-hosted by the MoLISA and the World Health Organisation.
Ha Noi to close unsafe petrol stations
The Industry and Trade Department is finalising the process of possibly closing 45 petrol stations that do not meet standards in fire safety regulations. The implementation is scheduled to start on September 15.
This is the first definite move from the Department to deal with criticism about allowing unsafe petrol stations to operate in residential areas, following the fire at the 2B Tran Hung Dao Street petrol station in June, which lasted for several hours and injured a dozen people.
According to Nguyen Van Dong, the department met with representatives of the 45 petrol stations recently and a list of the petrol stations that could be closed has been submitted to the Ha Noi People's Committee for final approval.
"They will obviously have their business licenses revoked," Dong said. "But we're still waiting for the final say from the people's committee to have a definite answer."
According to Dong, the meeting between the department and representatives from the 45 petrol stations was for the purpose of hearing the concerns of the businesses.
One of the issues was regarding the employment of petrol station workers, Dong said the businesses must be responsible for removing them to other positions.
The department has also asked the Ha Noi People's Committee to reassess the development plan for petrol stations to ensure the residents' demand for petrol is met.
In June, the department also investigated 52 petrol stations in 10 urban districts and identified 15 petrol stations that do not meet regulations in fire prevention and are located near crowded residential areas.
Under fire-fighting regulations, all petrol stations are required to meet certain requirements, including being equipped with fire extinguishers, having fire-fighting forces as well as fire-fighting plans.
Major cities curb traffic congestion with new roads
Ha Noi and HCM have made progress in curbing traffic congestion in the last five years with a number of drastic measures, said Dinh La Thang, Transport Minister and deputy chairman of the National Committee for Traffic Safety.
In 2008, the Government passed a resolution mapping out comprehensive measures for the two major cities to address the mounting problem of traffic congestion, which was fast becoming an urgent social issue causing economic loss and disrupting people's lives.
Five years later, while large-scale problems still remain, progress is being made.
Speaking at a meeting yesterday to summarise the implementation of the resolution, minister Thang highlighted the opening of more ring roads and flyovers, an increase in traffic police patrols and the re-organisation of bus routes and timetables as key measures that have impacted positively on the congestion situations in the cities.
During the last five years, the number of traffic jam hotspots reduced from 124 to 57 in Ha Noi, and from 120 to 76 in HCM City.
The number of traffic accidents and subsequent deaths and injuries decreased yearly and there are now far fewer cases of traffic congestion which last for over 30 minutes.
Ha Noi People's Committee Vice Chairman Nguyen Van Khoi said that since 2008, the city has built more than 372 kilometres of road, raising the percentage of land for transport from 7 per cent of its area to 8.15 per cent.
Seven flyover bridges, 18 pedestrian overpasses and more parking areas helped the city to curb traffic jams, he said, while admitting that an imbalance remains between the development of technical infrastructure and social infrastructure.
He also acknowledged there has been slow progress in relocating universities and hospitals from busy inner-city areas.
Khoi's counterpart in HCM City, Nguyen Huu Tien, said that over the last two years, the number of traffic jams in the city reduced about 80 per cent. This year, no major traffic congestion has been reported.
At the meeting, Deputy Prime Minister Nguyen Xuan Phuc pointed out major existing traffic problems, including improper management over pavement and road use, illegal parking and the operation of fake taxis.
Phuc urged the two cities and relevant ministries and agencies to seek more effective measures by improving planning and embracing technological advancements. He also noted the need to engage the private sector more in public passenger transportation.
Vietnam's heart surgery telecasted at Asia-Pacific conference
Doctors from Hanoi Medical University Hospital have showed their techniques to foreign colleagues through their five heart operations which were telecasted at the 4th Asia Pacific Congenital and Structural Heart Intervention Symposium in Hong Kong, China.
Participants in the symposium, which took place from September 6-8, had the chance to directly exchange their experience in the field with Vietnamese doctors.
All the free-of-charge operations were performed on those with congenital heart diseases, including a two-year-old child. The patients have recovered well and left hospital three days after their surgery.
Vietnam, Cuba boost broadcasting cooperation
The Cuban Institute of Radio and Television (ICRT) and Radio the Voice of Vietnam (VOV) will increase cooperation in reporter, information, and content exchanges.
A document to this effect was signed in Havana on September 9 (local time) between ICRT and VOV representatives.
Addressing the signing ceremony, VOV Director General Nguyen Dang Tien emphasised the venerable history of Cuban and Vietnamese solidarity.
The Vietnamese people treasure the assistance offered by their Cuban compatriots in their past resistance war for national independence and unification, he said.
Tien recalled ICRT allowed the VOV to use its external broadcasting channel during the fight against American aggressors, reaching an American domestic audience. These programmes were instrumental in revealing the truth of their government's war to the American people.
Cuban colleagues also helped VOV produce six daily programmes at the height of the conflict.
For his part, ICRT Vice President Guillermo Pavón reiterated his country's commitment to broadcasting cooperation with VOV, and expressed his belief that the agreement will help deepen mutual understanding between the two peoples.
The VOV delegation, led by its Director General Nguyen Dang Tien, is attending Cuba's Radio and Television Broadcasting Festival in Cuba over September 9–13.
VOV representatives used their pavilion to introduce Vietnam's contemporary broadcasting industry.
The delegation also visited the Vietnamese Embassy in Cuba. Ambassador Vu Chi Cong presented VOV representatives with a recorded tape of VOV's first programme broadcast during the past war and archived with the help of the ICRT.
Japanese stomach centre in Hue to help thousands
A Vietnam-Japan cultural week has been held by the Hue Medical and Pharmacy University in the former imperial city of Hue to celebrate the 40 years of friendship between Vietnam and Japan.
The highlight of the week, lasting from September 9-14, is the opening of the gastrointestinal endoscopy centre at the Hue Medical and Pharmacy University.
The centre is expected to benefit thousands of patients in the central region.
Academic delegates from Nagoya University, Tokyo Metropolitan University, Kobe University and Osaka University will take part in events to spotlight the academic cooperation between the two countries.
These also include a photo exhibition, an opening ceremony for a health service centre and two seminars that gather leading Japanese medical scientists and professors.
The seminars aim to promote medical training and research cooperation between the Hue university and its Japanese counterparts.
Japan's Nagoya University Graduate School of Medicine has donated four machine systems for advanced diagnosis services: an endoscopic ultrasound device, a double-balloon endoscope, a gastroscope that can diagnose digestive cancer in its early stages and a trans-nasal endoscopy machine.
These are the newest technologies that "could assist Vietnam in making its most advanced diagnoses of stomach cancer prevention ever," said associate professor Dr. Tran Van Huy, President of the Central Vietnam Association for Digestive Endoscopy.
Vietnamese doctors have also been sent to Nagoya University for training to run the advanced centres.
Local engineers study aerospace science in Japan
The Vietnam National Satellite Centre (VNSC) has sent 11 staff to full-time Masters courses on aerospace at 5 leading Japanese universities.
This is the centre's first step under its training programme to generate qualified engineers to control present and future satellites.
Controlling Vietnam's first satellite VINASAT from Que Duong Station
Under the programme, the VNSC will send a total of 36 officials and engineers to MSc courses in Japan over five years till 2017 to study aerospace science and engineering specializing in trajectory control, postural control, structure, thermal, communications, data collection and processing, source supplying, propulsion systems, software and rocket assembly.
The learners are required to practice designing, assembling and testing a micro satellite weighing about 50kg in Japan.
After the training courses, 36 Master degree holders will carry out a pilot project to design, integrate and test LOTUSat-2 in Vietnam.
HCM City sees conjunctivitis outbreak
The number of patients with viral conjunctivitis, or pinkeye, has increased two-fold compared with previous months in HCM City, according to the local Eye Hospital.
Over the past few weeks, the hospital received nearly 100 patients on average per day.
In June, more than 700 patients were diagnosed with acute viral conjunctivitis compared with more than 1,320 patients in July and 1,120 patients in August, according to figures released by the hospital.
Pham Nguyen Huan, deputy head of the hospital's general planning department, said that pinkeye, which is typically caused by adenovirus, is highly contagious.
Although the illness usually lasts for seven to 14 days, patients should go to hospital for appropriate treatment and prevention from spreading to others.
The virus spreads via contact with infected upper respiratory droplets or contaminated swimming pools, Huan said.
Patients should stay home from school and work for five to seven days, he said.
The number of people in HCM City contracting hand-foot-and-mouth disease has fallen but dengue fever has seen an upward trend in the past few weeks, the Preventive Medicine Centre has said.
Last week, more than 200 patients contracted the mosquito-born disease compared with 180 in previous weeks, Nguyen Dac Tho, deputy head of the centre, said.
The number of HFM cases was down 20 per cent in August with nearly 600 children being hospitalised.
However, compared to last year the incidence of both diseases declined sharply.
As of September 9 there have been only 4,760 victims of dengue, 36 per cent less than in the same period last year, Tho yesterday told a meeting with officials of district-level preventive medicine centres.
Binh Thanh, Hoc Mon, and Tan Binh are the worst affected this year, he said.
Around 5,150 children have contracted HFM disease this year, a fall of 40 per cent.
But Tho warned of a second peak season for HFM disease lasting from August to November.