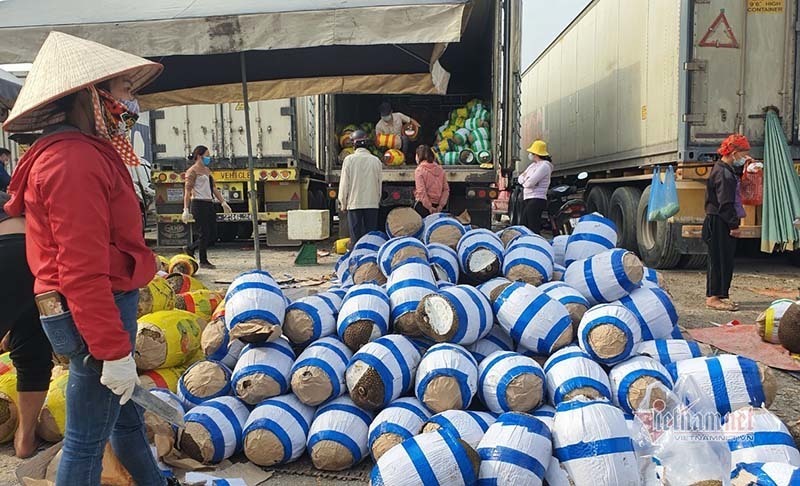 The Ministry of Agriculture and Rural Development (MARD) said in 2021 that Vietnam's exports of farm, forestry and seafood produce reached a record high which brought turnover of $48.6 billion, an increase of 14.9 percent over 2020. Of this, major farm exports brought $21.49 billion (up by 13.5 percent), major forestry produce $15.96 billion (+20.7 percent) and seafood $8.89 billion (+5.6 percent).
New records were reported for January 2022. According to the General Department of Customs (GDC), exports of wood and woodworks reached a record high of $1.55 billion, an increase of 14.3 percent over the same period last year. This was the third time that woodwork export turnover exceeded $1.5 billion a month.
With $1.5 billion worth of export turnover, wood and woodwork is among seven groups of products gaining export turnover of over $1 billion in January, and among the three groups of products with two-digit growth rates.
Seafood exports increased sharply by 43.3 percent in January, reaching $872 million. This high level is rarely seen in the seafood industry.
Increases have been reported for nearly all export markets, including the US (+ 82 percent), Japan (+ 19.25 percent), EU (+ 63.86 percent), South Korea (+ 15.44 percent) and China (+ 62 percent).
As for vegetables and fruits, though exports to China stalled in January, Vietnam's vegetable and fruit exports still brought turnover of $301 million, up by 0.3 percent over December 2021 (the peak month of the year) and 16 percent over the same period last year.

According to MARD, Vietnam could set new records in January thanks to new markets. Export activities were maintained through the Tet holiday, with consignments shipped all over the world, including the US, EU and Australia.
According to MARD, Vietnam could set new records in January thanks to new markets. Export activities were maintained through the Tet holiday, with consignments shipped all over the world, including the US, EU and Australia.
In recent years, Vietnam has been endeavoring to diversify export markets. There were clear changes in the market structure in 2021 with an increase in the proportion of vegetable and fruit exports to the EU and US and decrease in exports to the Chinese market.
In 2022, Vietnam plans to continue promotion activities to expand exports to new markets. Export turnover of $4 billion for vegetables and fruits this year is within reach.
Meanwhile, wood and woodwork products are expected to find great opportunities in the EU market. Wooden furniture manufacturers can fully exploit the preferences and advantages brought by the EU-Vietnam Free Trade Agreement (EVFTA).
Do Xuan Lap, Chair of Vifores, said wood and woodwork export turnover in 2022 may reach $17.5-18 billion.
As for seafood, according to Deputy Minister of Agriculture and Rural Development Phung Duc Tien, the goal of $9 billion in export turnover has been set for 2022. Despite difficulties, Vietnam still could export $8.9 billion worth of products in 2021.
"However, we mustn't be complacent about what we have achieved. We need to have enough capacity to respond to market demands so as to maintain growth and increase export turnover, so that Vietnam can become a kitchen of the world," he said.
According to Tien, import markets such as the US, Japan, EU, South Korea and China all have specific requirements. Vietnam's businesses, farms and farmers need to understand the tastes of every market in order to sell what the markets want, not what farmers have.
Minister of Agriculture and Rural Development Le Minh Hoan said at a recent meeting discussing tasks in Q1 that he had met businesspeople and farmers in Mekong Delta who have seen a strong recovery after Covid-19.
There has been a bumper crop of many kinds of farm produce such as dragonfruit, jackfruit and mango. He thinks that export turnover of farm, forestry and seafood produce will exceed $50 billion this year.
Hoan said if Vietnam can have a reasonable export strategy for each product and reorganize production areas in accordance with world trends (such as green consumption), reduce production costs, and build a uniform logistics chain, Vietnam's exports will far exceed the $50 billion threshold.
He said that Vietnam needs to change the way of thinking to develop in a sustainable way. The total output of vegetables and fruits is 28 million tons a year and Vietnam needs to intensify processing rather than selling fresh products.
If each person consumes 10 kilograms of vegetables a month, there would be 2.5 million tons of vegetables in excess in Q1. These products would be put into processing. The Central Highlands would see the biggest excess of 900,000 tons.
Regarding fruit, dragonfruit has the highest output (1.4 million tons a year), followed by bananas (1 million tons), mangoes (800,000) and durian (600,000 tons).
In the first three months of the year, dragonfruit, jackfruit, pomelo, banana and mango saw high demand.
Le Thanh Tung, Deputy Director of the MARD's Department of Crop Production, said it's necessary to forecast output, trace product origin, and build reasonable plans to consume products, and develop processing.
In order to develop vegetable and fruit value chains and avoid an oversupply crisis, experts believe there should be a 'revolution' in farm produce processing and export. 
Tam An

Over the past few years, the export of farm produce to China has constantly been running into trouble, especially with the congestion of trucks at the northern border gates in December 2021.

A rebound in domestic consumption demand and surge in exports are expected to be drivers for Viet Nam's economic growth in 2022.