700-year-old shipbuilding village shaken by 'petrol price storm'
Once famous for its profession of building wooden ships that accompanied fishermen on trips to the open sea, Trung Kien shipbuilding craft village in Nghe An province is now struggling to survive.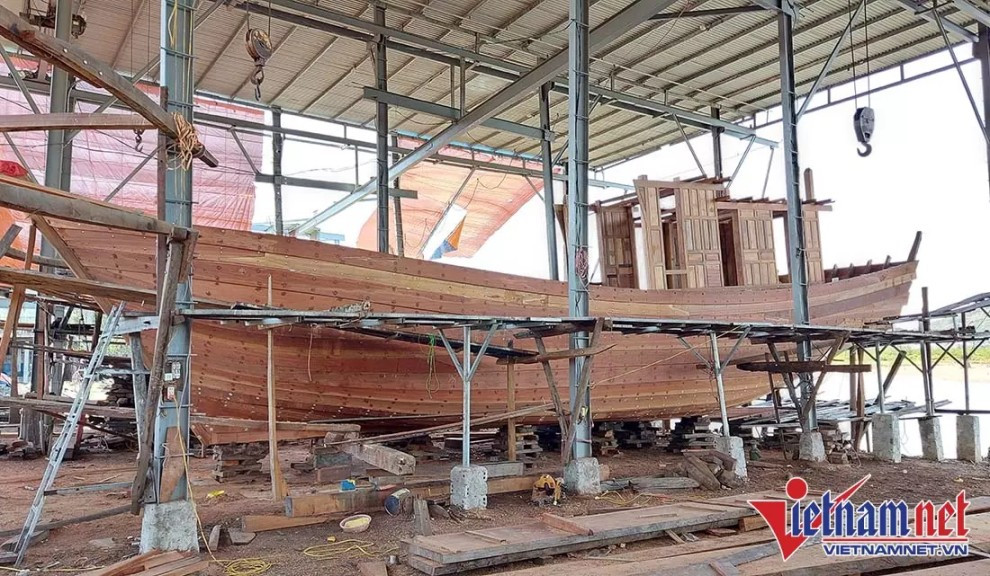 According to Nguyen Gia In, chair of Trung Kien Shipbuilding Cooperative, during the resistance war against America, 1958-1964, Trung Kien had the honor of building legendary "unnumbered ships", which had a special task of carrying weapons and food to the South, on the Ho Chi Minh Trail at sea.
In 2003, shipbuilding households set up Trung Kien shipbuilding cooperative with 39 member households, totaling 300 workers. The 2003- 2017 period was the golden age of the village, with over 100 ships of 24-1200 CV were built each year. In 2014, Trung Kien craft village was honored as a "Vietnamese typical craft village". However, visiting Trung Kien these days, people will no longer hear sounds from chisels, hammers and saws as most shipbuilding yards have closed.
Hoang Van Le, 55, the owner of one of the largest yards in the village, said that his yard used to build 17-20 ships a year but only 18 units have been built in the last three years.
"We got nine orders in 2020, eight in 2021 and only one in the first six months of this year. Without new order, my workers have to do the maintenance and repair of fishing boats and some have left the village to seek new jobs," he said.
He added that because the petroleum prices have rocketed, fishermen do not want to go fishing. Meanwhile, Laos has prohibited the export of round wood, which has forced shipbuilders to import materials from South Africa at higher prices.
Mr. In said that his cooperative has five shipbuilding facilities which can build several ships each year. Their major jobs now are maintaining and repairing old fishing boats.
"The government released Decree 67 on fishery development, offering incentives for offshore fishing vessels made with steel hull. Fishermen no longer want wooden ships, and local shipbuilding yards have few jobs," he said.
Hoa Binh