9-year-old pupil becomes national master of chess
At the age of nine, Hanoi's Dau Khuong Duy has been granted the title national master of chess.
Duy won 6.5 points (70% of the necessary score) after 9 games in the National Chess Championship 2021 to meet the criteria of a national master of chess. The boy set the record as the youngest chess player in Vietnam to win the national master title thanks to scores at a national chess tournament.
Dau Khuong Duy, from Ha Dong District, Hanoi, is granted the national master title at the age of 9.
In September 2019, Duy surprised Vietnam's chess fans when winning a bronze medal of standard chess for player under 8 years old at the World Youth Chess Championship.
According to Duy's father, Mr. Dau Anh Bac, the boy was special because he could read at the age of two. The child also had a very good memory.
Bac began teaching his son to play chess when the boy was seven. Realizing Duy's talent for chess, the father registered a chess class for Duy at a club near his home.
Other families sent their children to chess classes for fun, as an extracurricular activity, but from the beginning Bac was determined to train his son as a professional chess player.
In January 2018, Duy started to learn chess at the club with the most memorable starting point, losing 7/7 games in the club's tournament held in April 2018.
But Duy surprised his father and his teachers for his remarkable progress after only a few months.
After only four months of chess study, Duy won the championship of the under 7-year-old (U7) group at the club's tournament.
In August 2018, Duy won the bronze medal in the U7 group at the national chess tournament.
After that, Duy joined the Hanoi Chess team and was taught directly by coach Luong Trong Minh.
In this environment, Duy made rapid progress and continuously took many medals in international competitions.
In June 2019, he won a gold medal for blitz chess in the U8 category of the Southeast Asian Young Chess Championship.
In September 2019, he surprised many people when winning the only bronze medal for the Vietnamese delegation, in the standard chess competition for U8 category at the World Young Chess Championship. By that time, he had just been playing chess for about one year.
From July to October 2020, Duy won three gold medals for standard, blitz and rapid chess in the U9 group at the national tournament.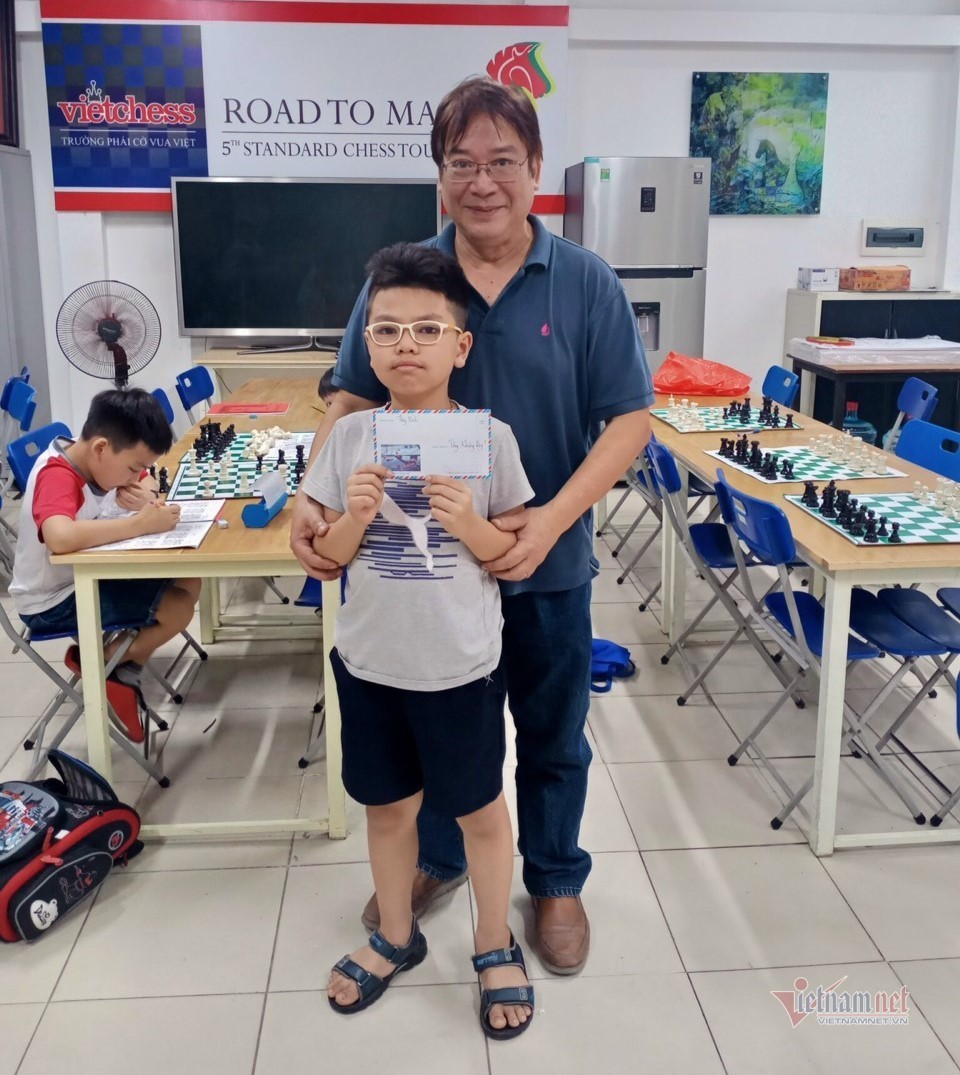 Dau Khuong Duy and his teacher Luong Trong Minh.
Regarding his son's achievements, Bac said that it probably came from the boy's great passion for chess. "When he came home, he studied chess books, did chess homework, or played chess online," Bac said.
Bac still remembers one evening in 2018. That was the day of a football match between the Vietnamese and Malaysian national teams held at Hanoi's My Dinh Stadium. In the pouring rain, Bac told Duy to skip chess class but the boy insisted on going to school.
"This meant that I missed the game. That day, when the whole country stayed at home to watch football, we rode motorbike under heavy rain to go to the chess class. At the chess club, we met only coach Luong Trong Minh. But then, the coach and my son rushed to practice chess," said Bac.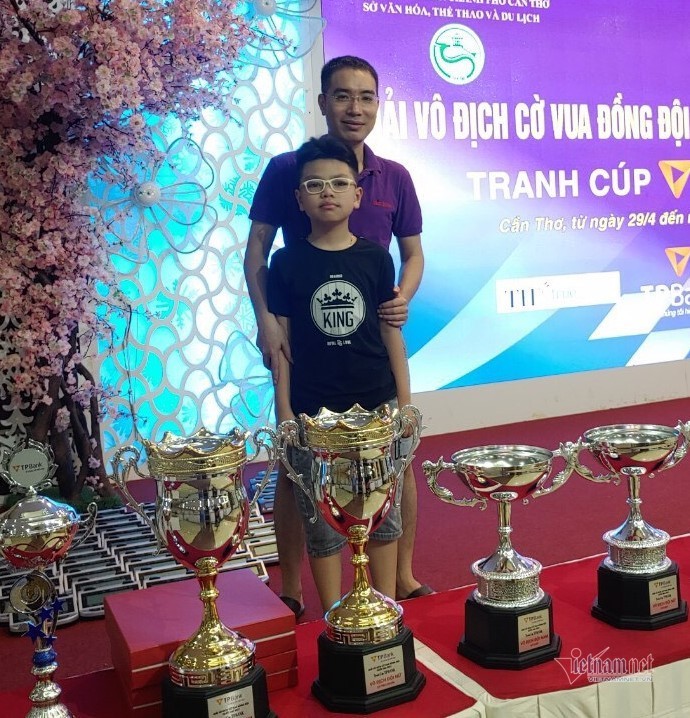 Mr. Dau Anh Bac and his son Dau Khuong Duy.
Bac said he had many memories with his son during the boy's year practicing chess. The most interesting was the early time when Duy started his chess career. "At that time, I used to observe my son's competition and I knew his position without looking at the chess board, just by seeing his behavior," Bac said.
"Whenever he faced difficult situations, he sat down on the chair and held his head. But if he stood up, I knew that he was going to win. So when I took my children to chess competitions, if I was busy and had to go out for a while, I just needed to call others to ask whether my son was sitting or standing. If they said that he was standing, I was assured that he was about to win. That was the first stage, but now when he is a professional player, Duy holds his head all the time to think because all the games are very hard," Bac said.
Currently, in addition to studying at school and learning English, Duy spends his remaining time practicing chess and supplementary sports.
Bac said that Duy aims to become a young international grandmaster in the near future.
"At first, we set the goal that Duy would become a grandmaster before reaching the age of 14. But due to the Covid-19 pandemic, this will be more difficult, but Duy will try his best because he plans to pursue a professional road," Bac added.
To become an international grandmaster, Duy must have an Elo score of 2,500. Currently, his international Elo is 1,755.
To gain this title, Duy will participate in all national chess championships, open tournaments and overseas events.
"It is a coincidence that Duy's birthday is on July 20, the International Day of Chess" so this makes me believe that he can achieve the goal, said Bac.
Thanh Hung

Young Asian Chess champion 2019 Nghiem Thao Tam, 18, got a perfect score of 800/800 on the SAT Math II test and a band score of 7.0 on IELTS test.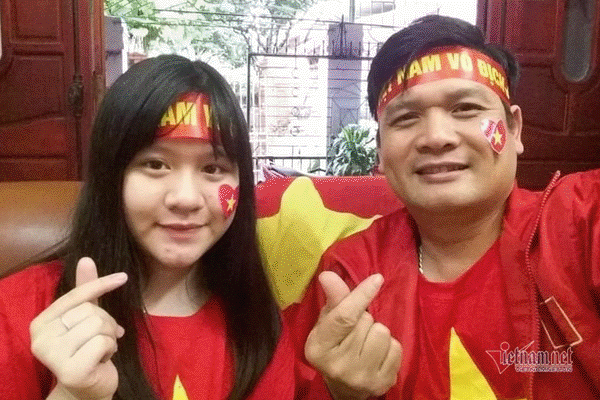 Nguyen Thanh Cong initially knew nothing about chess, but became an internationally certified chess referee after years of studying along with his prize-winning daughter.