A breath of fresh air in literature textbooks for sixth graders
Teachers say sixth graders this year will be able to access literature works that their parents and grandparents did not have in their textbooks.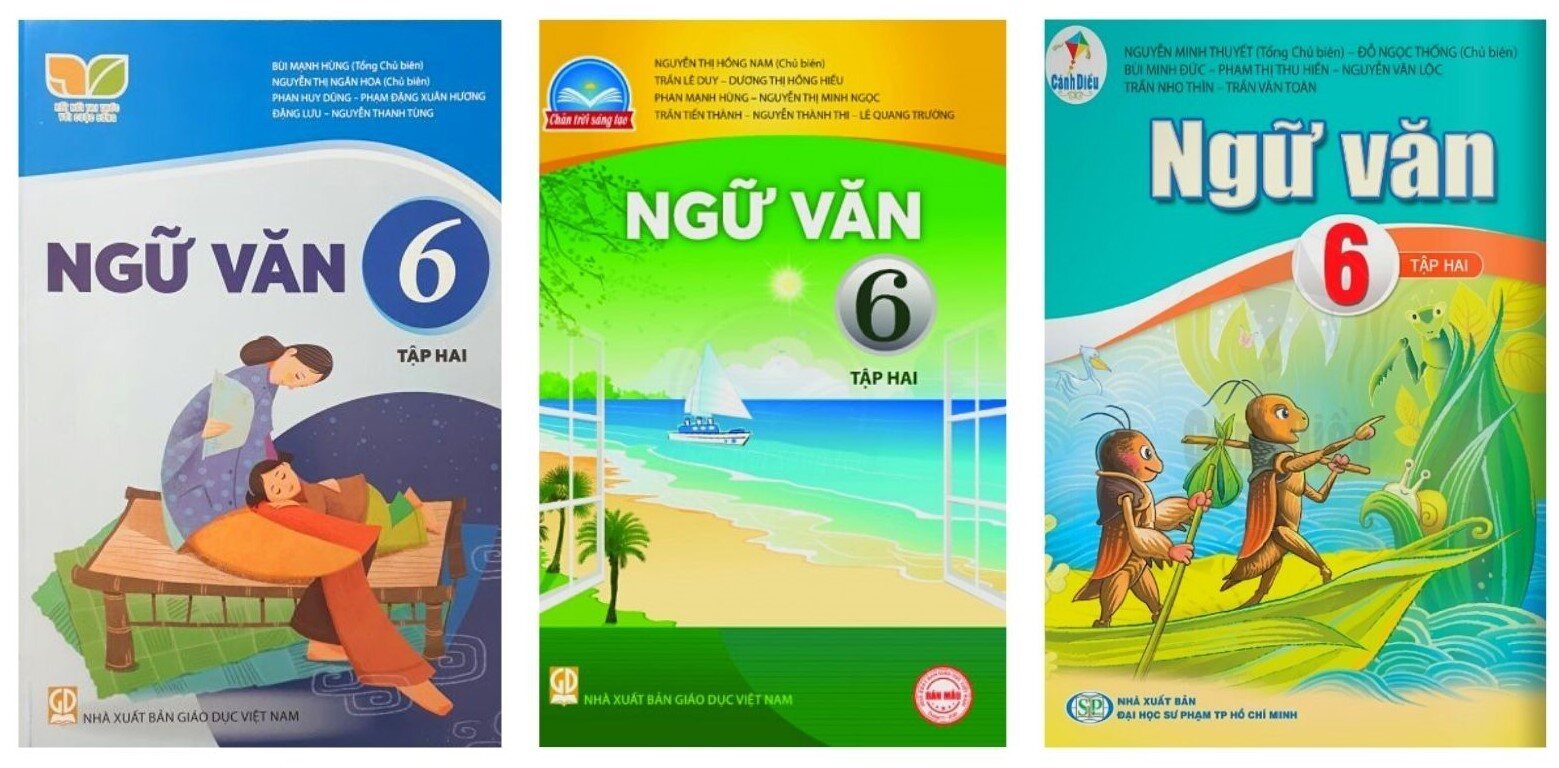 A number of new works have been introduced in the literature textbook in the Chan troi sang tao (Creative Horizon) sets of textbooks, including Hoa bim (Bim (Convolvulaceae) Flower) by Nguyen Duc Mau, Lao xao by Duy Khan (excerpt from 'Tuoi tho im lang' (Silent childhood), the work that won the Writers' Association prize in 1987, and Giot suong dem (Night dew drop) by writer Tran Duc Tien.
The literature textbook in the Ket Noi Tri Thuc va Cuoc Song (Knowledge and Life) set of textbooks, has completely new texts, such as Con chao mao (red-whiskered) and Bat nat (Bullying) by Nguyen The Hoang Linh.
Especially noteworthy is the work 'Vua nham mat, vua mo cua so' (Opening the window while closing the eyes) by Nguyen Ngoc Thuan, which is present in all three sets of textbooks for sixth graders.
Connection between authors and teachers
This is not the first time writer Tran Duc Tien's works have been included in textbooks. His story "Vuong quoc vang nu cuoi' (The Kingdom without a smile) was introduced in the textbook for fourth graders published by the Education Pushing House.
In addition to Giot suong dem, his story Ca chuon tap bay (Flying fish learns to fly) is published in the Vietnamese language textbook for second graders, from Creative Horizon this year.
Tien said he was satisfied about the way the textbook compilers worked. The compilers kept in contact with him and regularly exchanged views with him if they wanted to make changes or add words to make the work more suitable for a textbook for students.
Giot suong dem in the textbook for sixth graders is almost unchanged compared to the version in the story collection "Xom Bo Giau" published by Kim Dong Publishing House (2018).
However, Tien said he still has not had opportunities to meet teachers to exchange views about the issues of the stories and the things teachers should pay attention to when teaching his works.
Tien said he doesn't write to teach children lessons in a rigid and blatant way. The "lessons", if any, are often hidden behind the details and sentences.
"A good work, first of all, makes children enjoy reading. And the 'lessons' will be recognized and absorbed gradually," he said.
When reading Andersen's stories, for example, people will better understand their significance depending on their maturity and experience in life.
As for Giot suong dem, he hopes that students will understand that the love for homeland will never fade, but sometimes 'sleeps' in the soul of every person.
Bat nat is a poem that has caught attention from the public. There have been hundreds of comments on social network about the work, and Nguyen The Hoang Linh, the author of the poem, said he spent hundreds of hours analyzing the work and answering the questions.
Linh said that many teachers have good ways of thinking and reasonable teaching methods, which do not put pressure on students.
Nguyen Thuy Mia from Cat Linh Secondary School in Hanoi said that because of the pandemic, training courses for teachers to prepare for the new academic year are being organized online.
Literature teachers attend the courses with the participation of some authors, including Nguyen Thi Nuong, whose works were published in Ket Noi Tri Thuc va Cuoc Song.
In related news, the Ministry of Education and Training (MOET) just sent a document to provincial authorities, asking to create favorable conditions for the release of textbooks for the new school year 2021-2022. 
Phuong Chi
The Ministry of Education and Training proposed localities to create favorable conditions for the transportation and supply of textbooks to schools and students to promptly prepare for the new school year 2021-2022.

The Ministry of Education and Training has announced that there will be only three sets of textbooks for second graders, including two published by the Vietnam Education Publishing House.