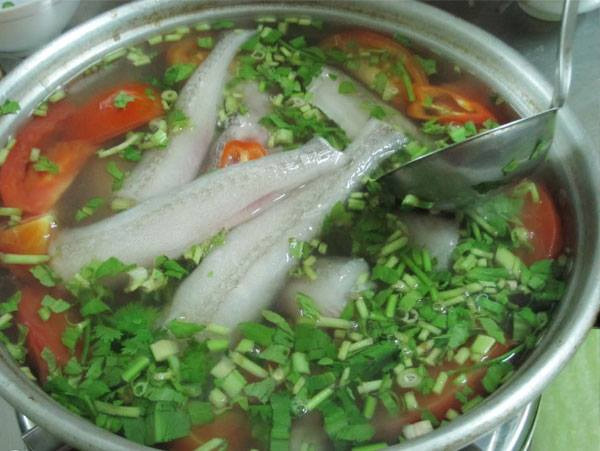 A tasty and delicious bombay duck (known as cá khoai or khoai fish) hotpot in Quang Binh. — Photo toplist.vn
The hotpot is one of Vietnam's top 100 outstanding specialities announced by the Vietnam Records Organisation in 2017.
Thuan was lucky to visit the province during the season of Bombay duck fish, which runs from the ninth lunar month to the first lunar month of next year.
"My mother in Hanoi has cooked us hundreds of traditional tasty dishes but this was the first time I enjoyed such a speciality," Thuan said.
Her friend's mother Nguyen Thi Ha said the most important step for the dish is choosing a fish which is fresh with a thick body.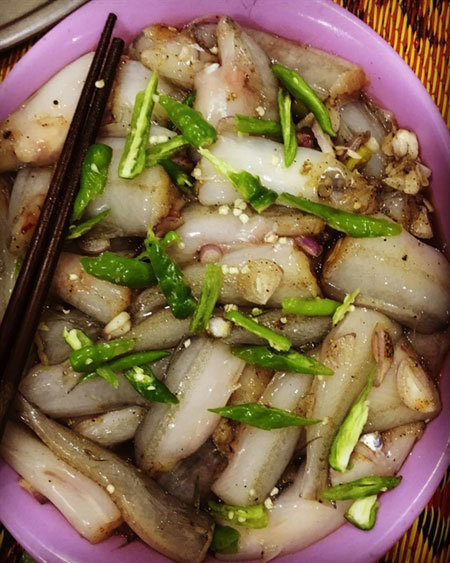 The fish should be soaked with fish sauce, pepper, chilli and củ nén (small fragrant onion in the central region) for half an hour before cooking. — Photo cattour.vn
"I often wake up very early in the morning to go to the beach to wait for fishermen to return from the high sea to buy the freshest fish sized from 15-18cm.
"After being washed clean, each fish is cut into two parts, then soaked with spices such as salt, pepper, chilli and củ nén (a kind of small onion, locally known as hành tăm, available in the central region) which is cut into pieces, for half an hour before cooking.
"This kind of onion has its own flavour that it helps the dish have a special taste compared with other onions in the north," said Ha.
The ingredients for the hotpot's broth include pork bones, which should be stewed for one hour before putting tomato, tamarind, sour starfruit, pickled mustard greens, sour bamboo and mushroom in.
"When it is boiled, put the fish in for several minutes and enjoy it hot," she said.
"The broth is so rich in flavour. It is a bit sour from these above-mentioned ingredients but sweet and fragrant from the fish. It's much more enjoyable when dipping the hot and crispy fish in chilli fish sauce and eaten with young mustard greens or sprouts and fresh vermicelli," Thuan said, noting that the dish was so impressed her that she asked Ha to buy her two kilos of the fish to bring home to the capital to cook lẩu cá khoai.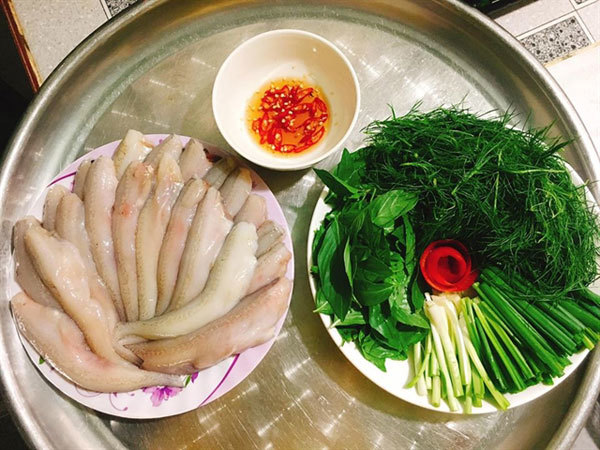 he hotpot is much more enjoyable when being eaten with young mustard greens, dills and basil. — Photo toplist.vn
"Winter is approaching, so it would be a very good gift for my parents, brothers and sisters in Hanoi because they would be happy to enjoy this dish for the first time like me," she said.
Ha said apart from hotpot, the fish can be cooked other dishes such as canh cá khoai rau cần (soup with water dropwort), cháo cá khoai (porridge) and canh chua cá khoai (sour soup).
Chef Pham Tuan Hai, a jury of the former Vietnam Master Chef, said he also likes the Bombay duck fish hotpot so much.
"As the main chef of many restaurants across the country, I will bring the dish in our menu so as more people inside and outside Vietnam can enjoy it," Hai said.
Herbalist Trinh Van Minh, from the Quang Binh Centre for Traditional Medicines, said lẩu cá khoai is very good for people with headaches and dizziness, as well as high blood pressure and hacking cough.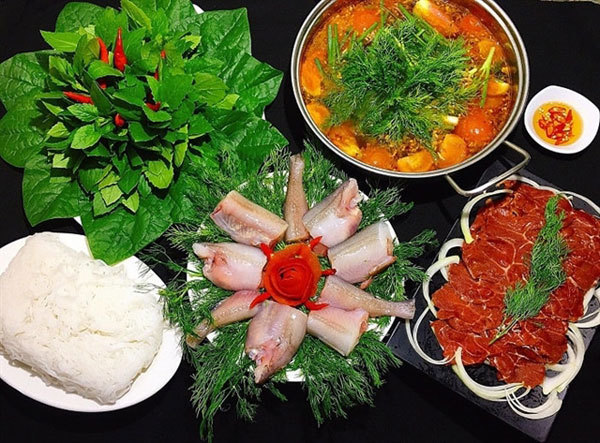 A tray of khoai fish hotpot to be ready to serve family members at weekend. — Photo monngonmientrung.vn
Quang Binh is severely hot in the summer so local people often cook these dishes to cool down and treat ailments such as sore throat, cold and constipation, he said, adding that the Bombay duck fish porridge really helps weak patients, the elderly, and children with malnutrition.
When visiting Quang Binh, you can sample the dish at: 
-    Bình An Restaurant: Lane 39 Bà Triệu, Đồng Hới City (052) 3846 777
-    Minh Hà Shop:  45 Trương Pháp Road, Đồng Hới City (0976 580 620)
-    Anh Đào Restaurant: 27 Phan Bội Châu Street, Đồng Hới City (0905 827 568)
-    Tân Quý Đạo Shop: Section 10, Đồng Phú Street, Đồng Hới City (0912 150 693). — VNS
Nguyen Thanh Ha

Quang Binh is known far and wide for its virgin beaches and natural landscapes, and also a specialty known as cháo hàu (oyster congee).

Located in central Vietnam, Quang Binh province is home to many beautiful landscapes and it has rapidly become an attractive tourist destination among travelers seeking adventure and pristine nature.