These preservers want to convey a message that maintaining culture is a key to sustainable development while culture knowledge is a bridge connecting human values.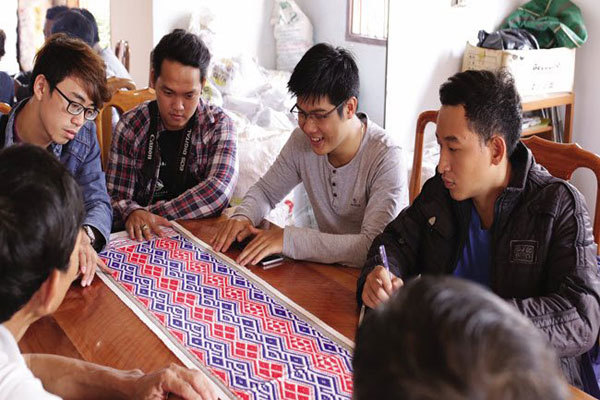 Members of Ethnicity at work in Lam Dong Province 
In late 2018, a group of graduates from several universities in HCMC shared an inspiration in reviving brocade patterns created by ethnic groups in the Central Highlands. Out of this idea, a project named "Ethnicity" came to life. Ethnicity normally means the quality belonging to a population group sharing a common cultural background. Yet, according to Phan Van Quyen, a graduate from FPT University, who is the founder of the project, his "Ethnicity" is a compound of "ethnic" and "city," which means people closely associated with urban features.
"I founded the project to create a loop which includes preservation, development and application that help people recognize these brocade patterns and encourage all to use them," Mr. Quyen said. Born in Bao Loc City, Lam Dong Province, where Ma and K'ho ethnic people live, he can feel the beauty of brocade patterns and know they are falling into oblivion even in the communities they were made.
Brocade is a distinctive element of most of ethnic groups in Vietnam. Ethnic people use brocade patterns as a way to honor the majestic beauty of mountains and forests as well as their multi-faceted life. The colors of these patterns partly expose local lifestyles, cultures and religions.
In Lam Dong Province, brocade weaving is a traditional craft of Ma and K'ho ethnic people and plays an important role in their material and spiritual life. According to Ka Met, a local woman in Dang Dung, Loc Tan Commune, Bao Lam District, brocade products made by Ma ethnic people often have geometric patterns and patterns of human figures, water, animals and familiar things in life. The diversity of colors and patterns is what forms the unique beauty of the brocade. Meanwhile, K'ho ethnic people also depict their lifestyle on brocade products.
"Ethnicity" has been expanded since March 2020. Its members have done research to collect photos and stories of brocade patterns in villages in not only Bao Loc City but also the south Central Highlands where Ma, K'ho and Cil ethnic people are living.
As members of the group have different professions, organizing a research trip for them all is quite tough. In compensation, they have had unforgettable memories during these trips. On the trip to Dung K'No Commune, Lac Duong District, Lam Dong Province, they were able to find the most rustic and primitive things of K'ho ethnic group, realizing that brocade patterns were made on steps leading to a church and its iron windows. "When we were hanging outside to watch brocade patterns on the walls of the church, we met an old K'ho man by chance," said Mr. Quyen. "He introduced us to the priest who helped us collect documents related to K'ho people's brocade."
The journey on which the group discovered the trace of brocade patterns has also left sad stories. Quyen and his teammates often had to listen to complaints that industrial products imported from China looked exactly like theirs, handmade ones. Massively produced Chinese products were of course much cheaper than local counterparts made by hand.
However, these sad stories only strengthened their determination to give brocade products a second life. With patterns and stories, "Ethnicity" members started making them become easy to apply and attractive. It took them from two to three months to complete a pattern, or even more for a complicated one.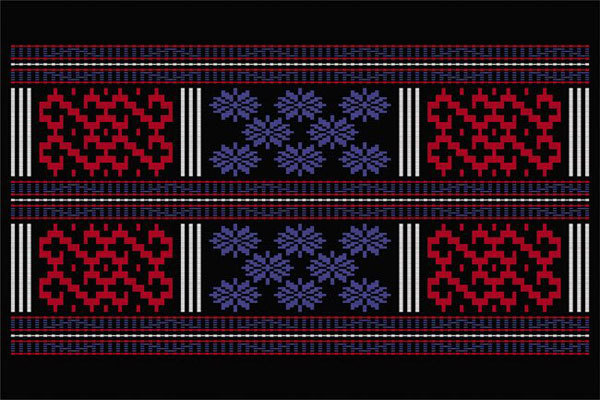 A brocade pattern created by K'ho ethnic people
The easier, the better
After one year of preparation, "Ethnicity," a project to protect brocade patterns of ethnic groups, was launched on July 7, 2020. A library of brocade patterns is the first of its kind in Vietnam, aiming to retain patterns of Ma, K'ho and Cil ethnic groups.
The digital library is a platform for storing the ethnic groups' brocade patterns. More significantly, Ethnicity members have developed the patterns into designs, layout templates and drawings which can be used immediately. The members also took time to keep characteristics of an original pattern, including its traditional shapes, weaving lines and colors. For instance, brocade patterns are formed by triangles, rectangles, squares, circles, lines, etc. Each has its own meaning and stories. Relying on these, Ethnicity members created patterns in different styles, combining with trendy colors to promote and make them more likely to be used in nowadays life.
Turning these patterns into artworks is a way to make them closer to modern life and to be used for creative ideas. At the same time, Ethnicity also provides stories behind each pattern, which were told by ethnic people living in villages.
Currently, the digital library allows users to download patterns without charge. The members said they wanted to not only preserve the patterns but also recommend ways of applying these patterns to daily life. For example, patterns of an ethnic woman playing t'rung (a traditional musical instrument of ethnic groups), tea hill, a mother carrying her child on her back while harvesting rice, and so on, are often printed on daily utensils.
SGT

Preservation of traditional Vietnamese brocade helps not only highlight cultural values but also contribute to socio-economic development and improves the quality of life for ethnic minorities.

For Lu ethnic people, brocade weaving skill is crucial for any women. Lu ethnic women have made contribution to preserving and promoting this traditional craft.