A journey back to Truc Lam Buddhism
VietNamNet Bridge – What is Vietnamese Buddhism, and where did it come from? Hong Thuy delves into the origins of Truc Lam, the Zen Buddhist sect founded by King Tran Nhan Tong in the 13th century, to reveal the answers.
VietNamNet Bridge – What is Vietnamese Buddhism, and where did it come from? Hong Thuy delves into the origins of Truc Lam, the Zen Buddhist sect founded by King Tran Nhan Tong in the 13th century, to reveal the answers.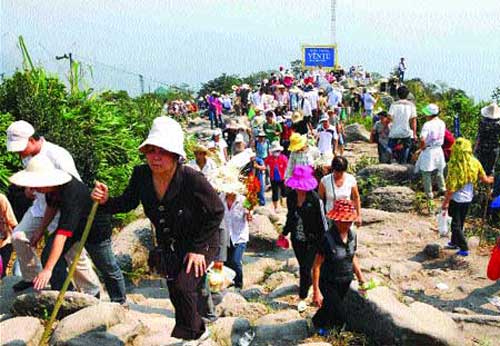 Pilgrimage: Tens of thousands of pilgrims visit Yen Tu Festival on the 10th day of the first lunar month every year. They believe that even after 100 years of virtuous religious life, they cannot be called true religious people if they do not come to Yen Tu.
Venerable Thich Quang Anh came to Truc Lam Zen after practising Pure Land Buddhism for a couple of years. When his religious teacher asked him to pray Namo Buddha Amitabha every day as a way to attain Buddhahood, he argued that if leading a religious life was so easy, anyone could become a Buddha.
His journey to meditation began with a tough assignment - two-hour sitting meditation - before he was accepted to the Truc Lam Zen monastery in Da Lat City. In the beginning, it was difficult for him to overcome the pain and get his thoughts to stop wandering. After practising Truc Lam Zen for 12 years, he takes pleasure in meditation and sits motionless for six hours each day.
"You can't practise Zen if you don't have a will of steel," he said.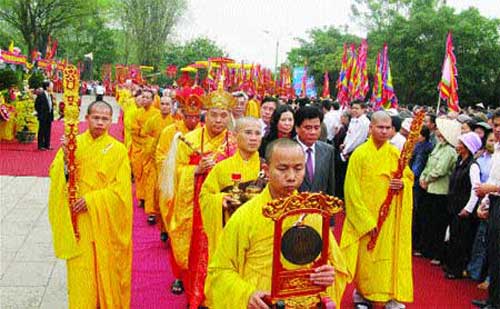 Historic event: Vietnamese leaders and clergy commemorate the attainment of Nirvana of King-Monk Tran Nhan Tong, the founder of Vietnamese Zen Buddhism.
Under its thousand years of domination by China, Vietnamese religion was influenced by the philosophy and practice of that country. According to Professor Tran Hong Lien at the Viet Nam Buddhist Academy, the Chinese spread Mahayana Buddhism, which literally means the "Great Vehicle" and emphasises the enlightenment of all beings. It was due to the adoption of this religious sect that the Ly and Tran dynasties (1009-1400) had the opportunity to review Buddhism in Viet Nam.
Prince Siddhartha Gautama reached the end of his quest for cessation of suffering when seated in meditation beneath an asvattha tree in what is now the north Indian state of Bihar. King Tran Nhan Tong achieved Buddhahood in Viet Nam. He founded the Truc Lam Zen sect - the first form of Vietnamese Buddhism - by reconciling Chinese and Indian teachings.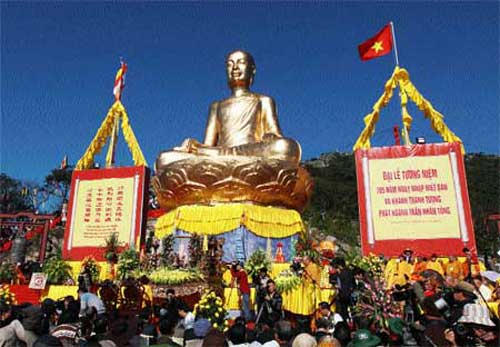 Commemoration: Viet Nam's Buddhist Sangha held a ceremony in Uong Bi City of Quang Ninh Province on December 3 last year to celebrate the 705th death anniversary of King-Monk Tran Nhan Tong, with a new statue for him set up.
Dr. Thich Dong Bon from the Viet Nam Buddhism Studies Institute explained that Truc Lam Zen combines Buddhism, Confucianism, and Taoism as well as Zen, Tantra and Pure Land practices.
"All of this made Truc Lam become the national religion of Viet Nam," he said.
King Tran Nhan Tong (1258-1308), whose real name was Tran Kham, led the country to victory over the powerful Yuan-Mongol army in two wars of resistance in 1285 and 1287. Yet before engaging in battle, he faced a quandary. He understood very well that Buddhism prohibits clergymen from taking the life of any living being. To keep his adherence to Buddha's precepts and encourage unity among his people, he rallied the public at the Dien Hong conference to gather their opinions as to whether to fight.
Because all of them wanted to combat the enemy, the King acted on his people's wishes and drove off the barbarous Yuan army.
After peace came to the country, the King was determined to lead a religious life. In 1293, he abdicated in favour of his son, Tran Anh Tong. However, he continued to pay attention to the country's situation and maintained a background political influence.
According to Most Venerable Thich Thanh Tu, Buddhism and life were never considered separate under the Tran dynasty, so this idea pervades Truc Lam doctrine.
Buddhism exists only in this life. Clergy and Buddhist followers cannot gain Buddhahood when they go out of this life. "Leaving this life to seek Buddhahood is like looking for a rabbit's horn," he said.
In addition to the principle that Buddhism and life are never separate, Buddhism under the Tran dynasty also gave prominence to promoting altruism through helping people delve into their cognitive thinking. Believing that everyone has a Buddha nature inside them, King Tran Nhan Tong encouraged people to self-improve, keep away from inhuman activities, turn to charitable deeds and be masters of their lives. By so doing, the King claimed, people would be able to turn their current life into Nirvana (an enlightened state in which the fires of greed, hatred and ignorance have been quenched).
He also encouraged practitioners to be in the present moment and be mindful of themselves rather than blaming others. Through maintaining concentration on breathing, he believed, the practitioner can experience a process of personal purification, develop a good nature, build a carefree mind and bring the soul back into a peaceful state.
Practical religion
The Truc Lam Zen sect aims to help practitioners transform their wandering minds into the peaceful state that is the nature of Buddha, Most Venerable Thich Thanh Tu said.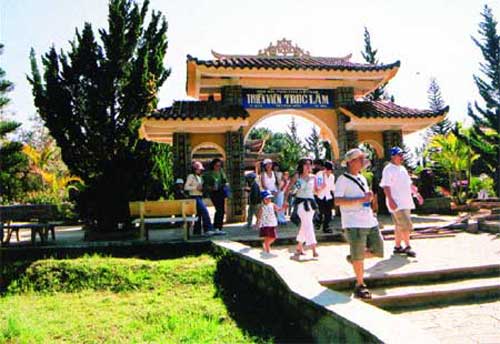 New buildings: Efforts to restore the Truc Lam Zen sect are demonstrated by the establishment of about 30 Truc Lam Zen Monasteries throughout the country, like the Truc Lam Zen Monastery in Da Lat.
Thus, practising Zen can be seen as a practical way of leading a religious life. It helps clergy and followers understand what they should discard and what they should follow, making them masters of their own success or failure, he added.
Truc Lam is not the main school of Buddhism in Viet Nam. Most Venerable Thich Thanh Tu said Vietnamese Zen Buddhism fell into oblivion after the long colonial rule and was replaced by Buddhist Tantra and Pure Land Buddhism. These two schools of Buddhism are practised by monks and nuns as well as a significant number of followers.
Believing that Buddha Amitabha will come to take her and permit her to be reborn in his realm, Pure Land Buddhist follower Ngoc Ha chants Buddha's name every day. She compared this daily practice to the ritual of a child calling his mother to come over to feed him.
"If I chant his name aloud, he will come to me. You may not be able to achieve this by practising Zen, which is suitable only for those people who have a predestined affinity for meditation," she said.
Nun Thich Hue Nang at the Sung Phuc Zen Monastery agreed, saying practising Pure Land Buddhism was easier for many people, while Zen could only attract those who had a certain understanding of Buddhism.
Either Pure Land Buddhism or Zen could help practitioners attain Buddhahood, she explained. But while the first aimed to help followers go to the realm of Buddha Amitabha after they died, the second was intended to help them better their current lives.
After graduating from the Department of Mathematics at the University of Natural Science, the nun sought to understand Buddha's nature, something she had longed for since she was 18 years old. After contemplating a Buddha statue, she decided that she should seat in meditation like Buddha if she wanted to become his disciple, so she turned to Truc Lam Zen.
"If a scientist practices Zen, no one can lead him. Instead, he will be a leader of others," she said.
To revive the Truc Lam Zen sect, Most Venerable Thich Thanh Tu has worked with coreligionists, disciples and Buddhist followers to build many monasteries inside and outside the country in the past few years. The Sung Phuc Zen Monastery in Ha Noi's Gia Lam District is one of them. Founded in 2000, the monastery has become the home of many people who want to practise meditation. When it was founded, only some tens of people visited the monastery, according to Venerable Tinh Thien, deputy head of the monastery. Today, it receives about 6,000 visitors on major festival days, many of them young people.
Thirty-two year old Tran Bao Taâm, who looks younger than her age, claimed meditation had changed her impulsive nature.
"I was accustomed to blaming others for unsatisfactory results. Now I take responsibility for my actions and I'm no longer defensive," Tam said.
More and more youth are practising meditation at the Sung Phuc Zen Monastery, especially during summer holidays. Many, like Tam, come to know Truc Lam Zen through their parents or friends. Others come across Buddhism by chance. All of them are confident following these practices will imbue them with sound mind and better results in their studies and work.
"It is not only me. Many young people are increasingly interested in meditation because we have seen positive changes in ourselves," Taâm said.
Source: VNS