A picture with two contrasting hues

While foreign coffee shop chains are facing so many hardships that they have to reduce their business scale or bid farewell to the Vietnamese market, more outlets of domestic coffee brands have been opened.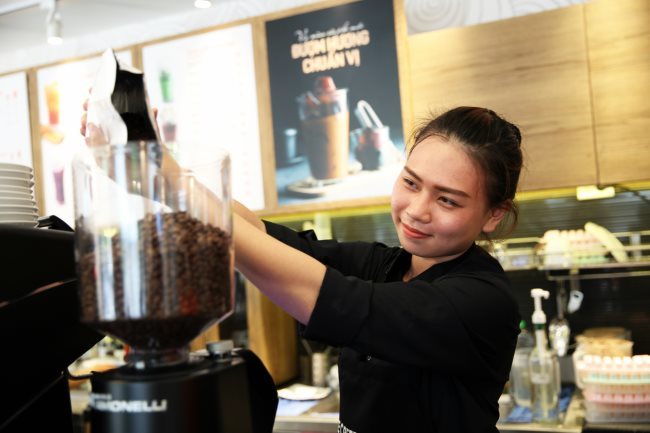 Domestic coffee shop chains—such as Phuc Long, The Coffee House, Passio Coffee and Cong Coffee—are successful with their flexible business which allows them to minimize the cost of renting premises when adopting the model of take-away coffee -
Coffee lovers may have still remembered the phenomenal launch of Starbucks at Phu Dong Roundabout in District 1, HCMC, seven years ago. At the event, customers formed a long queue for several days in a row. Soon afterward, Caffe Bene surfaced and lured young customers over to enjoy a cup of coffee from South Korea and meet their idol, South Koean actor Lee Jong-suk. As an observer, an expert on foreign franchise then remarked that Vietnam with her young, dynamic population—who like to try new things—and an international atmosphere held a great appeal to foreign food and beverage brands.
However, things have changed now. Some foreign chain outlets have lost much of their fascination in their early days. Certain brands have even scaled down their business, changed their strategies, or left the market.
For example, Caffe Bene once planned to open 300 shops within five years. However, that goal dropped to 100 in less than a year, and the actual number now is quite modest. Notably, different from the first days, Caffe Bene outlets are no longer located in prime downtown sites but have been moved away or merged into the food court of some shopping centers or relocated to the quarters where many Koreans live.
A representative of Caffe Bene in Vietnam said the taste of the domestic coffee market is not consistent, and many "giants" are competing in the same segment. The fight for an ideal location is another big problem, so the initial plan of Caffe Bene has been revised to make it more reasonable.
Gloria Jean's Coffees, another foreign coffee shop chain, was coping with similar difficulties.
In 2012, Gloria Jean's first shop on Dong Khoi Street was shut down as the rent was so high that their profit could not cover. In 2016, Gloria Jean's had only two outlets left in HCMC. In 2017, this coffeehouse chain officially withdrew from the Vietnamese market. The owner of Gloria Jean's last outlet in Vietnam ascribed this withdrawal to the fact that the franchisor was lacking a research policy for a very unique coffee market like Vietnam.
Before Gloria Jean's, the Western style coffee and dessert brand-NYDC, brought by SUTL (Singapore)—had also bid farewell to domestic customers after seven years of struggling.
Nguyen Phi Van, the first to bring Gloria Jean's Coffees to Vietnam, now a franchise expert, once said, "The original model can only be applied to those brands popular worldwide, and things are different with those only recognized in a certain region."
To grow well, a chain of coffee shops must develop their distinct features combined with several indigenous elements to entice customers. Starbucks, for example, have managed to open some 50 outlets so far, with each of them carrying its own style, serving either families, business people and civil servants, or young people.
Still, in the case of many other brands, the stiff franchising policies make them unable to timely change according to market demands. Even when some brands adopt flexible franchising, looking to retain only the core elements, the franchisees for feeling afraid of making a mistake still apply the parent company's model and end in failure.
It is worth noting that a number of foreign coffee shop chains, which are known by consumers in their home countries as brands for ordinary customers, target high-income earners and business people when they come to Vietnam. As a result, a cup of coffee they sell here is twice, even three times, higher than the one sold by domestic coffee shops. Meanwhile, the group of customers they target in the domestic market is not so big, and they are often demanding, wanting to be served rather than doing self-service.
Local coffee shop chains grow big
Domestic brands such as Phuc Long, The Coffee House, Passio Coffee and Cong Coffee are successful with their flexible business which allows them to minimize the cost of renting premises when adopting the model of take-away coffee. Phuc Long wins the hearts of young customers with their diverse drinks, competitive prices, and prime locations. Meanwhile, The Coffee House "makes a hit" with their youthful, impressive design, meeting the demand of young people with mid-priced drinks.
New coffee shop chains have recently emerged, in which their owners are originally coffee exporters. Phan Minh Thong, general director of Phuc Sinh Joint Stock Company, said their K Coffee chain offers products that have been exported to difficult markets like Europe, along with multiple sweet and savory dishes. The company's current goal is franchising. Similarly, an exporter at first, TNI Company (King Coffee) officially joined the domestic market in the middle of last year with their first outlet located in Gia Lai. The next King Coffee shops were then set up in HCMC and Hanoi.
Meanwhile, NutiFood has lately signed a cooperation agreement with legendary golfer Greg Norman, one of Vietnam Tourism Ambassadors, to establish a joint venture that runs a chain of coffee shops in Vietnam and abroad to make Greg Norman NutiCafe, a new product, widely known. The first shop will open in downtown HCMC and target all customers.
Talking about their reason for joining the coffee shop business, corporate representatives said they believe the market still has a lot of potential when coffee products with inferior quality are rampant. However, doing business in the domestic market is a formidable challenge as the consumer taste of coffee can hardly change, Thong argued. Still, he said he believes K-Coffee will be able to recoup their investment after five years active in the market. SGT
Quoc Hung