A self-portrait of painter Le Pho auctioned for one million dollars
The painting "Autoportrait dans la forêt" (A self-portrait in the forest) by Le Pho (1907-2001) fetched over one million dollars at an auction at Sotheby's, Paris on March 16.
The self-portrait painting of renown Vietnamese artist Le Pho belongs to Pierre Le Tan's collection, the late son of Le Pho. The painting was initially offered from US$178,000 to $238,000, but eventually sold for $1,052 million.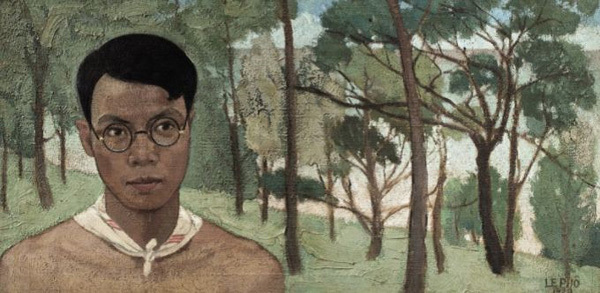 The painting "Autoportrait dans la forêt" (A self-portrait in the forest) by Le Pho (1907-2001).
The oil-in-canvas painting, whose size is 37 × 75.7 centimeters, was drawn by the artist in 1929. His signature can be seen at the lower right of the painting. According to Sotheby's auction house, this painting was displayed in Hanoi in November 1929.
Le Pho (1907-2001) was a prominent Vietnamese painter who developed a successful and prolific career in France with thousands of artworks to his credit. His works are thirstily hunted by art collectors all over the world.
He is also the first Vietnamese artist whose paintings sold for a million dollars and over in public auctions. Some of his typical artworks are including: "The Family Life", "Nude" and "The beauty in a 'sunshine' shirt".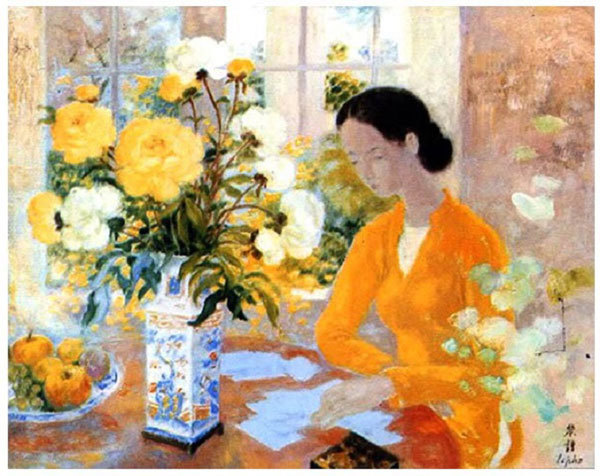 The painting of "The beauty in a 'sunshine' shirt" by Le Pho.
Le Pho's "Nue" (Nude) fetched $1.4 million and is the highest auction price ever for a Vietnamese painting. The oil painting was sold for HKD10.9 million ($1.4 million) at the 20th Century & Contemporary Art auction held by Christie's Hong Kong auction house in May 2019.
Pho's first painting to fetch over $1 million was "Family Life" at the Sotheby's Hong Kong auction house in April 2017.
When studied at the Indochina Fine Arts College, painter Le Pho was always classified into the "elite" group of talented students by his teachers. He used to be personally mentored by the school rector Victor Tardieu, who always encouraged his students to promote the Vietnamese cultural identities through the application of traditional materials such as silk or lacquer in their creations.
Le Pho was awarded a scholarship to study in France in 1932. The young painter then had the opportunity to visit many European countries and got acquainted with different European schools of painting. Later on, the impressionist influenced to his art works the most.
In 1933, Le Pho returned to Vietnam and became a teacher of his former university, the Indochina Fine Arts College.
In 1935, he participated in an artist team for Hue Imperial Citadel interior decoration; and also, became an exclusive painter for Bao Dai King and his wife- the Nam Phuong Queen. He was recognized as a highly influential one in turning the old robes into traditional ao dai that closes to the charming ao dai today.
A year later, he decided to migrate to France where he married to Paulette Vaux- a reporter of "Time and Life" newspaper and spent the rest of his life in Paris. 
Painter Le Pho died in 2001, in Paris. During over 70 years of his career, he had created thousands of artworks that most of them are now belonging to private collectors, especially at the Wally Findlay Galleries in the United State. Many of his artworks are on display at Contemporary Art Museum in Paris, France.
Hanoitimes

The painting, titled 'Doi Hoa' (Life of Flowers) by renowned painter Le Pho, has been sold for US$35,000 at auction No. 26 at Chon's Auction House in Hanoi.  

An oil-on-canvas painting featuring a nude woman by master painter Lê Phổ (1907-2001) was sold at nearly US$ 1.4 million (HK$10,925,000) at an auction sale at Christie's Hong Kong on May 26.