"A taste of the sea" hotpot in Vung Tau
Aside from nice beaches, the coastal city of Vung Tau offers delicious seafood dishes. Among them, stingray hotpot is a favorite of both permanent residents and tourists.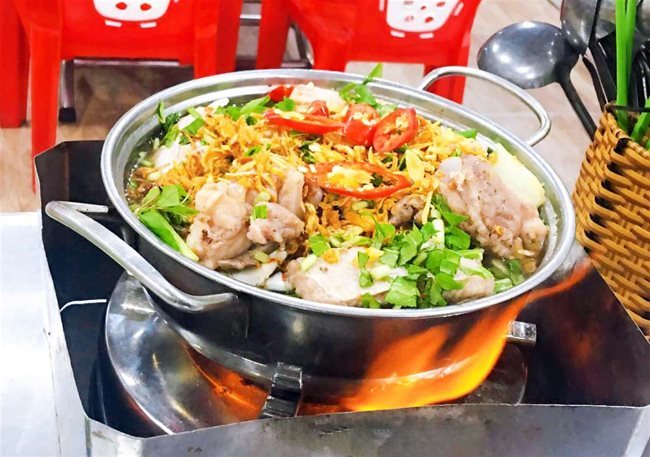 The best stingrays can be caught off the coast of Vung Tau City from the first lunar month to the third lunar month (between February to April), according to locals. The stingray fish has no bones; instead, its skeleton is made up of flexible cartilage. Its flesh is chewy and sweet. This kind of fish is a main ingredient of not only hotpot but other dishes like deep fried stingray dish, stir-fried stingray dish, and grilled stingray dish, to name but a few.
Local cooks know how to choose the best fresh stingray which has no unpleasant smell. In addition, the fish's gut and gall bladder must be removed as they cause a bitter taste. Vinegar or white wine should be used to remove its skin mucus.
It is quite simple to prepare the broth of this hotpot. Garlic, lemongrass, tamarind juice and pickled bamboo shoots are indispensable. All are to create the tasty sour taste for the thin soup.
For Vung Tau-style stingray hotpot, stingray fillets and rice vermicelli must be used together with some of herbs—including vegetable sprouts, banana flowers, rice paddy herbs and culantro (Eryngium foetidum). A small bowl of fish sauce with minced chilies is also served.
To have the best hotpot, fresh stingray fillets are added to the hotpot while the broth is still boiling. Dip your boiled fillets into the fish sauce and enjoy them!
SGT

Corn cake is quite popular among the H'mong people in Tuyen Quang Province.