A veritable family feast in the southeast

Looking for farm-to-table dining in a simple setting with an emphasis on local products? Check out one of the best chicken restaurants in Binh Duong Province for tender, juicy barbeque at an incredibly affordable price. 
A veritable family feast in the southeast
Though the main streets leading to Thu Dau Mot Town, the hub of Binh Duong Province, are full of good places to eat organic chicken, Gà Nướng Hai Chiến is considered the best.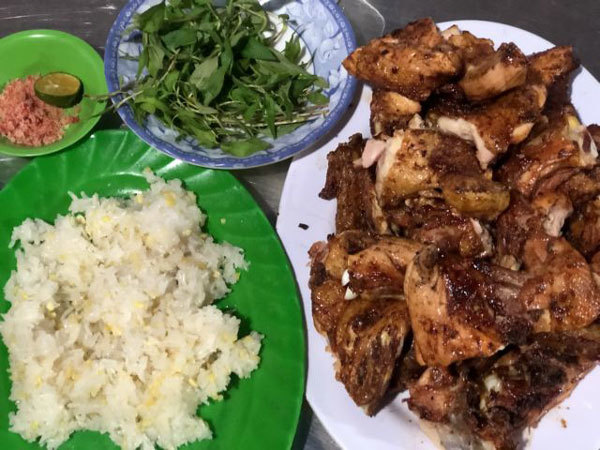 Gà nướng (organic chicken grilled and served with green bean sticky rice and broken peanuts) is the standout specialty at Gà Nướng Hai Chiến. VNS photo MInhPhi

It's always crowded with diners, especially during weekends and holidays.
My oldest sister, a native of Thu Dau Mot, who lives about 4 km from Hiep An Ward, where the restaurant is located, convinced my family and me to dine there.
"It's isolated from the busy roads and surrounded by fields. It's on a quiet, small, winding alley, and it's a great escape from the city," she told us. "You should not miss the tremendous feast of fresh quality chicken dishes. After my first visit with friends a few years ago, I was crazy for its delicacies."
The restaurant's name Gà Nướng Hai Chiến clearly indicates that barbequed chicken is the standout specialty and that diners should not miss it when they stop for a visit.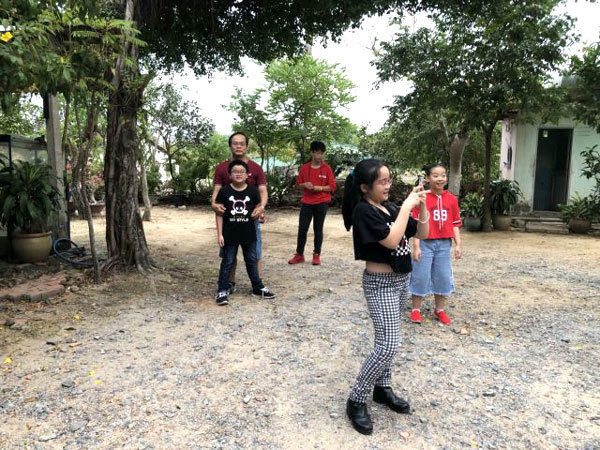 Gà Nướng Hai Chiến is an ideal destination for families or groups. VNS photo Minhphi

Though the barbeque is outstanding, tép um or sautéed small river shrimp (a typical southern dish served with rice paper and tropical herbs) and cháo cù lao or rice porridge with water-rail bird meat are also popular with diners from near and afar.
In the town, at least three food outlets have the same name, Gà Nướng Hai Chiến 1, 2 and 3, which can cause confusion among chicken lovers. But the restaurants have no connections with each other.
Our waitress told us: "We have no branch and only our regular visitors are aware of this. The owners of these restaurants tell their guests that we're related. But we are not relatives of theirs."
A typical southern country restaurant, Gà Nướng Hai Chiến is simply built with a sheet metal roof and set up with metal tables and plastic chairs with a garden surrounded by a field, creating a close and friendly dining ambience.
On the menu were 10 food items featuring four chicken dishes, beef, shrimp, eels and water rail bird meat (a domesticated bird), all cooked in a typical southeastern manner, from steamed and stewed to stir-fried, roasted and barbecued for lunch and dinner at a very inviting price.
Each portion is large enough for three or four diners. Notably, there was no dessert section.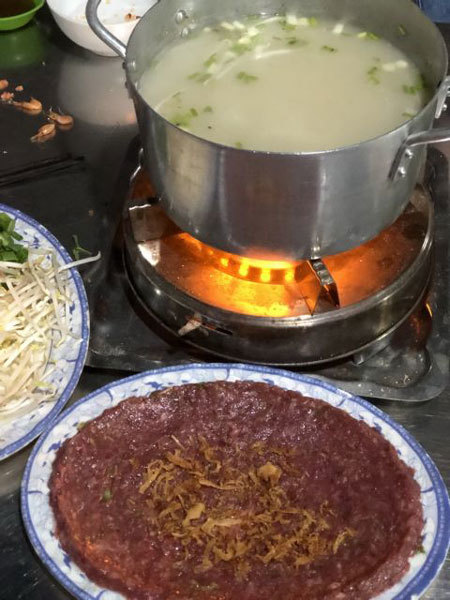 Cháo cù lao or porridge with well-chopped water rail bird meat is a top choice among visitors to the restaurant .VNS photo MinhPhi

My sister had recommended that we try sautéed shrimp (VND180,000 per serving) for a starter. Quick to prepare, the shrimp is rolled with wild tropical herbs, fresh rice vermicelli and rice paper, and dipped in sour-sweet fish sauce or tiny fish paste.
My favourite was the shrimp dish, which I cook at home. This was the first time I had eaten the dish outside my home and it was truly spectacular served hot. The shrimp was fresh and juicy with an aroma of fried green onions and a spicy sweet-sour flavour from the fish paste.
Our waitress said it was a top choice among diners who wanted grilled chicken.
We also chose two barbeque chicken dishes served with green bean sticky rice and peanuts (VND350,000 per whole chicken weighing 2kg).
For decades, Gà Nướng Hai Chiến has kept its family recipes secret to ensure that the chicken is delicate, flavourful and tasty, and that no one else knows how to make it!
"Most of our orders every day are for barbeque chicken. To make sure it's tender and tasty, we only start grilling the chicken when we get orders, although it takes time," our waitress, who declined to be named, told us.
Tép um or sauteed small river shrimp rolled with tropical herbs, rice paper and dipped in tinny fish paste, is always a good start for your meal. VNS photo MinhPhi

Special taste
Hai Chiến BBQ chicken does indeed have a very special taste and is like no others we had ever sampled.
"One more reason, our chef chooses the absolute finest chickens from our local supply only. As you see, the chickens are especially tender and juicy," she said.
"Its preparation is also special. We don't marinate the chicken before grilling. We apply our special home-made spicy sauce when it is being grilled until the dish is done."
The chicken was so tantalising and irresistibly aromatic that everyone in my family could not contain their delight and finished it quickly. My daughter loved the spiciness and my son begged for one more, so I decided to order a third whole chicken
While waiting, we tried two hotpots of rice porridge with water rail bird meat (VND180,000 per serving). For the hotpot, you put the bird meat into a simmering porridge, then watch as the food is cooked at your table. With its flavour from the bird meat, herbs and green onions, the porridge was definitely worth trying.
Other must-tries include chicken porridge with chicken salad, and a hotpot with river eels, taro and aromatic herbs, an especially good dish for children.
Gà nấu lá giang, a chicken hotpot with sour-sweet broth and vermicelli (VND350,000 per whole chicken), which contains cilantro, rice paddy herbs and giang leaves (a species of local wild plants with tart-tasting leaves), was also quite good.

Gà Nướng Hai Chiến Restaurant
Add: 107 Bui Ngoc Thu Street, Hiep An Ward, Thu Dau Mot Town, Binh Duong Province
Phone: 02743830320
Hours: 10am-9pm
Comment: One of the best BBQ chicken restaurants in town. Its specialty is prepared in a traditional southeastern manner.
Price: VND350,000/whole chicken weighing 2kg with green bean sticky rice.
After the hotpot, our children continued eating our third order of chicken while the adults decided to pass. Like me, if you are a chicken lover, you will not be able to eat only one, and will want to come back for more. - VNS
By My Duyen

The last thing you may expect to find at the foot of Lang Biang Mountain in Lac Duong District, the Central Highlands province of Lam Dong is a pizza restaurant.

As chilly weather steadily begins to creep over Hanoi, cold days allow people in the capital to enjoy a number of famous dishes.