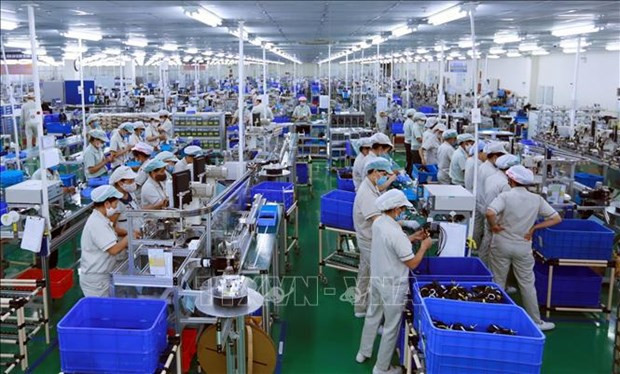 At the Japanese-funded NMS Vietnam Co., Ltd. (Photo: VNA)
As per the plan, the Ministry of Planning and Investment (MoPI) is assigned to submit to competent authorities a draft revised law on bidding within the 2022-2023 period; and the Ministry of Finance a governmental decree amending and supplementing Decree 08/2015/ND-CP concerning the implementation of the customs law in 2023.
The Ministry of Industry and Trade, meanwhile, is responsible for drafting the Prime Minister's Decision on building a supporting industry development programme for 2026-2030, which should be submitted to authorised agencies by 2025.
Reports by agencies and localities involved on the implementation of the strategy are set to be sent to the MoPI before October 30 annually.
The decade-long strategy aims to raise the proportion of registered foreign investment flows from certain countries and territories to over 70% in the 2021 - 2025 period and 75% in 2026 - 2030. The certain countries and territories comprise those from Asia, Europe and the US.
It also targets to increase the number of multinationals listed in Fortune Global 500 doing business in Vietnam by 50 percent by 2030./. VNA