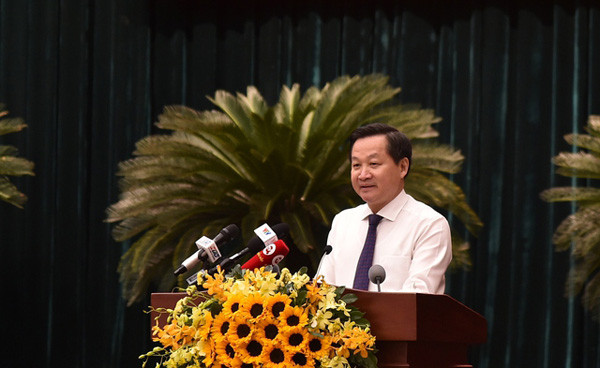 Speaking at a meeting on Monday, he said to achieve the goal HCM City would need to develop high-quality human resources and promote digital transformation to achieve digital governance and a digital economy and become a smart city.
A recently approved Politburo resolution requires HCM City to maintain its role as the country's major economic, cultural, education-training, and scientific-technological hub.
Under the resolution, the city is expected to post annual growth of 8 per cent-8.5 per cent, per capita gross regional domestic product (GRDP) of about US$14,500, and contribution of 40 per cent to Việt Nam's gross domestic product (GDP) by 2030.
By 2045, HCM City is set to have become comparable to major cities around the globe; an economic, financial, and service centre of Asia, the nucleus of the southeastern region, a growth engine of Vietnam and a magnet for international financial institutions and enterprises.
The local economy and culture will have also developed ensuring residents have high living standards.
Nguyen Van Nen, secretary of the municipal Party Committee, speaking at the meeting, said this year the city would continue to focus on stabilising its economy, controlling inflation and speeding up public spending, which remains slow.
It has a target of disbursing 95 per cent of approved public spending this year, he said.
It would also improve public services, enhance administrative reforms and resolve problems related to investment procedures to attract investors, he added.
The city will also speed up major transport projects, especially Ring Roads 3 and 4, the HCM City-Can Tho railway project and upgrade of Tan Son Nhat international airport.
Experts have warned the city is very likely to be affected by the global recession in 2023. It has already lowered its growth target to 7.5-8 per cent for this year.
Despite the challenges last year, it achieved 9.03 per cent growth as against a target of 6-6.5 per cent.
Its revenues were worth VND457.5 trillion, or a third of the country's total and up 17 per cent year-on-year.
Its index of industrial production increased by 14.2 per cent, and exports were worth $49.5 billion, up 10.3 per cent.
Tourism revenues topped VND120 trillion, up 171 per cent, and retail sales of goods and services are estimated at more than VND900 trillion ($36.5 billion), up 30.6 per cent.
Source: Vietnam News