Actual FDI to Vietnam in 2019 projected to hit US$22 billion in 2019

Main sources for FDI growth in Vietnam in the near future would come from South Korea, China, Taiwan and Hong Kong (China).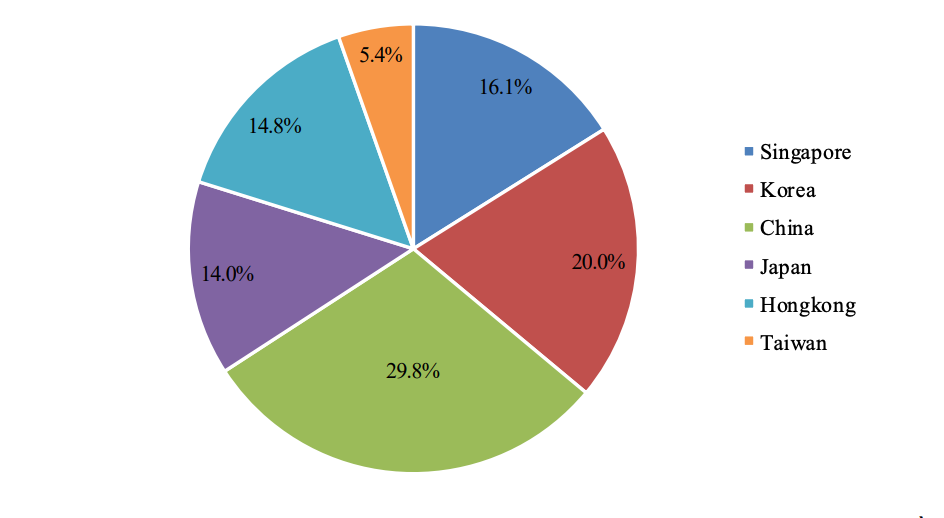 China remained Vietnam's largest investor in terms of newly registered FDI in the first five months of 2019. Source: BVSC.
Actual FDI to Vietnam in 2019 is projected to hit US$22 billion in 2019, up 13 – 15% year-on-year, according to Bao Viet Securities Company (BVSC). 
 Main sources for FDI growth in Vietnam in the near future would come from South Korea, China, Taiwan (China) and Hong Kong (China), said BVSC in its latest report.
South Korea, with the "New Southern Policy" and strong commitments from the country's major tech giants, such as Samsung or LG, considers Vietnam an attractive destination for investment.
The Vietnam – South Korea Free Trade Agreement (VKFTA) signed in late 2015 has been a key facilitating factor for the bilateral trade relation, said BVSC.
BVSC said companies in labor-intensive industries, such as textile, footwear, toy making, among others, from China would speed up their investments to Vietnam, as the US is expected to impose the next round of import tariffs at 25% to such products.
The production chain of Iphone in China could be targeted for additional tariffs as well, prompting some of its suppliers to move to Vietnam.
In the first five months of 2019, Goertek, which assembles wireless earphones for Apple, has announced an investment project worth US$260 million in Bac Ninh Provinces. This would not be the last as other Apple suppliers, including AAC Technology, FIT, Largan, Lux Share, are expected to follow suit.
Additionally, the report suggested capital inflow from other partners including Japan, Thailand and Singapore is expected to be on the upward trend, but mainly through capital contribution and M&A deals, and target Vietnam's growing domestic market.
According to the report, the escalation of the US – China trade war is considered one of the main reasons for higher FDI flow to Vietnam, especially with a current shift of production facilities out of China to evade import tariffs.
Foreign investors committed to pour US$16.74 billion into Vietnam in the January – May period, marking a four-year high and up 69.1% year-on-year, a report of the Foreign Investment Agency (FIA) under the Ministry of Planning and Investment has shown.
Disbursement of FDI projects jumped to US$7.3 billion in the five-month period, representing an increase of 7.8% year-on-year.
According to the agency, 1,363 new projects have been approved with total commitments of US$6.46 billion in the January – May period, up 38.7% from the corresponding period last year, while 505 existing projects have been injected an additional US$2.63 billion, up 5.5% from the same period last year.
During this period, 3,160 projects have had US$7.65 billion in capital contributed by foreign investors, an increase of 2.8-fold year-on-year and accounting for 45.7% of total registered capital.
Vietnam - ideal investment destination
Assuming the US and China could not reach an agreement on trade talks in June, BVSC predicted the FDI commitments and disbursement in Vietnam would increase at even a higher rate.
In fact, Vietnam has benefited from the so-called strategy named "China plus 1" from investors in the global market over the past 10 years, aiming for diversifying risks, while the US – China trade war would accelerate this process.
Vietnam's advantages as China's alternative investment destination come from its strategic location, which is at the center of ASEAN, as well as more than 3,000 kilometers of coast line.
Additionally, Vietnam's closer proximity to China is expected to allow manufacturers to move parts of their production chain across the border, while still maintaining a close connection with their bases in China.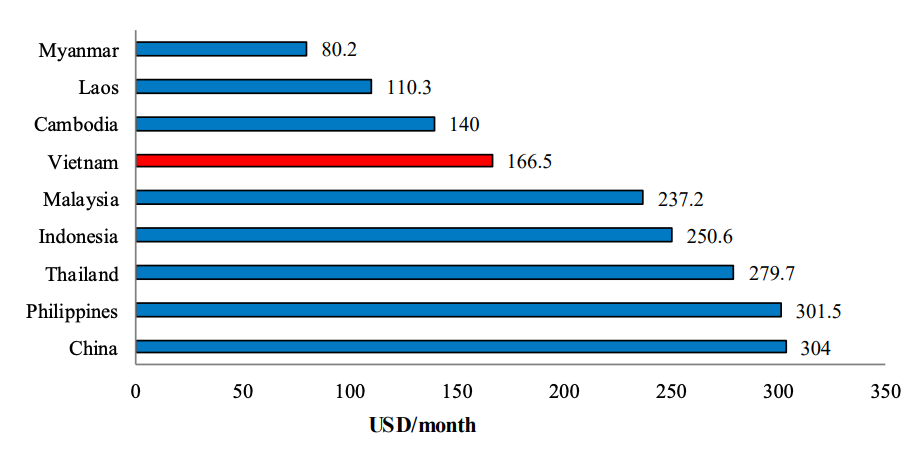 Vietnam's labor cost stays competitive with regional peers. Source: BVSC.
Meanwhile, the country has been pushing for infrastructure development with growing numbers of expressways and ports. According to the Asian Development Bank (ADB), Vietnam's expenditure for investment has reached 6% of the GDP over the last five years, nearly double the average of ASEAN members.
BVSC also pointed to incentive policies in taxes and land rental for foreign investors, not to mention cheap labor costs, which is around 60% of China's and much lower than most countries in ASEAN.
More importantly, Vietnam has been integrating in global trade and economy through a number of multilateral and bilateral trade agreements. Hanoitimes
Ngoc Thuy

National Assembly deputies have raised their concerns about the potential risks of soaring Chinese foreign direct investment inflows into Vietnam.  

Amid a sudden increase in foreign direct investment inflows from China, experts are calling for the creation of "filter tools" for FDI with the aim of fostering high value manufacturing and sustainable development.  

A conference, titled 'New vision, new opportunities for FDI in the new era', is expected to take place on October 4 to review the 30-year period of attracting FDI.