Admiring slice of time on vestige in Hue Imperial Citadel
Experiencing many ups and downs of history, Hue Imperial Citadel still retains its majestic beauty, preserving the quintessence of the Nguyen's Dynasty, hundreds of years ago.
 Therefore, when visiting Hue, it is impossible not to visit Hue's ancient imperial citadel complex at least once to feel the golden traces of the past.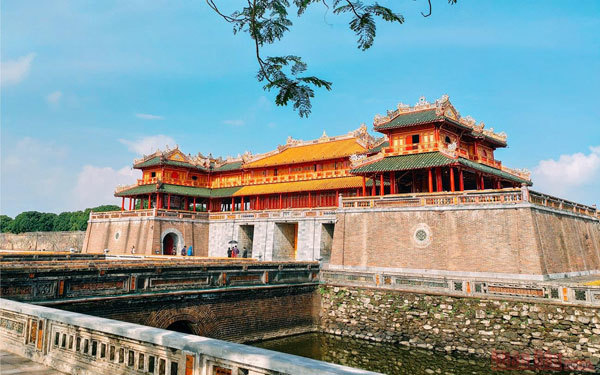 Ngo Mon Gate (Noon Gate), as the largest of the four major gates of Hue Citadel, is the main southern gate of the Hue Citadel, overlooking the very poetic Huong (Perfume) River. Ngo Mon Gate is considered a masterpiece, a pinnacle architecture of Hue Imperial Citadel.
Nowadays, many young people who love the ancient costumes of the Nguyen Dynasty like Nhat Binh Ao Dai (Vietnamese traditional clothing) often come here to capture impressive photos.
Hue Citadel was built under the reign of King Gia Long in the summer of 1804, but it was not completed until 1833, under the reign of King Minh Mang.
As a convergence of cultural and architectural beauty, Hue Citadel is also one of the relics in the Hue's ancient imperial citadel complex recognised as a UNESCO World Heritage Site since 1993.
In the history of Vietnam in pre–modern period, the construction of Hue Citadel is probably the most massive and large-scale project with the particiapation of tens of thousands of people in the construction, millions of cubic meters of soil and stone, a large amount of work such as dugging trenches, filling rivers, migrating, moving graves, and building citadels, lasted for 30 years under two dynasties.
Facing Ngo Mon Gate is Thai Hoa Palace, which is used to celebrate significant court rituals such as anniversaries and coronations. It was also an important venue to welcome ambassadors of other countries.
In the architectural complex in the Tu Cam Thanh (Forbidden Purple City) of Hue, the corridor system plays an important role, not only as a passageway, but also as a "circuit" connecting the works, creating a diverse architectural complex with a tight layout.
Over 200 years, wars, natural disasters and time caused the corridor system to be severely destroyed and by the 1990s, it was completely collapsed, leaving only the foundations. The corridors in the Tu Cam Thanh Hue have now been restored by the Hue Monuments Conservation Centre according to the strict regulations of UNESCO.
Despite the wear and tear over time, a lot of architecture still exists along with mossy walls in bold colours of the old times.
The sophisticated architecture has survived many years.
Thai Hoa Palace still retains its inherent majesty.
Source: Nhan Dan
The Hue imperial city in Thua Thien-Hue province is now still home to bronze cauldrons dating back from Nguyen dynasty (1631-1684).

Hundreds of antiques and treasures of the last feudal dynasty in Vietnam - Nguyen Dynasty – have drifted everywhere. Through decades of wandering, many antiques have been repatriated.