On the first day of the new year, Prime Minister Pham Minh Chinh issued the order to start construction of the 12 component projects across nine provinces of the North-South Expressway, which is considered one of the most crucial infrastructure initiatives in the entire country.
North-South traffic is the backbone and the key economic-transportation corridor of Vietnam. The eastern cluster of the expressway has been under construction and will boast a total length of over 2,000km from Huu Nghi-Lang Son border gate in the north to the southernmost province of Ca Mau across 32 cities and provinces. As of last month, over 640km of the expressway has been put into operation.
Besides expressway projects, after a long wait, construction of terminal T3 at Tan Son Nhat International Airport began in the last days of 2022. With total investment of more around $474 million, the new terminal will not only help solve airport overload but also contribute to speeding up disbursement of public capital.
Lai Xuan Thanh, who is chairman of Airports Corporation of Vietnam, said that as the investor, the corporation aims to see the terminal put into operation on schedule while ensuring safety and quality are in line with the standards of the International Civil Aviation Organization.
"We aim to complete the job by the end of 2024 as that is the schedule of the government's requirement. The terminal's capacity will be 20 million arrivals per year or 7,000 arrivals during rush hours," said Thanh.
The T3 terminal is constructed concurrently with expansion of connecting routes funded by Ho Chi Minh City in order to improve traffic infrastructure and reduce overload at Tan Son Nhat airport. Thus, the road connecting Tran Quoc Hoan and Cong Hoa streets across T3 terminal is being started also, with the total investment of around $217 million.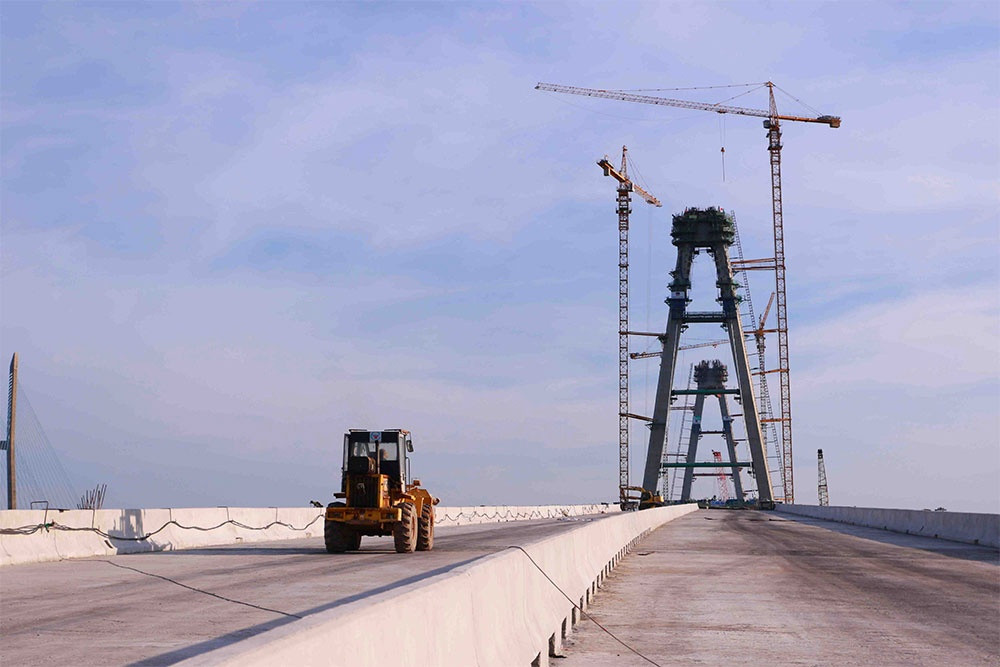 Advantages outlined to push ahead with public investment
Vital linkage
State budget funding has made an important contribution to the construction and improvement of the economic infrastructure system and socioeconomic development, providing better public services, and promoting economic growth in a sustainable direction, according to Deputy Minister of Planning and Investment Tran Quoc Phuong,
"Despite accounting for only about 16-17 per cent of total social investment capital and 5-6 per cent of GDP, public investment plays the role of a primer capital to mobilise private investment from society," Phuong said.
He highlighted that the disbursement of public investment would boost the consumption of raw materials and goods, develop infrastructure, reduce transportation costs, and improve the capacity and competitiveness of the economy.
At the end of last year, public investment disbursement was $18.9 billion, equalling 75.11 per cent of the allocation plan, equivalent to the performance of the same period during 2016-2020, and lower than the same period last year (77.3 per cent). However, the value of public investment disbursement in 2022 was reported at $3.44 billion higher than that in the same period of 2021.
Nguyen Quoc Hiep, chairman of the Vietnam Association of Construction Contractors (VACC), said preparation of documents such as surveying, designing, and estimates are still sketchy, not guaranteeing progress and quality, making it difficult for implementation. If there are some unexpected amounts, the payment procedure becomes complicated and takes a lot of time, making the management board and developers hesitant to handle it.
"Construction contractors are the last step to disburse public investment. If they can do a large amount of work, the disbursement will be fast. However, contractors are facing obstacles in terms of unit prices and norms with many inadequacies that make them losers," Hiep explained.
New year readiness
Last week the National Assembly adopted the 2023 public investment plan with around $31.5 billion in total investment, a rise of 25 per cent on-year and $11.3 billion higher than that in 2021. Another important task in 2023 is to disburse the remaining capital of the socioeconomic recovery and development programme amid numerous forecasted difficulties.
With this allocation for 2023, Deputy Minister Phuong said that it is necessary to urgently allocate detailed capital plans and disburse investment as soon as possible.
"In addition, it is necessary to carry out preparation, implementation, inspection, and review of each project within the capital plan for 2023, especially new construction activities," he noted. "Schemes that have enough investment procedures and meet the conditions for capital allocation should be prioritised and focused on in order to improve readiness, feasibility, and deployment ability."
In the view of business, Tran Khanh Hien, director of VNDirect said that announcing the new year's budget estimate with an ambitious public investment capital allocation plan confirmed the role of public investment disbursement in socioeconomic development.
To deploy the plan, the government has been loosening the average inflation in 2023 to 4.5 per cent (higher than 4 per cent last year) and expecting more budget deficits than last year.
"One of the factors supporting public investment in 2023 is that the price of construction materials, which decreased by 6.7 per cent over the end of 2021 after the peak last April. Public disbursement in 2023 could increase by 20-25 per cent compared to the actual figures in 2022," said Hien.
Expecting that the disbursement speed of public investment capital in 2023 will improve remarkably, Nguyen Quoc Hiep from the VACC suggested that the government and ministries quickly adjust and supplement the normative unit price system in the first quarter to keep up with the implementation of projects.
"They also need more decentralisation and clear regulations for management units and investors/developers to adjust and solve arising problems or bidding packages," Hiep said.
Ho Duc Phoc-Minister of Finance
There are some reasons for holding back disbursement of public investment in 2022. The year was strongly affected by the pandemic, along with overseas fluctuating factors leading to higher prices and costs of raw materials, fuel, and international transportation of goods. Experts, managers, foreign contractors, and imported machinery and equipment for public investment projects, especially official development assistance and foreign-concessional-loan ones, were affected significantly.
Some provisions of the law are still not synchronised or feasible and do not meet practical requirements, leading to different interpretations. The coordination mechanism between ministries, central agencies, and central and local governments in handling public investment problems is not effective enough, such as in site clearance activities.
Some cases that have not followed the principles and criteria specified in the Law on Public Investment or resolutions of the National Assembly have to adjust the allocation plan.
The amount of disbursement in 2023 is at its peak, so the pressure on public investment is strong. In order to promote the disbursement of public investment in 2023, the Ministry of Finance is doing its utmost to simplify procedures, and shorten the time of payment to only 1-3 working days. At the same time, we have also urged acceleration of the receipt of documents via online public services in order to save time and travel costs for investors, while publicising and speeding up the process of disbursement.
Source: VIR