African swine fever vaccine to be circulated nationwide this month
The vaccine against African swine fever (ASF) AVAC ASF LIVE developed and produced by AVAC Vietnam Co., Ltd.  is expected to be distributed nationwide from February this year,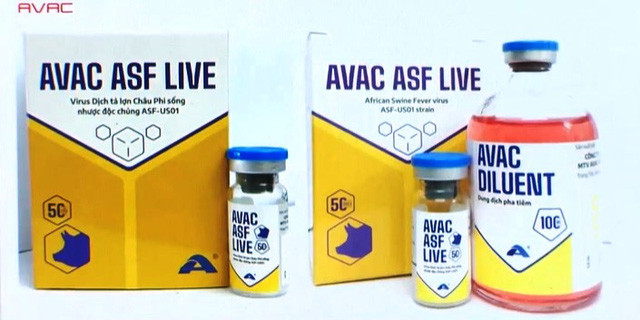 Vaccine against African swine fever (ASF) AVAC ASF LIVE. — Photo vtv.vn
Speaking at a meeting on the supervision of quality and the use of 600,000 doses of AVAC ASF LIVE vaccine on Tuesday, Deputy Minister of Agriculture and Rural Development Phùng Đức Tiến asked AVAC Vietnam to continue evaluating the immunity level of the vaccine after injection, and give strict guidelines and recommendations for livestock farmers.
The testing of the AVAC ASF LIVE vaccine started on pig farms in March 2022, with the efficacy rate reaching 95 per cent. The vaccine was approved for circulation on July 8, 2022 and put into use under supervision at pig farms.
After being approved for circulation, MARD's Department of Animal Health continues to monitor the quality of 10 vaccine batches to evaluate the effectiveness of the 600,000 doses of AVAC ASF LIVE vaccine on pigs aged between 8-10 weeks.
According to Nguyễn Văn Điệp, director of AVAC Vietnam, in early January, the first four batches of AVAC ASF LIVE vaccine produced in 2022 were tested and met the quality requirements.
AVAC Vietnam also cooperated with the CP Livestock Joint Stock Company (CP Vietnam) to organise the pilot injection of 600,544 pigs at 545 farms, and took 5,958 samples for testing. The results showed that 93.34 per cent of the samples met the technical requirements.
At the meeting, participants said that AVAC Vietnam and CP Vietnam need to increase the sampling rate for more accurate assessments.
Tiến asked relevant units to have detailed technical reports on the administering process of 600,000 doses of the vaccine so that MARD can make accurate assessments before it is to be used on a large scale.
Việt Nam has become the first country to successfully develop and produce two vaccines against ASF, a disease that first appeared in Africa in 1921 with a mortality rate of up to 100 per cent.
The evaluation of NAVET-ASFVAC produced by Navetco National Veterinary Joint Stock Company (NAVETCO), and AVAC ASF LIVE is underway. VNS