Aging in Vietnam: The elderly to account for 20.4% by 2050
It takes Vietnam only 20 years to transform from 7% to 14% of the population aged 65 and over.
Vietnam, one of the most rapidly aging countries in the world, is estimated to see more than 22 million older persons or 20.4% of the total population by 2050.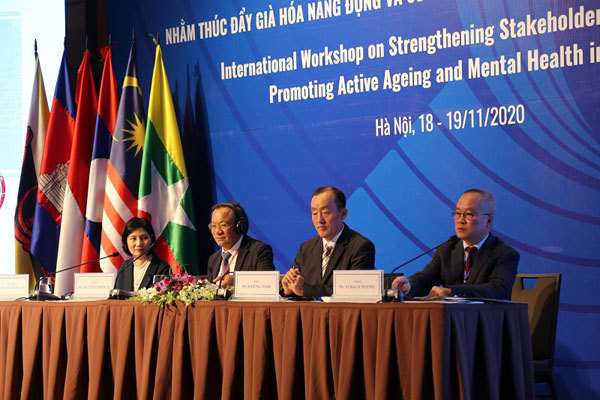 Representatives of Vietnam's Ministry of Health, WHO, UNFPA at the workshop. Photo: UNFPA
Currently, the number of older persons is 7.4 million, accounting for 7.7% of the total population, according to statistics reported at an international workshop held on November 18-19 in Hanoi.
The country has officially entered the "aging phase" since 2011 with the number of older persons (at age of 65 years or over) making up 7% of the population.
Statistics show that it will take Vietnam only 20 years to transform from 7% to 14% of the population aged 65 years and above, compared to 115 years for France, 85 years for Sweden, 73 years for Australia, 69 years for the US, 65 years for Canada, and 45 years for the UK.
To deal with the issue, Vietnam has emphasized the importance of adapting to population aging, providing necessary health care for the elderly, and encouraging the development of health care facilities to meet the needs of older persons, according to Vietnam's Deputy Health Minister Truong Quoc Cuong.
It is necessary to strengthen cross-sectoral coordination and participation of all stakeholders to build a dynamic and healthy aging society, he added.
Addressing the event, Ms. Naomi Kitahara, UNFPA Representative in Vietnam, said "Population aging is not the subject to be ignored in the 2030 Sustainable Development Agenda. Population aging happens not because of mortality decline, or because people live longer, but largely because fertility declines. All countries in the world including Vietnam must be prepared for aging when couples start to have a smaller family. Vietnam must envision a new paradigm that aligns demographic aging with economic and social growth and ensures social inclusion of the elderly". 
Aging in ASEAN
Population aging is a global phenomenon. Virtually every country in the world is experiencing growth in both the size and the proportion of older persons in the population. ASEAN countries are not exceptions.
In 2019, the number of older persons in ASEAN is more than 45 million population aged 65 years or more, accounting for 7% of total ASEAN's population. This number is projected to be respectively 132 million persons and 16.7% by 2050.
Aging in ASEAN has been discussed at the workshop titled "Strengthening Stakeholders Cooperation in Promoting Active Ageing and Mental Health in ASEAN" held in Hanoi by Vietnam's Ministry of Health in collaboration with the Economic Research Institute for ASEAN and East Asia (ERIA), the United Nation Population Fund (UNFPA), and the World Health Organization (WHO).
The workshop that marked the participation of more than 170 people both online and offline from 10 ASEAN member states was organized as an event of Vietnam chairmanship of ASEAN 2020 to share experience and strengthen cooperation among stakeholders in promoting active aging and mental health for older persons in ASEAN community.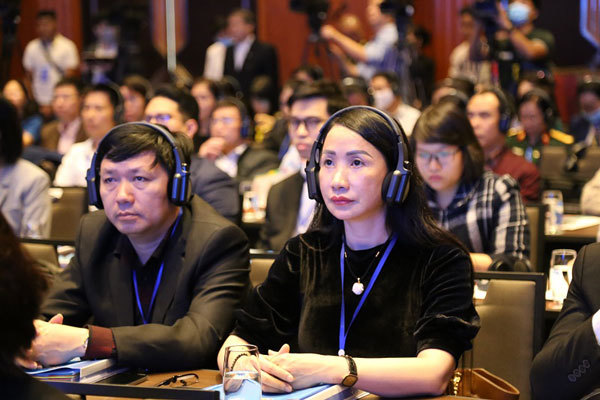 The event draws a large number of participants. Photo: UNFPA
Participants discussed the current situation, the trend of aging in ASEAN, health statues especially mental health, and care needs of older persons. International experts from ERIA, UNFPA, WHO and ASEAN member states shared experiences and lessons learned on how to promote healthy active aging in the ASEAN community, particularly in the context of the Covid-19 pandemic.
In 2020, the Covid-19 pandemic amplifies and highlights the vulnerabilities and specific needs of older persons. It is clear that the fatality rate for older persons is higher, and for those over 80, it is five times higher than the global average. Older persons must be a priority in ASEAN community's efforts to overcome the pandemic to ensure no one is left behind in humanitarian response as well as in development effort.
Regarding aging, in 2020, an estimated of over 700 million persons aged 65 years or over is recorded worldwide, accounting for 9.1% of the world's population. This number might be more than double by 2050 with more than 1.5 billion and 15.5%, respectively.  Hanoitimes 
Linh Pham

Vietnam is one of the countries with the fastest aging populations in the world. It is estimated that the golden population period (high percentage of working age adults) will end by 2038.

JICA and WB on August 7 jointly launched a knowledge-sharing programme to assist policymakers in Vietnam with developing new models of care services for the elderly as Vietnam's population is aging at a pace faster than any of its regional peers.