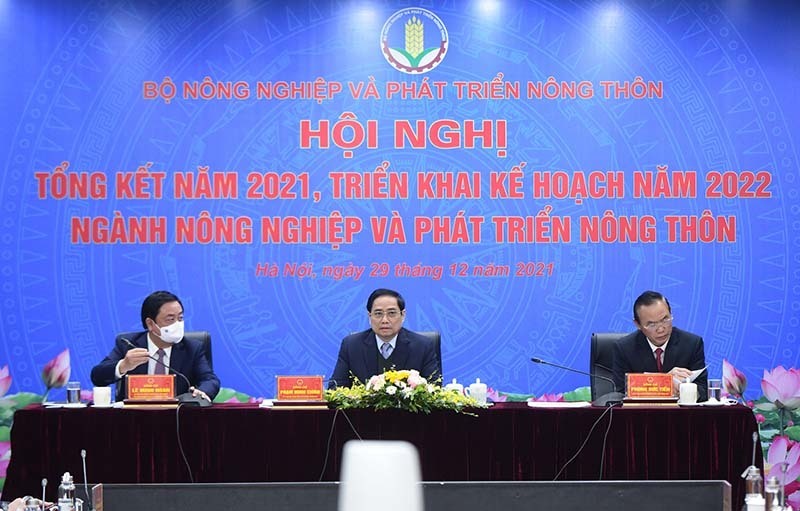 At the conference
The Ministry of Agriculture and Rural Development (MARD) reported that in 2021, Vietnam exported $48.6 billion worth of farm, forestry and seafood produce and total food output reached 44 million tons. The added value of the entire agricultural sector was estimated to increase by 2.85-2.9 percent. Digital transformation has begun, bringing some positive effects.
Hai Duong Chair Trieu The Hung said the province has been accelerating digital transformation and following a 'digital, green field' strategy, putting 300 farm produce items on sale on e-commerce platforms.
Hai Duong had a bountiful crop of litchis in 2021. Thanks to effective branding, Hai Duong litchis sold well, bringing revenue of 1.4 trillion, higher than the VND600 billion in 2020.
In Dong Thap, digital transformation also helped farmers increase the yield of crops and reduce production costs. At "smart" fields, "smart" villages and digital cooperatives, farmers use their smartphones to irrigate crops and operate drones that spread pesticide on the fields.
As for digital transformation in agriculture, Minister of Information and Communications Nguyen Manh Hung said the good news is that localities all consider digital transformation as a key solution.
According to Hung, there are three new trends based on digital transformation. First, marketplaces. PostMart and VoS o, for example, are two large e-commerce platforms for farm produce sales.
Second, decentralization. Digital transformation helps farmers access information as businesses do. This allows brands for every farming household.
Third, dematerialization, digitization of land, crops and the environment.
Hung said that 2022 would be the year of digital transformation in agriculture. Of the 34 national digital platforms which have been assigned by the Prime Minister to build infrastructure for the development of digital Government, digital economy and digital society, there are nine platforms for the agriculture sector, including digital data, farm produce traceability, e-commerce platforms and supply chain optimization.
Hung suggested that MARD set up a steering committee in charge of digital transformation in the agricultural sector, with Minister Le Minh Hoan the head of the committee. He also advised choosing some large technology firms as strategic partners to quickly create platforms for digital transformation in the agriculture sector.
Small in production scale, weak in processing, preservation
Many localities and enterprises at the conference also mentioned digital transformation, saying that their production is still at a small scale. The lack of a growing area programming makes it difficult to make products for export and to export local products. Meanwhile, poor preservation puts pressure on farmers on busy harvesting days.
Minister of Industry and Trade Nguyen Hong Dien noted that though farm produce can bring high revenue, the agriculture sector still cannot satisfy the requirements set by choosy markets such as the US, EU and Japan.
Dien said the problem lies in small, fragmented production and the low technology content. In addition, there is no closed connection among the links of the value chain, thus posing disruption risks.
The radical and sustainable solution to the problems is cooperation to improve quality management so as to boost farm exports, especially exports to China through official channels. He also suggested that MARD strengthen the cooperation with relevant ministries and branches to accelerate multi-valued integration and digital transformation, and build sustainable connection chains.
Agriculture: pillar of the economy
Concluding the conference, Chinh repeated the motto that the 'farmer is the center, rural area is the foundation, agriculture is the driving force'.
He said the awareness of the importance of agriculture has improved and Vietnamese farmers know they can improve their material and spiritual life with both their hands and their brains.
However, Chinh pointed out the problems facing agriculture. Its developments are not commensurate with the potential and advantages. Farmers still don't take the initiative in developing their production as oriented, but they remain passive and dependent on markets, weather conditions and other factors. There are also many problems in market and climate change forecasts.
The other problems of the agriculture sector mentioned by Chinh include unsustainable development, the lack of flexible adaptation to new circumstances and the lack of post-harvesting technologies. Also, export markets are not diverse and Vietnam still cannot build the brands of international stature.
Regarding tasks for 2022, Chinh said there are both advantageous and disadvantageous conditions anticipated.
"The agriculture sector needs to set higher goals for growth rates and exports. You need to be daring to set the goal of $50 billion worth of farm exports," Chinh said, adding that agriculture is a pillar of the economy, and if the pillar is weak, this will pose difficulties for the economy.
Improving the quality of national and regional products is necessary, as well as processing capacity, production of agricultural products with high value, food safety, traceability and geographical indications.
MARD Minister Le Minh Hoan said that the ministry was straining every nerve to build a strategy on sustainable and responsible agriculture. 
Tam An

In recent years, thanks to the introduction of digital technology into agricultural production, Vietnamese farmers have earned millions of US dollars or even tens of millions of dollars.

HCM City's master plan calls for the city to be developed into the nation's largest economic hub for tourism, industrial services and high-tech agriculture by 2040, with a focus on climate change adaptation.