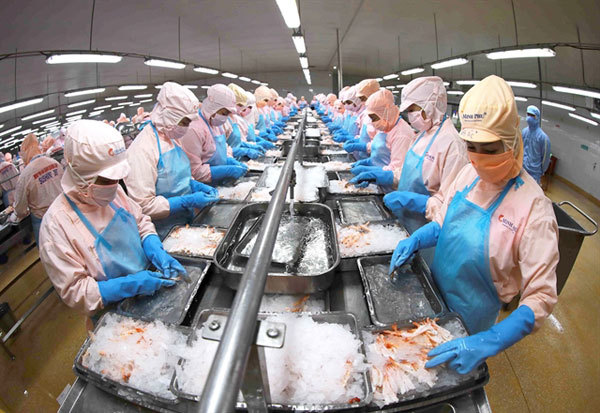 Processing of shrimp for export at the Minh Phu Seafood JSC. The agriculture sector's export value was estimated at $38.8 billion in the first 10 months of this year. — VNA/VNS Photo Vu Huu Sinh
"This year, MARD has predicted that the export turnover of agricultural, forest and fishery products to reach over US$44 billion, exceeding its initial target of $42 billion," said Phung Duc Tien, Deputy Minister of Agriculture and Rural Development.
According to the Minister of Agriculture and Rural Development, Le Minh Hoan, there will be many export opportunities for local agricultural products in the fourth quarter of 2021, especially over Christmas and New Year of 2022 and the Lunar New Year. 
The European market will be a big destination for Vietnamese agricultural products and strong trade with the Thai, South American African markets is expected to continue, he said.
"I hope that the Government's existing policies, along with the initiatives of localities, will encourage exporting enterprises to restore their trading activities," Hoan said.
To seize opportunities to recovery and increase exports of agricultural, forestry and fishery products by this year-end, MARD will coordinate with ministries and sectors to implement trade promotion programmes that focus on opening new export markets, according to Nguyen Quoc Toan, Director of the Department of Agricultural Product Processing and Market Development.
They will also provide businesses with market information and regulations on goods that are traded between Vietnam and China, and quotas for local agricultural products under the EVFTA and UKVFTA agreements.
This year exports of agricultural, forestry and fishery products have faced many challenges caused by the COVID-19 pandemic. In particular, the fourth outbreak that began in late April led to disruption across the economy, impacting farm produce supply chains, production and export activities nationwide, according to MARD.
The agriculture industry has maintained export growth for many products in both quantity and value. In the first ten months of this year, the export value of agricultural, forestry and fishery products was estimated at $38.8 billion, up 13.1 per cent over the same period in 2020, the ministry said.
Nudging closer to the target of $44 billion in export value for this whole year, the sector's export turnover reached at least $5.2 billion in the last two months, according to the ministry.
This is a great success in the context of the complicated development of the pandemic that has disrupted the supply chains of agricultural raw products, directly affecting the processing and export of agricultural, forestry and aquatic products.
The disruption in the supply chain of agricultural products is due to localities implementing the Government's regulations on prevention and control of the COVID-19 in different ways, according to Tien.
He also believes that the Government's goal of recovering economic development may face some difficulties if the pandemic continues to reemerge in new localities.
Agricultural development faces challenges from other areas too; crop and animals diseases, climate change, natural disasters, drought and saltwater intrusion also continue to negatively affect production.
Other problems include the slow recovery of production chains, a lack of labour and the congestion in transporting agricultural, forestry and fishery products. Many processing enterprises are also short of the capital needed to continue production and business. Others have not yet met the material conditions to maintain production.
Higher freight along some routes and an increase in the price of animal feed and fertiliser have also created more difficulties for enterprises. 
Solutions
MARD plans to help restore agricultural development through the Government policies that were issued after the COVID-19 outbreak. MARD and the Ministry of Industry and Trade are coordinating to reduce inventories of agricultural products and ensure supply for the export agricultural products. They will also have solutions to reduce the price of input materials that have increased recently.
"The higher input price in Vietnam is caused by an increase in prices around the world, due to the COVID-19 pandemic. Agricultural input in the country depends on imports, which accounts for 70-80 per cent of demand. If imports are interrupted due to transportation difficulties, this will lead to a shortage of input material on the domestic market," Tien remarked.
The two ministries have recommended that the Government produce policies that encourage the domestic production of input materials and introduce a mechanism that cuts the volume of export commodities that could be used for raw material production in the future.
It has also been suggested that farmers be more conservative with their input materials usage, as often they use more input materials than is needed. If farmers can adapt to using only what they need, it could reduce usage by up to 40 per cent.
In addition, to restore supply chains, the agriculture sector has proposed that the Ministry of Health increase the number of vaccines available to industry workers, as farming products must be transported across many regions.
According to Tien: "In the future, Vietnam's agriculture sector must ensure seeds and input material as well diversifying markets and products. The sector also needs to build raw material areas and supply chains based on enterprises and cooperatives, meeting standards of export markets."
Dinh Cao Khue, Chairman of the Dong Giao Foodstuff Export Joint Stock Company (DOVECO), an enterprise that exports agricultural products and fruits to 55 countries, told Việt Nam News that his company has maintained exports during the fourth outbreak of COVID-19.
"We have faced many difficulties, especially in purchasing and transporting raw materials as many localities have applied social distancing measures to control the pandemic, according to Directive 16," said Khue.
At the same time, the cost of exporting to the US and European markets continues to rise compared to before the pandemic, which is creating financial pressure on exporting enterprises.
Despite this, Nguyen Dinh Tung, General Director of Vina T&T Group, argues that: "the last months of the year are an opportunity for fruit export, as fruit demand is highest in those months for festivals at the end of the year and the early next year. We hope to increase the volume of exports because of increasing orders from partners."
Ngo Tuong Vy, Deputy Director of Chanh Thu Fruit Import-Export Co, Ltd, said that to increase capacity to export key fruit products, her company will purchase more mangoes, durian and jackfruit in Dong Thap. These are key export products; mangoes for the US and Australia, jackfruit for China and durian for China, Japan and Australia.
To help meet demand, Vy's company will support cooperatives in technical consulting, the building of raw material regions and the establishment of production and supply chains to create a stable supply of exports, she said.
Nguyen Hai Nam, Chairman of the Viet Nam Pepper Association, said the pepper industry has quickly restored production and business after the COVID-19 outbreak. They expect to gain growth in both quantity and value of pepper exports this year due to convenience in transporting raw materials.
Source: Vietnam News 

Vietnam's farm exports continue growing, serving as the pillar of the economy. Exporters are sprinting to export more produce for the year-end sale season.